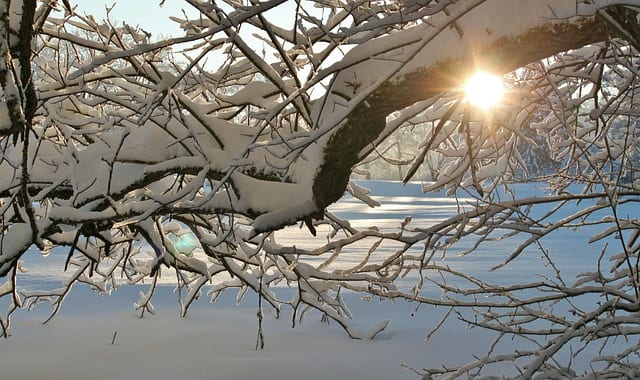 It snowed hard this week.
Last winter was so warm it didn't snow more than once; there was nothing but overcast and an eternal drizzle that kept us all on the verge of madness for three months. We all knew that wasn't normal, but I didn't hear much about it because people in Northern Appalachia they mock you if you talk about climate change. This is year has been closer to our normal cold, but abnormally dry. We finally got a good heavy snow after a disappointing January. It covered everything in a blanket of white just like a Christmas card, and then the sun came out, so glaring bright it was hard to keep my eyes open outside.
On the feast of Saint Blaise, Bishop and Martyr, Rosie and I walked to the grocery store– me in my big coat and boots, Rosie in her red snow suit. The state of Ohio doesn't currently require masks outdoors unless it's crowded, and today no one was outside, so we packed our cloth face masks in my purse.
"Walk rather than taking the bus for your safety, and wear a mask unless no one is around" is a phrase that would have sounded like black magic last year, in the drizzle. It's so commonplace I barely think about it now.
"By the intercession of Saint Blaise, Bishop and Martyr, may God deliver us from every disease of the throat and from every other illness. In the name of the Father, and of the Son, and of the Holy Spirit," I muttered as I packed my mask– another invocation that sounds like magic. When I was a child, I hoped I'd have a scratchy throat when I woke up on the feast of Saint Blaise, so I could test and see if the priest's strange blessing really worked. But today I was relieved to feel well.
Jefferson County's COVID surge is finally collapsing. We're still in Code Red but there's hope we may not be before long. Our death toll remained at four people, from the March lockdown right up until the late November explosion, and now it's eighty-four. There have been over four thousand confirmed cases, over three quarters of them just in the past few months– a disaster, when you consider how small and sparsely populated Jefferson County is. We've never been in the top ten of any list for anything, but for a few weeks we were the fourth highest county in the whole nation for case occurrence.
Now the number of active cases and hospitalizations is steadily collapsing here. But people still react with laugh emojis and claim the whole thing is a conspiracy, when COVID is mentioned on the news.
We've lost well over four hundred thousand Americans, more than we lost in World War Two, in the space of eleven months, and my neighbors are laughing. They still think it's made up.
Rosie and I walked through blazing bright white neighborhoods, a world transformed into pillars of salt like Sodom and Gomorrah.
The last of the neighbors have finally taken down their Trump flags and signs. That's new since last time I went out, as if it were a Candlemas tradition. They kept them up well past President Biden's inauguration, as if the signs could bring back their failed messiah by magic. One sign even had a pair of pink feet and the words "pro-life" on it, despite mounting evidence that abortion rates went up during Trump's term.
Up until a short while ago, they honestly believed there was going to be some kind of magical upset. People were praying prayers of exorcism to make the Democrats go away, but they didn't go. My friends and I used to laugh at them, but it doesn't seem so silly anymore.
The policeman that the seditionist rioters beat to death on Epiphany was lying in state in Washington just last night.
Rosie and I trudged over icy sidewalks, dazzled by the brightness of it all. Every place where people had plowed their driveways, there was a jaggedy mound of snow to cross, sometimes deeper than the top of my boots. When we got to the parking lot of the grocery store, there was a great big mountain of plowed snow, nearly as big as a one-story building, with a sign advertising the local pharmacy stuck in the top. One side of it was extremely dirty and studded with trash, but the side the fresh snow had blown onto was clean.
Rosie climbed to the top of it and slid down twice. That was why she was excited to come with me on the grocery store errand. There isn't a mountain to climb around here in summertime, only now.
I told her that when it's safe to travel again, we'll go deep into the heart of West Virginia where her ancestors settled, and see some real mountains. I said "Lord knows when that will be" only to myself.
We masked up as we headed into the store. "By the intercession of Saint Blaise, bishop and martyr, may God deliver us from every disease of the throat and from every other illness. In the name of the Father, and of the Son, and of the Holy Spirit," I recited as I pulled the straps over my ears.
There was a sign on the door advertising COVID vaccines at the pharmacy, but in extremely limited quantity and by appointment only. The former president had boasted about a vaccine rollout but had no plan at all, and the current one was left holding an empty bag. We're getting our shots alarmingly slowly; I don't expect to get mine until summer. And something less than the people who are eligible around here are refusing the shot, even after everything we've been through, because they're afraid it isn't safe.
Last year at this time, my friend who lives in Singapore was complaining about how irritating it was to have to teach classes from his apartment via the internet instead of in person. I remember thinking how lucky I was to be in America and not in Asia. And then the plague was in Europe, and I was thinking how lucky I was to not be in Europe. And then it was in America and I thought we'd have a hard couple of weeks.
America is a different place than I thought it was a year ago.
I never thought we were as good as we pretend to be, but I didn't know yet how thin the membrane was, between complacency and catastrophe.
"By the intercession of Saint Blaise, bishop and Martyr, may God deliver us from every disease of the throat and from every other illness. In the name of the Father, and of the Son, and of the Holy Spirit," I begged one more time before going into the crowded store.
I used to want to see a miracle as a novelty. Now I beg for them to get me through the winter.
Image via Pixabay
Mary Pezzulo is the author of Meditations on the Way of the Cross and Stumbling into Grace: How We Meet God in Tiny Works of Mercy.
Steel Magnificat operates almost entirely on tips. To tip the author, visit our donate page.