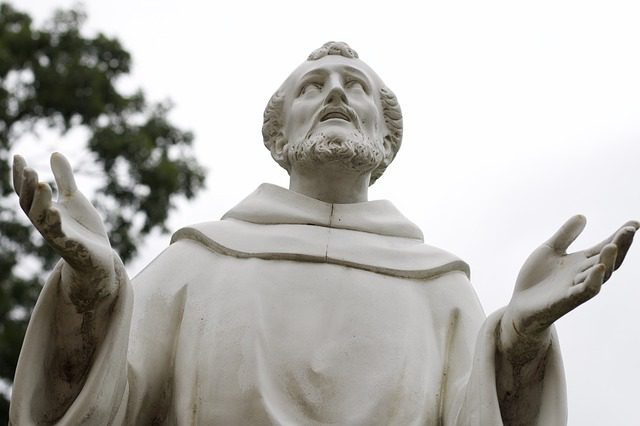 This morning the Steubenville Herald-Star published an article quoting a statement on Father David Morrier from Franciscan University of Steubenville. The article does not link to the statement by Franciscan. The statement was not published on Franciscan's social media, it doesn't show up in a google search, and a search of FUS's website shows absolutely no hits for the name "Morrier," so I assume this statement was released directly to journalists who asked for comment and not to the public.
The Herald-Star quotes this statement: "Sexual assault is not only a crime but a serious sin, and when Franciscan University receives sexual misconduct complaints, it acts upon them according to our Policy on Discrimination, Harassment and Sexual Misconduct," and adds, "In light of pending legal proceedings, no further comment will be made at this time." They also report that the University told them that they have and will continue to cooperate with law enforcement, and that Father Morrier was banned from their campus in 2014.
A similarly worded statement was quoted by Christopher White in his article on the case, and White informed me when I asked was that that was what FUS told him when he reached out.
The Diocese of Steubenville, meanwhile, has published their statement in its entirety:
The Jefferson County grand jury indicted Third Order Regular (TOR) of St. Francis
Father David A. Morrier on rape and sexual battery charges April 7.
The Steubenville Diocese first became aware of the case when the alleged victim
presented the allegations to the diocese in November, 2018. Although Father Morrier is not a
priest of the Steubenville Diocese, the diocese began an immediate preliminary investigation
with the alleged victim and officers with the Steubenville police department. The Diocese of
Steubenville submitted a report to the Minister General of the TOR's in Rome as well as to the
Congregation for the Doctrine of the Faith at the Holy See on December 11, 2018. Since that
time, the diocese has continued to work with the Steubenville police department and has
provided updates on the investigation to the Holy See.
The Diocese of Steubenville takes allegations of abuse most seriously and encourages
victims of abuse to contact the local police department in whose jurisdiction the abuse occurred.
Meanwhile, the worst reporting on this case has been done by WTOV, the local television news channel, which characteristically does not even mention that Father Morrier worked at Franciscan University.
And this brings several questions to mind. If FUS's statement is true, does that mean that Franciscan University knew about the alleged rape and sexual battery in or before 2014? If so, why did the Diocese of Steubenville only open an investigation into Father Morrier when his alleged victim notified the diocese in November of 2018, four years later? Isn't that something the diocese ought to have been told? Not to mention, shouldn't Franciscan University have called the police? At the very least the university might have mentioned the reason Morrier was banned from campus to someone in the Franciscan Third Order Regular, but the TORs apparently didn't call the cops either. They didn't even order him to live a life of penance and stay away from "ministering" to vulnerable people, which would have been laughably inadequate. They quietly transferred him across the country to Saint Maria Goretti parish in Texas, which has an elementary school. One of my readers commented on the Steel Magnificat facebook page that she attends that parish and saw Morrier coming to Young Adult Night multiple times. His transfer means he was given unlimited access to new vulnerable victims. Who is responsible for that?
In addition, why was Father Morrier counseling a mentally ill client in the first place? I even saw one news source refer to the victim as a "female patient." Morrier is not a licensed therapist as far as I know. He doesn't show up in any database of mental health professionals in the state of Ohio that I have found. As far as I know he doesn't have any training as a mental health professional whatsoever. His job at Franciscan University was "campus minister." He, at least, seems to have claimed to be giving mental health treatment as he told his alleged victim that the rape was a necessary part of that treatment. Are all the news sources getting it wrong, or was the victim really referred to him for mental health treatment he wasn't qualified to give? Is this the kind of treatment that FUS students experiencing mental health struggles can hope to receive?
The late Father Michael Scanlan, who was renowned for making Franciscan University so supposedly orthodox, regularly referred people to Father Morrier for spiritual direction and as a confessor. I'm one of those people. Morrier was wildly popular on campus, particularly with vulnerable young women. Why wasn't there a public statement to warn his many, many vulnerable directees the moment the university realized we were put in danger and that there were likely other victims?
Or is there some other explanation for all of this?
Franciscan University of Steubenville has pledged to reform after their sordid past of sexual abuse, victim blaming, rape and cover-ups. But I just don't see that they've made an effort. This latest revelation makes it even clearer that they do not care about victims. And as for the Franciscan Third Order Regulars, I can't imagine a thing they could say in their own defense at this point. Far more people need to be defrocked than just Morrier if this is anything like as bad as it seems.
Image via Pixabay
Mary Pezzulo is the author of Meditations on the Way of the Cross and Stumbling into Grace: How We Meet God in Tiny Works of Mercy.
Steel Magnificat operates almost entirely on tips. To tip the author, visit our donate page.