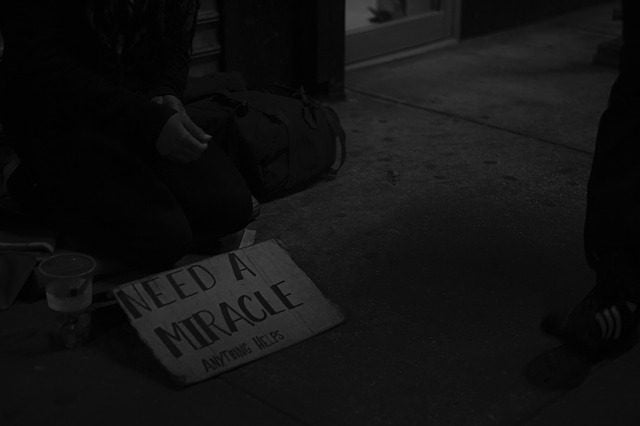 Hello folks,
I just want to notify you of three things I've been up to when I wasn't here, and some ways for us to perform the Works of Mercy.
First of all: for those of you who have been waiting patiently for my book to come out: it's been delayed, twice by my count. But it's still coming, and it will now be released on June 10, just twenty-two days from now. You can already preorder it here. It is worth the wait. In this book you'll find out about:
–How I ended up riding the bus downtown with a sack of hot potatoes, and what that has to do with the Eucharist
–The time that Rosie thought the tomb of Christ was in Steubenville behind the Kroger shopping center
–The time I got to wear a relic of Saint Mother Teresa
–How we can practice the spiritual works of mercy without spiritually abusing anyone
–How Molly and Bill founded the Friendship Room during a polar vortex
And so much more! Tell your friends! Makes a great stocking stuffer!
Next, I'm honored to be published over at the Catholic Herald today, also talking about the Works of Mercy. This time I'm sharing an embarrassing experience I recently had where I tried to help someone and it went horribly wrong.
Her name was Angel, a name that made me think of that verse about entertaining angels. She appeared in the local Buy Nothing group last November, asking for help. The Buy Nothing group is a Facebook page for our town here in Appalachia, where some people post photos of furniture and knicknacks they're getting rid of for others to take for free, and others try to give away their extra garden vegetables in the summer.

Other times, people show up in the Buy Nothing group asking for help or small gifts: the lady who had a rabbit and rabbit food to give her granddaughter as a gift but no rabbit hutch before pay day, for example. I asked in there for someone with a truck to come help me move furniture once, and got help.

I love that group.

I think of it as a microcosm of the way Christians are supposed to live. We should all ask for help without shame and be willing to give it with no strings attached…
And it gets really awful from there.
Third, if you want to see me talk for an hour while wearing a fabulous hair wrap, and hear two never-before-released excerpts from my new book, I recently gave a talk for a virtual conference for Ave Maria Press and the whole thing is online for free:
And finally, I have two chances for you to perform the Works of Mercy yourself. They're both the Work of Mercy of sheltering the homeless. I've recently found out that my friend Katie Prejean McGrady, who has a husband and two adorable kids, is in trouble. Their house in Lake Charles has been flooded three times in the past year, the third just a couple of days ago, and they're supposed to get five to eight more inches of rain over the weekend. The McGradys need repairs or possibly just to move, and if they get more money than they need they're going to donate it to a local convent that also took flood damage. You can donate to that effort here.
The second Work of Mercy is for the Friendship Room. They are adding a safe house for men to their two safe houses for marginalized women, and they need lumber to repair the porch. Lumber is obscenely expensive right now, and they had to cancel last year's fundraiser due to COVID, so they're reaching out for help. You can mail a check made out to the Friendship Room or a Lowe's gift card to PO Box 53, Steubenville, Ohio, 43952, or you can donate via paypal to their account at friendshiproomsteuben@gmail.com, and you can also donate by Venmo at Friendship-Room. Obviously any extra money they get will go right back into feeding, clothing and sheltering the homeless and near homeless in downtown Steubenville. Thank you so much!