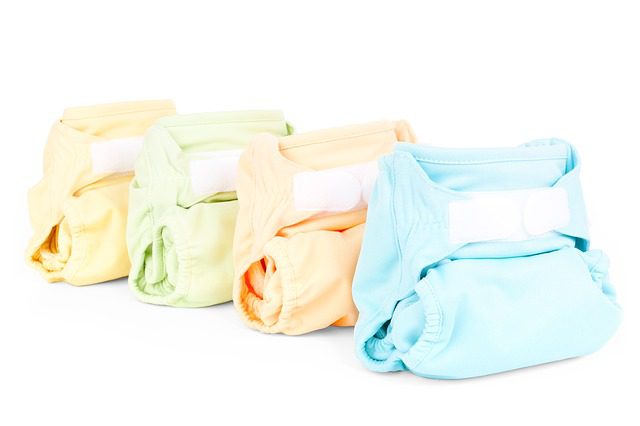 It started with a photo of diapers.
My friend Father Schneider shared a photo of a stack of free diapers and wipes in the men's room at the grocery store, with a sign that said "Here for life's little emergencies, please help yourself." He said he was glad to see things like this to help parents out. Another priest, Father Stinson, retweeted this with "we should put these in our parishes TBH," and a lot of people jumped on to say it was a great idea. So do I.
Diapers are a necessity for families with little ones. They're not the kind of thing you can put off til pay day or even for a few hours, usually. Babies need several diapers per day every single day, and they need to be the right size. And yes, I realize cloth diapers exist. I used them on Rosie when she was a baby because we got a huge stack as a baptism gift and we couldn't often afford to buy disposable diapers. I liked my prefolds. They caused fewer rashes than disposable, and created less waste. I'd do it again if I had another baby. But cloth diapers need wipes too, and they need to be washed which requires detergent and paying the water bill. Diapers are a big expense no matter what you do. And they are not covered by poor people's EBT benefits, which can only be spent on food. Every parish ought to have a stack of free diapers, or a little cupboard stocked with several sizes of free diapers and packages of wipes, in the public bathrooms. And if fellow parishioners see a family taking a big stack of diapers for the road, they should mind their own business instead of gossiping about it.
You know what else parishes should have? A washer and dryer. This was suggested by my friend Michael Bayer, also on Twitter. I hope it's not news to anyone that appliances are expensive. Houses and apartments don't necessarily come furnished. If you don't have your own washer and dryer, you have to wash clothes (and diapers) in the sink and dry them any place you have room. Or, you have to drag all your laundry to a laundromat, which is expensive and hard to get to if you don't have a car. It would be a huge help to struggling families if parishes and Catholic schools had a laundry room in a discreet place, where families could wash and dry a few loads to take home. They could fundraise or hold a second collection now and then to pay the water bill. And if better-off parishioners noticed a poor family using the free parish laundry, they could mind their own business.
Further, every parish also needs a grocery pantry. Yes, you can make this a great big expensive affair with shelves of supplies in a warehouse, if you can afford that. That's something every community needs. But you can also do it the simple and cheap way and build a little free pantry. This is the exact same carpentry project as a little free library, only for food. Build a waterproof box with shelves and a hinged door, put it outdoors on your parish property, and stock it with shelf-stable food and toiletries: individual rolls of toilet paper, travel-size containers of soap and toothpaste. Sanitary napkins. One-dose packets of ibuprofen. Chef Boyardee. Cereal. Boxed milk. Tuna salad kits. Put a sign on the pantry saying "take what you need, leave what you can," or words to that effect. Invite the whole parish to help stock the pantry with offerings whenever they can, and also have a designated person or team in charge of keeping it stocked during hard times. A great place to put it would be just outside the door to your 24-hour Adoration chapel, if you have one, because it's a beautiful devotion to bring a gift for Christ in the beggar before going in to worship Christ in the tabernacle. People can drive or walk up to leave donations, and they can also grab what they need, discreetly, without the embarrassment of begging for help. And if some nosy person coming out of the adoration chapel recognizes the parishioner grabbing an armload of free groceries to get through the week, they can mind their own business.
Parishes should also have designated people who are kind of like Extraordinary Ministers of Holy Communion– only instead of driving Holy Communion to shut-ins, their job is to be available to drive people who don't have cars to and from Mass on Sundays and weekdays. And after Mass, the Ministers of Transportation should ask "do you need to go to the store or the library or pick up a prescription before I drop you off?"
They should have a Giving Tree of anonymous requests for small gifts people need to get by, at all times, not only during Advent. Leave it bare during Lent and put eggs on it for Easter and beach balls during the summertime, but keep the giving going.
They should start a small Community Garden so people can grab a tomato or a basket of fresh lettuce on a bad month before pay day. Fresh fruit and vegetables are the hardest foods to keep in the house all through the month.
They should have a stack of sandwiches or other more substantial food at the weekly coffee and doughnut social, and not pay attention if some people show up for the social but not for Mass. Just in case anybody hasn't had a meal at all that day.
They should have nice old ladies who love to sew, whose ministry it is to offer to make a First Holy Communion gown for any low-income families who have a girl that age but no money for a special occasion dress. And if some little girl receives First Communion in a cheap dress or in dress pants and a button-down, they should mind their own business.
Really, we should all mind our own business. And our business is to see Christ in our neighbor and care for their needs, however we can, without judgement.
Our parishes should be the hub for all of this activity– caring for whole people, soul and body, however we can, because every person's body is Christ's Body and every family is the Holy Family.
Image via Pixabay
Mary Pezzulo is the author of Meditations on the Way of the Cross and Stumbling into Grace: How We Meet God in Tiny Works of Mercy.
Steel Magnificat operates almost entirely on tips. To tip the author, visit our donate page.