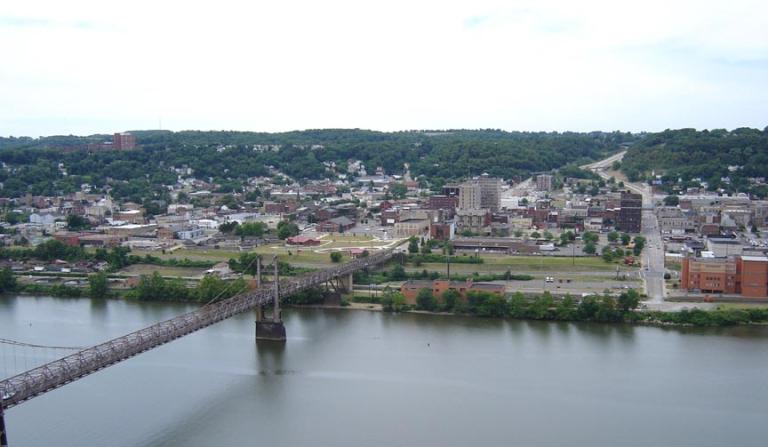 It was one of those days where I just want to disappear. I wished I could fall through a crack or dissolve into steam like the Wicked Witch of the West. Anxiety does that to a person.
I was driving downtown to report one more episode of harassment by our neighbor, and to talk with the police about what evidence I would need to file a restraining order. Police scare me to death, but I didn't know what else to do. The menacing neighbor has escalated to writing obscene messages in Sharpie and taping them to her window where Rosie can read them. I'm determined to get a restraining order or die trying. And then there's the fact that it's tax day, and we can't think about municipal taxes when we're behind on rent, and I've got a doctor's appointment shortly which will tell me if the funny looking freckle I've always had on my shoulder has turned into something worse. My nerves were eating me alive.
That isn't a good mental state to drive in, but I got in the car anyway.
As I drove past the infamous Tower of Power Church, by the vacant lot that used to be the low-income nursing home, I saw a familiar face.
He was one of the passengers who rode the bus every day– back when I rode the bus, a thousand years or about four weeks ago. I used to see him two or three times a week. He's a great big jovial man with a great big boisterous aura, always bantering with the bus driver and cracking jokes. Invariably he rode on the front of the bus, and if there was no room on the front he'd actually sit on the floor in front. "I don't ride in the back," he once said. "Never ride in the back. Because I don't have to. We free now."
I've missed him.
Being so poor you are perpetually inconvenienced can make people selfish and cruel, but it also sometimes produces a sort of unabashed camaraderie I love. The Steubenville city bus is the place where people gossip and complain to one another. They crack inappropriate jokes that leave me smiling at the absurdity of things instead of miserable. For a whole year, during the COVID pandemic, those of us unfortunate enough to have to crowd together on public transit would stare at one another over our paper masks and marvel at how helpless we were. I don't miss being trapped taking public transit, but I miss the company.
The man waved at me frantically– not the kind of wave that's a greeting, but the kind that demands something. He walked out into the street as he waved. I think he would have been run over if LaBelle wasn't all narrow one-ways.
"You used to ride the bus!" he said. "Can you help? I need to get home and let my daughter in and take my medicine!"
I've been calling my car the Neighborhood Trolley for weeks, and here was my first opportunity to actually use it as a neighborhood trolley.
"You live over on Pleasant Hill?" I asked. Steubenville has two dangerous, despondent, ugly poor neighborhoods up on the cliff overlooking downtown, separated by the main road known as Sunset Boulevard. The one I live in is called LaBelle, French for "the beautiful." The other is called Pleasant Hill. I'm sure there was a point in history when that didn't seem ironic.
"I stay near the library now."
"The one downtown? I'm going right near there."
He got in the passenger seat, his big bright personality filling up the car like a hot air balloon. "You got a car now!" he marveled. "God he has BLESSED you!"
"He has. He really has. It was so lucky."
"Just make a left here," he directed me when we got to the end of the block. "I tell you God has BLESSED you."
We zigzagged through LaBelle, where the antique lilacs have been spectacular this year– most of them are spent, but I saw a few bushes still blooming. The rhododendrons and the irises were out. There was plenty of color to look at, making up a little for the tumbledown houses. I hadn't noticed the color before. I love color. It felt good to drive downtown with a loud friend.
"Yes, God really did. Friends leant the money so we can pay them back bit by bit. We could never have paid back a real loan, our income changes too much month to month. And then the Biden check paid for the insurance and the tax and all that. And now I can get anywhere faster, I don't have to get done by six, I can get my work done during the day and go shopping at night, it's such a relief. I was ten years without a car. More than. I'm still getting used to it."
"God is good."
"God is good, all the time," I found myself echoing.
We zipped through a construction site and across the overpass to Pleasant Hill, which was also blooming with raggedy old flowers to hide the buildings. Children were walking home from school, shedding their masks. The sun was out. It looked nice. We went down the steep hill the back way to downtown, under bright green trees that had been bare twigs a month ago. I found I was driving right at the speed limit instead of ten miles under. I didn't panic and brake going downhill. I didn't cringe whenever a car drove by me in the opposite lane.
"You must live by the Orthodox church," I said. "I like that church."
"The new guy's a good preacher. Good preaching at that church."
"Yes, I like to listen to it online sometimes. It really is a beautiful little place."
We drove around past the shuttered cathedral and by the old Carnegie library, then past the Orthodox church to a grim duplex on yet another grim Steubenville street. A young woman was waiting on the porch– she looked shocked to see him stepping out of a car instead of the bus.
"I gotta let my daughter in. Thanks a lot! God bless now."
"Have a nice day!"
And he and his bright aura were gone.
But I wasn't worried anymore.
I haven't been worried since.
Some people have that effect.
Image via Pixabay
Mary Pezzulo is the author of Meditations on the Way of the Cross and Stumbling into Grace: How We Meet God in Tiny Works of Mercy.
Steel Magnificat operates almost entirely on tips. To tip the author, visit our donate page.