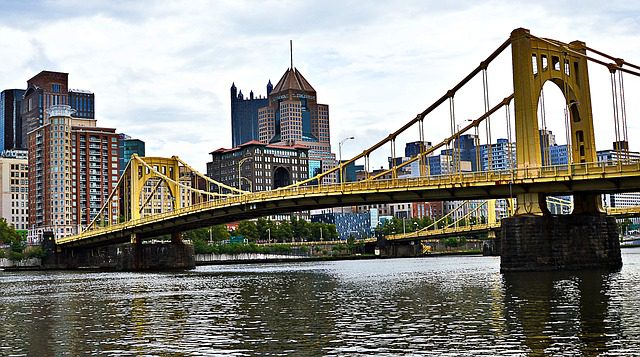 We went to Pittsburgh this weekend.
I'm not quite an accomplished enough driver to find my way through Pittsburgh, but a friend had tickets to the children's museum, so she drove Rosie and her children and me together. I watched very carefully to get the hang of doing it myself next time.
I'd had a hard time with the menacing neighbor the night before: she'd been banging on her metal step ladder and screaming at the window, calling the police, not letting us get to sleep. I was finally able to drift off shortly after dawn; then I was wakened by her screaming one more time as she started her lawn mower. I was even more tired and cross than usual when my friend came to pick us up, but I was thrilled to get out of Steubenville for the day.
In order to get to Pittsburgh from Steubenville, you have to drive on the freeway for about forty minutes, past dreary small towns and billboards advertising churches and Hardee's. You might be in any rural area in the United States, at any time in the past forty years. Then, suddenly, you come across a good sized mountain with a tunnel blasted out of the middle, and the tunnel is so long you can't hold your breath all the way through. And then you are on a terrifying bright yellow suspension bridge, over a great big city. The city is jam-packed with architectural wonders, beautiful buildings of all kinds crowded together with no particular theme, slender glassy skyscrapers next to boxy industrial ankylosaurs of brick next to gold-towered Othodox churches. Every few blocks there's a bridge. None of the intersections are right angles. Everything is constantly under construction. There's usually a street right between you and where you want to go, which has been blocked off for a street fair.
Pittsburgh is sometimes called the Paris of the Appalachians, and it's easy to see why. It looks like a city a class of preschool children who live on the side of a mountain in Marlinton, West Virginia, would have a fun time designing if you gave them an unlimited supply of building blocks. And I love it. I've never had a bad day when I was in Pittsburgh.
Still, I had to admit as I watched my friend follow her GPS to find our destination, it's awfully daunting to drive there.
Maybe I am a little bit of a hillbilly, after all.
We had lunch in Squirrel Hill, even though it was twenty minutes out of the way, because there was a block with several gluten-free eateries that wouldn't make Rosie and me sick. I had restaurant pizza for the first time in a decade and Rosie had a deli sandwich, for the first time in her life. We found a bakery that sells gluten free sweets, and I found myself eating a lemon bar for the first time since Rosie was a newborn. We watched people walk by as we ate.
People-watching in Steubenville is always a little melancholy. People look haggard here. They're angry all the time. They snap at their children and each other. There is a palpable layer of despair that hangs over them like dust; I assume I have it too. The people in Squirrel Hill didn't look like that. The mood is so much lighter. The venerable Fred Rogers himself lived in Squirrel Hill while he was making Mr. Rogers Neighborhood. I wondered if his positive outlook on people came from living in such a friendly place– or, if his friendly aura had rubbed off on the neighborhood and hallowed it.
We spent the rest of our time at the Children's Museum downtown. The Children's Museum is not a museum where you shuffle by with hands in pockets, looking at interesting things. I love those, but Rosie and her friend don't. This is a museum where everything is touchable and meant to be played with. There are slides and rope ladders, tables where you can make crafts, Rube Goldberg machines that make noises if you turn a crank. There are ramps for racing toy cars. There's a balcony with a catapult where you can launch parachute men down to targets on the floor, and another catapult which launches dummy cardboard packages into a colorful mail sorting machine. There are wall paintings that change when you touch them or dance in front of them. There's a water room with pumps and fountains, an indoor river you can dam up and watch the water overwhelm the dam, a whirlpool in a tank where you can flush toys down and watch them come out the other side, a table of shave ice that you can make into sand castles. The museum is dedicated to the memory of Mr. Rogers, and it reminds me of Mr. Rogers. Mr. Rogers believed in play– in letting children have open-ended and and random whimsical fun. He believed that fun and play themselves were educational and therapeutic, with no need to be didactic or overbearing. Fun itself is important. The museum's exhibits all seem to follow that theme.
Rosie watched Mr. Rogers Neighborhood for years and years. It was constantly playing in the background in that terrible little apartment on the worst block in LaBelle, the apartment I got raped in, the stifling prison where another angry neighbor would scream at us through the floor boards. When we were poorest, I would check out DVDs of episodes from the library, and when we had the money I would buy a month of PBS Kids on Amazon Prime. I'd set her in front of a season of Mr. Rogers while I went to my bedroom to have a long cry. Sometimes she'd insist I watch it with her and I would, trying to ignore the anxiety and panic churning through my veins. I'd pretend Mr. Rogers was singing his songs to me, personally.
I'm taking care of you. Taking good care of you. For once I was very little, too. Now I take care of you.
Be brave, and then be strong. Be brave. You'll not go wrong if you are right. Keep your chin up tight, and be brave, and then be strong.
Just before we left, I asked an attendant where Mr. Rogers's famous puppets were. They're supposed to be on display in a different part of the museum and I'd been especially eager to see them, but I couldn't find them anywhere.
The attendant said they'd been moved to the Museum Lab building, which was next door but included in my ticket. I could see the exhibit if I hurried, since closing time was in about twenty minutes.
I left Rosie playing with my friend for a moment and sprinted down two flights of stairs. I darted through the lobby and out the door, into the beautiful but confusing world of enormous buildings and no normal intersections. I ran in the direction the museum attendant had pointed, past children playing on some kind of experimental merry-go-round that looked like it was made of giant rubber bands. I wove my way over a small lawn past parked construction equipment. Everything in Pittsburgh is past an experimental playground near an abnormal intersection, over a funny small lawn and past parked construction equipment. I assume you eventually get used to it, if you live there.
I found my way to the Museum Lab. Then I searched the halls for a few minutes before I found them.
There were the king and queen, Henrietta, Grampere, Daniel Striped Tiger with his wrist watch. In the middle was my favorite, Lady Elaine Fairchilde, in a red sweater that matched her pointy red nose.
The puppets must have been cheap in the first place; they're faded and worn now. Daniel in particular looks like he has mange. They're a little bigger than I'd imagined, a little lumpier and more homemade-looking. It took a brilliant artist with a heart of gold to make these raggedly lumps entertaining and comforting for several generations of children and their traumatized mothers.
Since everything in the museum up to that point had been touchable and interactive, I touched the plastic case without thinking about it, then remembered myself, and quickly drew my hand away. I nearly shook hands with Daniel Striped Tiger.
It felt like touching a reliquary or an icon.
Lord have mercy. Lord have mercy. Lord have mercy. Give the blessing.
I whispered all my intentions to Mr. Rogers.
Then I went back and joined my friend and the children. We drove back, through the zig-zagging streets, across the bridge, through the tunnel, through the farmland, to Steubenville, to the despairing streets of LaBelle where the menacing neighbor was outside telling people about her hallucinations.
Be brave, and then be strong. Be brave. You'll not go wrong if you are right. Keep your chin up tight, and be brave, and then be strong.
I always feel sad after coming home from Pittsburgh to Steubenville, but this time I also felt hopeful somehow.
Pittsburgh is a different world, one of many different worlds that used to feel so hopelessly far away from this corner of the Ohio Valley. But I can get to them now. I can get to any world I choose, given a little time. I have a car, and I have friends– both of those are new this year. I have the intercession of a weird Protestant minister who turned ugly puppets into therapy for thousands of people.
It's going to be all right.
Image via Pixabay
Mary Pezzulo is the author of Meditations on the Way of the Cross and Stumbling into Grace: How We Meet God in Tiny Works of Mercy.
Steel Magnificat operates almost entirely on tips. To tip the author, visit our donate page.