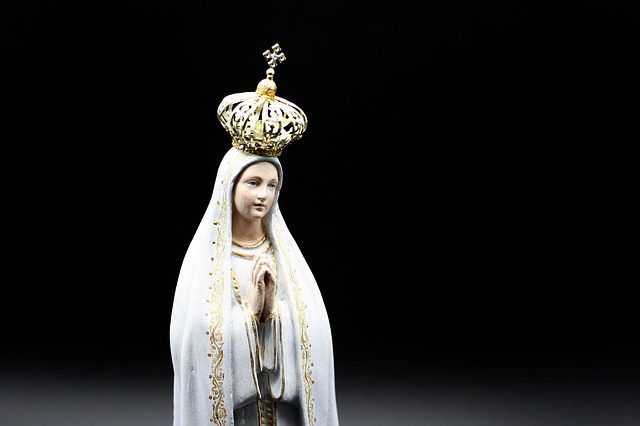 I sincerely hoped that I would not have to write about Fatima and Fatima conspiracy theorists again, but here we are.
The Pope is going to consecrate Russia, and Ukraine, to the Immaculate Heart of Mary later this month, just as the Fatima visionaries said that the Virgin Mary wanted the Pope to do. He's even going to have a bonus consecration said at the Fatima shrine in Portugal simultaneously. This isn't the first time Russia was consecrated to the Immaculate Heart of Mary. Pope Saint John Paul the Second consecrated Russia decades ago and Fatima's last surviving missionary said the Blessed Virgin was satisfied by it, and his is by far not the only consecration by a pope of Russia to Mary,  but never mind that. This time for sure.
Personally I think it's a mistake to cater to the Fatima enthusiasts in any way, for the same reason you shouldn't take an alcoholic to the bar. But people a lot less cynical than I am have explained to me that the Pope is not actually catering to the Fatima enthusiasts. He's sincerely doing it because he wants to, because he trusts Mary and wants to entrust the situation to her. But in any case, we're getting our consecration. This time for sure.
And you can imagine how satisfied and grateful the Fatima critics are. Spoiler alert: they are not satisfied at all.
You see, the Pope is consecrating Russia AND UKRAINE instead of just Russia. That's not saying the magic words. The Virgin Mary requested that RUSSIA be consecrated. Saying "and Ukraine" breaks the spell. Also, some Fatima enthusiasts are cross that Francis is doing this instead of carting Benedict out of the retirement home to do it. And some say it's not valid because all the bishops aren't in attendance. And so on. They will never be appeased.
The best way to understand the Fatima-obsessed conspiracy theorists is to remember they are basically toddlers who will only drink out of the red sippy cup. No, not that red sippy cup. The RED sippy cup. No, not that red one either, the RED one. No, the RED cup. No, no, don't put my juice in THAT RED CUP when I asked for the RED CUP. NO NO NO now you put the lid on WRONG and now the juice is RUINED.
And this superstitious attitude has nothing to do with prayer.
Prayer is lifting the mind to God. Prayer is crying out "Abba, Father." Praying with the Blessed Virgin Mary is resting in the arms of our mom who loves us and trusting her to help us do what is ours to do. Superstition is trying to control something. Superstition is saying magic words or asking the Pope to say them in order to force a result. Prayer is doing the best we can and realizing that our best is far, far inadequate, but trusting our Father to take care of what we can't supply. Superstition is obsessing over the exact formula to MAKE God do something.
In the Catholic Church, we have seven sacraments. These are not just prayers but specific outward signs which confer very specific graces. With the Seven Sacraments, it makes perfect sense for the Church to have seemingly picky rules about how they are to be performed so that we can be sure the graces happen. And even then we can go too far and be scrupulous about minute details of the aesthetics with which the sacraments are performed, which isn't a good thing.  But "consecration" of a country is not even a sacrament. It's just a prayer. We don't need an exact formula to make sure it will work, because we're not trying to make something "work." We're trying to entrust something to our mom who loves us and wants things to go right as much as we do. She can't always intervene in the way we'd wish, but she will suffer and pray with us and she'll do whatever she can to help. That's what a mother does.
If the Fatima-obsessed really cared so much about Fatima, and I'm not saying they should, maybe they should stop worrying about a consecration of Russia by the Pope, since that's not their job. Maybe, instead, they should focus on what the visionaries claim Mary told the laity to do, and pray their Rosary and observe the First Saturdays. That's their job. But that wouldn't involve obsessing over conspiracy theories.
And I do entrust Russia, and Ukraine and the United States and all nations, to the heart of our mother the Most Holy Theotokos, and pray for a quick end for Russia's terrible unjust aggression in Ukraine.
Image via Pixabay