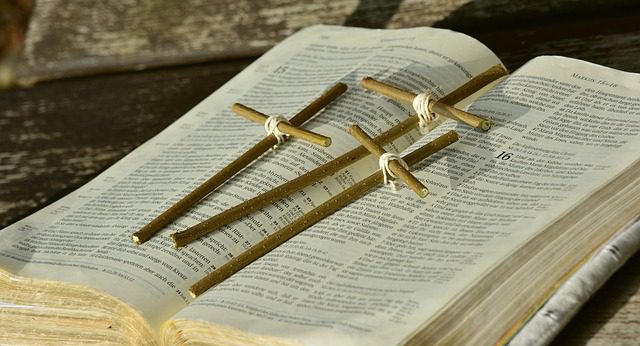 A reading from the Holy Gospel according to John:
Jesus went to the Mount of Olives.
But early in the morning he arrived again in the temple area,
and all the people started coming to him,
and he sat down and taught them.
Then the scribes and the Pharisees brought a woman
who had been caught in adultery
and made her stand in the middle.
They said to him,
"Teacher, this woman was caught
in the very act of committing adultery.
Now in the law, Moses commanded us to stone such women.
So what do you say?"
They said this to test him,
so that they could have some charge to bring against him.
Jesus bent down and began to write on the ground with his finger.
But when they continued asking him,
he straightened up and said to them,
"Let the one among you who is without sin
be the first to throw a stone at her."
Again he bent down and wrote on the ground.
And in response, they went away one by one,
beginning with the elders.
So he was left alone with the woman before him.
Then Jesus straightened up and said to her,
"Woman, where are they?
Has no one condemned you?"
She replied, "No one, sir."
Then Jesus said, "Neither do I condemn you.
Go, and from now on do not sin any more."
The first thing He did was ignore all the questions.
They brought the despised woman to stand in their midst. They didn't bring the man she'd been caught with; they let him go free. They didn't really care what happened to the woman either. They probably wouldn't have stoned her to death. The traditions surrounding that particular practice at this time in history were such that the sentence was almost never carried out. But they didn't mind if they made her wish she was dead. They didn't care if they made a spectacle of her, something for the town to talk about whenever they saw her for the rest of her life. The important thing was to get a sound bite from Jesus, so they could condemn Him.
But Jesus ignored their questions. He turned down the chance at lively debate. He didn't want to get into a theological discussion where men could score points against other men and appear wise. He, Himself, was Wisdom. Wisdom declined to comment.
Wisdom bent and wrote on the ground.
We are not told what He wrote. Some say He was writing all of the sins of the men surrounding Him. But in any case, Wisdom wrote on the ground. And the men ignored what Wisdom wrote, because they wanted a lively debate. They kept on asking questions. They'd brought the woman with them as a visual aid. They kept her standing in the middle of the crowd, humiliated, exposed, a spectacle.
Not long from now they would take Christ and make Him stand in the middle, humiliated, exposed, a spectacle, and debate with Pilate about His punishment. But today, they did it to that woman. And Christ refused to play along. He kept writing on the ground until everyone was looking at Him, confused at what He was doing, ignoring the woman they'd meant to be a spectacle.
When He'd finished His writing, Christ stood up.
He stood in the midst of those mysterious words He'd traced on the ground. "Let the one among you who is without sin cast the first stone."
And nobody cast a stone.
They all went home, starting with the elders.
At last, the only ones standing there were the woman and Christ– Christ, the sinless one, the only one worthy to cast a stone. But Christ did not throw a stone. Christ did not slap her or yell at her. He didn't show her the passage of the Law she'd broken. He didn't tell her she was going to hell. He didn't stand there, officiously waiting for her to begin her Act of Contrition.
"Woman," he addressed her. Woman. The same odd, formal title He used for His own mother who was perfect and without any sin at all, when they'd gone together to the wedding at Cana. From the first word He said to her, He treated her like someone without sin.
"Woman, where are they? Has no one condemned you?"
"No one, Sir."
"Neither do I condemn you. Go and sin no more."
That is the way Wisdom responds when someone sins.
And we should go and do likewise.
Image via Pixabay