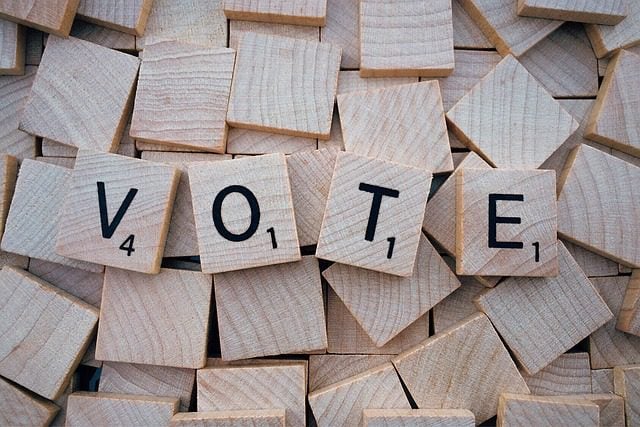 I went downtown to vote today.
All I've seen from the polling averages is that the odds are against us and we're going to lose our democracy. But as the polls have gotten more dire, the actual numbers of early votes have looked more and more promising. Anything can happen. There isn't a result to this election that would surprise me.
In the Catholic Charismatic Renewal, in Columbus and here in Steubenville after I left home, people often believed they could see the future. They knew for sure what would happen. They knew about the Great Persecution that was coming, when we'd all be tortured and thrown in camps for being Catholic. There would be signs and wonders and harrowing chastisements. Darkness would swallow the land, and the unbelievers would be murdered in spectacular fashion by marauding demons. Maybe we'd get a nuclear war in there as well. When the dust settled, though, God would win. We knew everything and the reason for everything. We had prophecies of the future. We "discerned" the past and the reasons why things happened. We used this knowledge to bully each other into submission.
Now I am not a Charismatic. I'll always be a Catholic but I don't feel like one just now. The agony of religious trauma when I walk into a church is too much. And I realize that anything can happen. I have no idea what tomorrow will look like.
I don't like that much.
I wonder how much the thinking I absorbed in the Charismatic Renewal bled into the Christian nationalist movements we see popping up now. Surely the Charismatic Renewal wasn't the only cult telling young Christians they were going to be horribly persecuted. I think a lot of Protestant sects got the same line.  I know people who had no plans for what they'd do when they grew up, because they didn't expect to grow up. They thought they'd be murdered in the Great Persecution and that would be the end. We all did. We grew up being groomed to believe the whole world was against us and was going to torture us for our Faith. Now a sizeable number of Americans want to fight back against the perceived threat. It's only logical that they would. They're going to persecute everybody else and think themselves holy for doing so. They can't see the irony of this.
Of course, maybe they won't win.
That's one of the threads that was running through my head, when I went to vote.
I thought about how I was used. I thought about finding the diagram of a "partial birth abortion" in the back of my grandmother's car, the baby dangling breech outside her mother's womb, the doctor poised to murder her with a scissors to the base of the skull. And how furious I was. And how I wanted to do anything I could to save that baby. And all the things I said and did for the sake of that baby.  I was in my late thirties when I found out that that's a picture of a dead baby being removed from the mother's womb. Doctors don't kill viable infants by stabbing them.
I thought of how I used to revere Frank Pavone with the baby corpses older than I am and Abby Johnson with her debunked conversion story and her horrifying racism. I think of the bullies. The activists who make everything worse.
I thought about my daughter at home, whose life has been so different from mine.
I thought of that poor child, younger than my daughter, who had to be taken to Indiana for an abortion, and the way pro-life politicians responded to that.
I still think all forms of killing are wrong.  I just can't think of a worse way to respect life, unborn life included, than to listen to the pro-life movement. We'll have to think of something else.
I was surprised to see that the small parking lot at the Board of Elections building was full; I ended up parking down at the library and walking through downtown. There wasn't a line out the door, but the place was busy. There was someone filling out a ballot at every kiosk. An elderly gentleman in a plaid shirt was explaining that his friend from the next county over had driven him here to cast a ballot; the friend, who looked only a little younger, said he was going to wait in the car.
I got my ballot and filled it out.
I dallied for a moment, wondering if I was committing a mortal sin by voting for the people I'd been groomed my whole life to believe were baby-killers and murderers of Christians.  But then I fed my ballot into the scanner. The number on the scanner screen went from 1422 to 1423 votes in tiny Jefferson county, Ohio. And that was that.
I don't know if that will do any good.
I don't know what's going to happen next.
But I think that if you haven't voted already, and if you're reading this before Tuesday night, you ought to do the same.
image via Pixabay