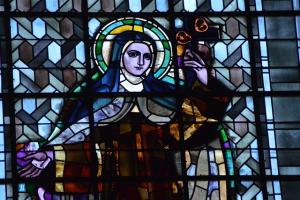 You've no doubt heard about a small order of Carmelite nuns in Fort Worth, Texas, who are suing a bishop.
That sentence reads like something out of a joke, but it's real.
The Discalced Carmelite Nuns of Arlington are suing Bishop Michael Olson and the Diocese of Fort Worth, and the allegations are explosive.
The bishop is accused of forcing his way into the cloister and interrogating Mother Teresa Agnes Gerlach for hours, despite the fact that she was recovering from surgery and on heavy pain medication. Mother Gerlach is said to be in a wheelchair on an intravenous drip, a catheter and a feeding tube due to a serious illness, but the bishop somehow decided she'd had an affair with a priest and wanted to make her confess to it. The nuns allege that he then stole all of their phones and electronic devices and spied on all their private correspondence with the monastery's friends and donors. They are now unable to financially support the monastery, because they couldn't speak with anyone.
I can't imagine how all the donors feel about having their private correspondence and contact information seized by the diocese. What if they were receiving spiritual direction and advice from the nuns? What kinds of things did they disclose in the texts that they might not want to be seen by the bishop and anyone he shows them to?
The bishop has released a terse paragraph addressing the lawsuit. It's notable that he carefully names the nun accused of breaking her vow of chastity, but does not name the accused priest or even what diocese he comes from.
How do you drag a cloistered woman through all of this humiliation and not name the priest?
I don't believe it's at all likely that Mother Gerlach did break her chastity vow. I've been wrong before, but the accusation is an enormous stretch. For one thing, she's severely ill and in a wheelchair. For another, she was in a cloister and never left in the first place except for that surgery. Her lawyer has stated that she's only encountered "about four or five men in the past 25 years." Further, he states that she didn't actually confess to the affair as Bishop Olson claims she did– and even if she did make a confession to the bishop, the whole alleged interrogation happened when she was on Fentanyl after surgery and wouldn't be reliable. The bishop doesn't seem to have an ounce of proof that she confessed except his testimony (and by the by, since I've been asked twice, I mean "confession" in the sense of admitting it, not in the sacramental sense). Time will tell if that's really the case.  But supposing for just a moment that she did break her chastity vow, can you imagine a bishop who would drag her through the mud by name and not also name the priest she had an affair with? Even if she were guilty this would be a travesty.
So what's the real story here? Does it have to do, as the nuns' attorney alleges, with the fact that the monastery sits on a lovely plot of land in the middle of his diocese which is valued $20 million? I'll let you decide.
All I know is, the Church has been rocked by revelation after revelation about the disgusting behavior of our clergy. Again and again we find that they're committing the most horrendous sexual abuses while the bishops have either actively protected them or looked the other way. The victims come from all walks of life: children, disabled people, laywomen and men, seminarians, nuns and sisters. And now we have a preposterous story of an alleged act of consensual sexual misconduct, with no proof offered by the diocese as yet, where the woman in question has been publicly humiliated and the priest, if he exists, is carefully kept anonymous.
There is nothing good I can say about the Diocese of Fort Worth.
I wish the Discalced Carmelite Nuns of Arlington all the best. I hope they take Bishop Olson to the cleaners with this lawsuit.