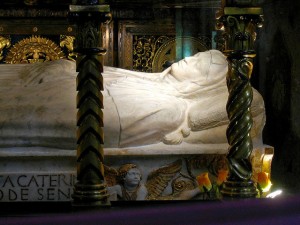 Speaking of saints…
Maybe there's some truth in the dogma that says Catherine's spirit is particularly strong at her shrine. Or maybe it's a convenient device to help me explain how I befriended a woman who'd been dead since 1380. But from the time I saw her, I pictured us like girls at summer camp, sharing deviant secrets under the ultramarine fresco of the night sky.
In an essay in Please Hold Magazine, Elizabeth Harper plumbs the terrifying depths of anorexia mirabilis–miraculous anorexia–experienced by St. Catherine of Siena from a personal perspective.
H/t to Jess Zimmerman for sharing it on Twitter.