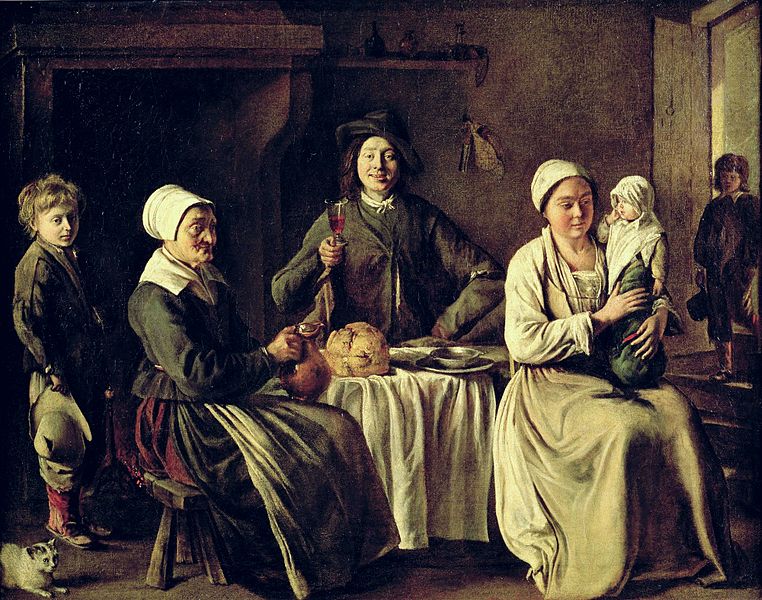 I wrote earlier about how the United States lags far behind all developed (and many undeveloped) nations, when it comes to family-friendly policies such as paid parental leave, and how this undermines the ideological claims of the pro-life movement. It is scandalous that so many Catholic organizations preach a pro-life message while doing so little to implement pro-life policies; it is doubly scandalous that politicians court the favor of the pro-life movement while overtly preventing and blocking such policies. The church as a community of persons bound together in faith and sacramental life, should make real and visible this sacramentality of unity, in every aspect of our lives, not just as an ideology preached on occasion.
If we take our mission seriously, Catholic organizations should should do better than secular ones at building a genuinely pro-life, pro-family economy. And at times throughout history, and across the globe, it has, but the church in contemporary American is not a shining instance in this regard. Quite the contrary. And given our great wealth, our resources, our relative tranquility and freedom, this is shameful.
Happily, we may be seeing a change here. The Archdiocese of Chicago is now offering twelve weeks of paid parental leave to all employees. This is thanks largely to the initiative of Archbishop Blaise Cupich, who began planning to implement this policy when he took the reins of the nation's third-largest diocese – in spite of the woeful condition of the finances inherited from his predecessor, Francis Cardinal George – thus proving that "it can't be done financially" is too often an excuse used by organizations who would rather spend money elsewhere, or simply not go through the effort of making real changes.
But this is only the beginning of desperately needed change.
According to David Gibson, writing for Catholic News Service, "A July 2015 report by the National Catholic Reporter, which is viewed as a liberal outlet, found a few dioceses that offered up to three weeks of paid maternity or family leave while most – including Chicago, until now – made employees use accrued time off and sick days, or up to 12 weeks of unpaid leave, as guaranteed by a 1993 federal law, when they gave birth to a child or adopted a child."
The United States has nearly two hundred dioceses, and 197 institutions of higher learning that are members of the Association of Catholic Colleges and Universities. While it is understandable that Catholic schools in impoverished areas might have difficulty paying even a just wage – let alone offering health care and parental leave, as Catholic social teaching requires – what's the point of being Catholic if our universality doesn't allow us to distribute wealth fairly, from richer communities to poorer? This should be done on a global level, but it is ridiculous that it's not being done on a local level.
As the editors of America magazine point out: "Pope Francis addressed the need for maternity leave and strikingly insisted that women should not be forced to choose between work and family. They "must be protected and helped in this dual task: the right to work and the right to motherhood." He argued that the harmonization of work and family life is a way of recognizing that employees are the most valuable resource of a company." They go on to add: "In fact, many whose work is directly connected to the Gospel do not benefit from the kind of policies Pope Francis called for, which is a scandal. Church employees—in parishes, schools, social service agencies and diocesan offices—are covered by a patchwork of different family leave arrangements."
Those organizations that possess wealth and do not use it to create a pro-life, pro-family local economy need to be subjected to a sober critique. Can an organization do an examination of conscience? No, but those who oversee it can. And I recommend that insofar as possible, they take the example of Archbishop Cupich and the Archdiocese of Chicago not as curious anomaly, but as an example that they are morally obligated to follow.
This is necessary on both an immediate moral level, since pro-life means whole life. And it is necessary as a witness, so when we preach a defense of life, people won't just see a puff of hot air.
Image credit: Louis le Nain, The Happy Family. This work is in the public domain in the United States because it was published (or registered with the U.S. Copyright Office) before January 1, 1923.