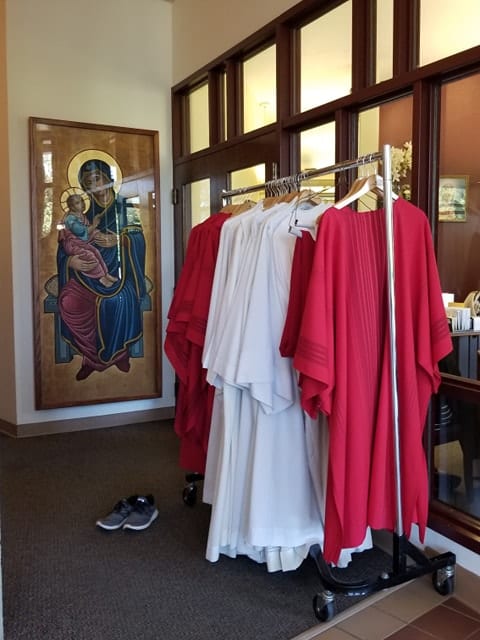 Preface by Rebecca Bratten Weiss
This by Karen, a survivor of clerical abuse, is the third in her series of pieces I have been privileged to host here on my column. I have linked to her prior pieces, for context. And I would like to repeat what I wrote earlier, especially for any who think survivors should be silent about their experiences, or that the keeping the legacy of powerful predators or stories institutions untarnished, just because they did "great things," is more important than the dignity and safety of individual persons:
If you truly care about reform in the church, justice for the wronged, and healing for the innocent, you will not let your desire to hold onto past memories and present affections deafen you to the witness of those who were silenced too long. If you and I feel pain in reading Karen's account, think of the much greater pain she has carried with her for years, and ask yourself, please, what we the church can do to right these wrongs.
_________________________________________
My name is Karen and I was a victim of Fr. Sam Tiesi, TOR. I have written, spoken, and posted about my experiences openly for a year now. While I was a student at Franciscan University of Steubenville, I was abused by Sam Tiesi, the campus minister.
As I have described in previous pieces, Franciscan University of Steubenville has epically failed me. The TOR friars also failed me, leaving wounds that will never be healed this side of heaven. Faculty and staff have failed me though mockery, horrible words, and failure to act with integrity in pursuit of truth.
The last 15 months have been moments of triumph and despair, but I am grateful. The truth is setting me free, and victims are finding hope. My heart is full this week. Grateful.
During my recent visit to campus, I worked through many difficult and painful memories, but there is one that keeps coming back to me with a desire and need to share. Its focus is not about the abuse, not about the cover up, but about friendship, truth, and integrity. With Thanksgiving approaching, I found it a good time to share.
In my last piece I wrote about visiting the campus, and shaking the dust from my shoes – especially in and near Christ the King Chapel where Tiesi was chaplain.
The friary where Sam Tiesi lived was the next big stop in my "dust my shoes" journey. I remember the rooms in front of the friary, where meetings took place, and can still see the giant poster of Divine Mercy hanging on the wall. In the second room, under the Divine Mercy poster, one specific memory haunts me. It is not a memory to shake off, but one to remember that reminds me of the power of friendship and integrity. And it is a rare place and moment of giving thanks during this journey. And for that reason, I want to share it with you here.
It happened in the front of the second room. Fr. Sam and I were meeting for counseling. It was probably under the guise of "close your eyes to pray" that Fr. Sam leaned over and tried to "gnaw" on my cheek. I guess it was supposed to be some sort of weird nibble, but it was disgusting. As soon as the moment of shock was gone, I noticed he was reaching for my chest and I pushed him away and ran. I was sure that I was going to vomit. Even now, I can still taste the bile rising up. I ran to my dorm room and wept. This wasn't right. This was a nightmare. How could a friar do this?
A knock at the door, and my friend Pam Monahan walked in. It was clear that I had been ugly crying and, caught up in the emotion, I broke the secrecy. I told her what had happened. Pam was mortified and in shock. But I was scared and asked her not to say anything. After all, the friars are above us and no one would believe me anyway.
Pam has remained steadfast in her support through 30 years and kept the "secret". And I want to publicly thank her for her support and for her strength of character and integrity in keeping this secret for decades.
However, I also want to release her and all of those I asked to stay silent. FUS and the TOR's and all their supporters did not listen 30 years ago. But they are listening now. Speak out. Shout from the rooftops. Do not be silent any longer.
For the sake of me and the multitude of other victims, do not be silent one day longer.
Pam was the second person that I had told that week. I had recently been to Fr. Mike Scanlan's office to tell him what was happening. He told me that it could not be true. He told me that I was "troubled". He told me that he did not believe me. I confided in Pam about this as well. She was the first person to believe me, and she was shocked by his response. In retrospect, knowing that Fr. Mike was fully aware of the predatory nature of his friend Sam, his response sickens me beyond words. It was the very beginning of the extensive cover up and manipulation that Fr. Mike Scanlan continued for decades in order to prioritize protecting Fr. Sam over the well-being of vulnerable students. It was the first time that I recognized the inner monster he harbored. And as I recognize this now, though it is very painful, I am grateful for the clarity and truth these last 15 months have brought.
Pam was shell shocked that day, and tells me that the conversation was "seared into her memory". I told other students in the next few months, and found many others who had suffered similar abuse and assaults by priests on campus, but Pam was the only non-victim on campus who believed me. Her support and her integrity are one of my most treasured memories of my years at FUS. And for that, I am thankful. The friars and the very president of the university did not believe me, but God sent a 16 year old girl with the integrity of a saint to my room that day who did. Grateful does not really cover it. Thank you.
For all those other women who had similar experiences, I hope that my writing and speaking out will bring you healing and help you to speak your truth. You are not alone. The secrets are being spoken and broken. The veil of cover up is being torn down. I call you out to speak your truths and find your strength, your hope, your freedom.
For all who have believed me, for all who have supported me, for all who have wept with me and screamed in anger together, I am grateful to you.
For those who have not believed me, who have openly mocked me, called me a liar, and even questioned my very salvation, you taught me to stand strong in my truth and find courage and strength I did not know that I had. For that, I am grateful.
For all who have followed my story and shared it with others to break the silence, I am grateful.
And for all the victims who have reached out, you are not alone, and I am grateful that you have allowed me to share in your journey.
Follow Karen's public Facebook page to receive updates, or for survivors to contact her.
image is the property of Karen