In the spirit of the new book Letters to a Future Church: Words of Encouragement and Prophetic Appeals, InterVarsity Press and the Patheos Book Club hosted a contest inviting readers to submit their own prophetic letters to the Church. IVP chose three winners to receive a gift package of books and the opportunity to have their letter published here at Patheos. We'll print one winning letter over the next three days. May these letters, and all of those from the book, inspire you to find your own voice for the sake of the future of the Church.
"Become Whole Again" from Andrea VanderMey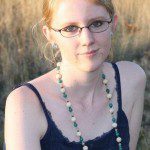 Dear Church,
I know that you think that you have it right, but you have it oh so wrong. Don't misunderstand me. I know that there are parts of you that are reaching out to people. But you are damaged. You are broken. You are supposed to be a whole, not divided as many "churches." Even though you are in different locations, different cities, different countries, you are one. But you have fallen apart. You let little disputes and arguments easily separate you. These faults are cracking you to the core, and outsiders have noticed. You, Church should be the place where people go to find God, to find answers. Yet you push people farther with your fake love. Church, why are you pushing your "godliness" on outsiders? They just want answers. They just want to feel love. They thought you had the answer, thought you had the hope they longed for. You push them and they in turn want nothing to do with you. Can't you see that they are fragile? Can't you see that you have to be tender with them?
Church, you are one body. Not many. You are the bride of Christ, not bride's. You need to become whole again. You need to put your focus back on God. You need to take your focus off of numbers, presenting an appealing message, and anything else that distracts you from God. The Bible doesn't always have a pleasant message to present! Don't lie to the outsiders to strengthen your numbers. Tell them the truth, that they WILL suffer, just like Jesus, if they follow in His footsteps; but be gentle. Jesus told us that the world hated him and that it will in turn hate us. It beat him, bruised him and killed him! How can you be blind to think that it will not do the same to you? You, church, need to be strong for all those seeking refuge. Do not give them a false hope, give them Jesus. Do not tell them that life is going to be easy, it's not. They will only end up hating you and falling away. How can they believe anything you say if you first tell them a lie? Tell them the truth. Tell them that God is worth it. God is worth the pain and the suffering.
I know that these words may seem harsh, Church. But we have to make a change before it is too late. There are so many souls that have already turned away from God because of you. So many that will not give you a second look because what they see is more hideous than what they see in the bars. There needs to be a change, a unity, and it begins here.
Start to follow the things that you preach. Show grace, mercy, love, and forgiveness– to everyone, not just people you think deserve it. This is what separates you from the world. This is why you are the bride of Christ. You are not like the world, you are not of the world. You are God's. You are different and called out for another purpose. Rise up church, prove to the world that you are God's.
With love,
Andrea