In the spirit of the new book Letters to a Future Church: Words of Encouragement and Prophetic Appeals, InterVarsity Press and the Patheos Book Club hosted a contest inviting readers to submit their own prophetic letters to the Church.  IVP chose three winners to receive a gift package of books and the opportunity to have their letter published here at Patheos.  We'll print one winning letter over the next three days. May these letters, and all of those from the book, inspire you to find your own voice for the sake of the future of the Church.
Where are your women?  from Elle Pyke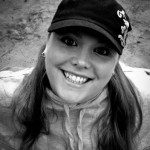 To the church in North America:
I don't suppose myself to be an all knowing critic. In fact, I find a great comfort in finding my own fault, rather than assessing the faults of others.
Having said that church, I feel it necessary to pose a question to you.
All throughout the narrative of scripture, God asks questions of His people. From the garden to the cross, our God questioned, inquired and queried those whom He loved. Questions have the ability to open up new worlds, explore new possibilities and unearth depths we may not have known before.
So it is with humility, gentleness and as much respect as I can muster, I pose my question to you.
A question I don't presume to be answered with ease.
A question that is nuanced and textured.
A question that has been asked from those who have gone before me and a question that I fear will be asked long after I have returned to the earth. But a question nonetheless that is banging at the door of my heart with a steady beat.
Knocking.
Longing.
Pleading for a voice.
I tread lightly asking you, the North American church, such a question.
I tread with ease and care because I know with my question I step on years of rich Christian tradition, theology and doctrinal stances. I tread on rules, rituals, and routines that have long been in place. I tread on fellow brothers and sisters earnest and sincere beliefs. Please know church, as I tread, I tiptoe with honest and thoughtful care.
North American Church, broken yet beautiful North American church, the question I ask you is this:
Where are your women?
Women with scars, women with baby weight and blistered feet.
Women who are daughters, women who never knew their fathers.
Women who knew force at the hands of the men they trusted, women who know deep abiding love at the hands of the men they trust.
Women who are friends, fellow travelers and faithful family members.
Where are your women?
Women who till fields. Women who run companies. Women who change diapers. Women who mend souls.
Where are your women?
Listen to the wind words, the Spirit blowing through the churches.
Oh church, I see your women in the pews.
I see them spiritually shaping and discipling the hearts and minds of people in other countries, as they serve as missionaries all over the world.
I see them creating the constructs of our children's first encounters with God as Children's Pastors and Sunday school teachers
I see them calling our congregations to worship God in music and penning hymns of glory to God as Choir directors and musical leaders.
But I don't see them standing in front of our churches, microphone in hand, passion in their bellies, sharing their rich stories with us.
Women, it seems, are disqualified from shifting the souls of men.
Able bodied to lead, aptly called to serve, everywhere else but behind the pulpit. I don't hear their voices resonating through literature, headlining conferences or enriching our understanding of Jesus through their perspectives and giftings.
Those voices are scarce, almost silent. Sometimes they drift in the wind, tossing to and fro. But they never stay long, they are not constant.
Where are your women?
I fear that storytellers rich with wisdom, living under the authority of compassion and steeped with long suffering love are being laid to rest without ever being given voice.
Their stories go with them.
To the ground.
To the dust.
Are you awake?
Listen to the wind words, the Spirit blowing through the churches.
I see everything you do church. I see your love, faith, service and persistence of your passion. I see your labor and your good works.
But where are your women who are preaching and interpreting the canon of Scripture? Where are the women preaching powerful, faithful, and compelling biblical expositions of the life, work and mission of our Christ? Where are the women calling our communities of faith to stare long and hard into the eyes of our Savior?
Have you hidden them church?
Have you relegated them to the sidelines?
It seems Church you have empowered and encouraged women to be disciple-makers by prayerfully speaking the Word of God to others, in whatever way and to whatever extent that their gifting and circumstances allow. Just not behind a wooden structure called a pulpit.
I can't help but wonder Church, if years from now, when our generation is gone, will the Christian minds of tomorrow wonder what we were thinking, when women changed the world and were left silenced in the church?
Silenced in His kingdom.
Women will always be, by nature lovers. They hold their lives loosely in their hands and pass it around, like Communion. Their whole life, a Eucharist of service and love and sacrifice through mundane tasks and mountain top moments alike.
Women.
The cressendo of God's creation.
But church, where are your women?
Are your ears awake?
Listen.
Listen to the Wind Words, the Spirit blowing through the churches
No single sweep of my pen can underline an answer to the question of women in ministry. But my spirit, oh my spirit longs for to hear the voice of the daughters of Christ.
To see daughters of the King, full of grace, beauty and radiance take their place with the sons of the King in teaching, preaching and proclaiming the good news of the kingdom.
The good news of the Way.
The good news of our God.
My dream church of North America is to see men and women together engaging in radical subordination and mutual submission, holding hands and holding authority together to steward the message of bountiful and wasteful grace.
To let every mouth proclaim the good news of the gospel and the hopeful call of Christ.
It's more than just equal rights.
It's a longing for all who come into the Kingdom to join in community and be empowered to participate in a revolution that spreads the Way.
Together.
Men and women. Sharing, teaching, preaching, calling.
So that the world might taste. So that the world might hear. So that the world might see and know.
That the savior has come.
North American church, that I love so dear…
My conscience beats that we are all called
To be voices of justice, revolutionaries, prophets and priests.
Women of the way, women with flaws
With cellulite and acne scars
Women with two feet on the ground and arms open wide
Beautiful women with the spark of the divine.
I will listen for your voices, you narratives, your exegesis.
Your passion, your perspective, your musings on Jesus.
To the church of North America, broken yet so beautiful.
Listen to the wind words, the Spirit blowing through your steeples
The wind of the spirit is empowering your women.
Give them voice as the creator has.
North American church!
Please.
Listen.
With love from one of your own,
Michelle