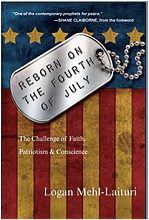 As part of our conversation on the new book Reborn on the Fourth of July: The Challenge of Faith, Patriotism and Conscience by Logan Mehl-Laituri, we invited several prominent Christian thought-leaders to offer a message to the church on the Fourth of July.  They considered: how should our faith inform our patriotism?
Here, author and emerging church leader Brian McLaren reflects on what it means to be a Christian and a citizen of a nation.
View more "Messages to the Church on the Fourth of July," from Lisa Sharon Harper, Jonathan Wilson-Hartgrove, Callid Keefe-Perry and Roger Wolsey.
So what do you think:  What does it mean to love God and love Country?  How does your faith affect your patriotism?