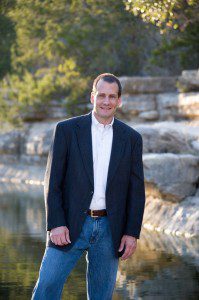 Do you have enough?  And what is enough anyway?
This month in the Patheos Book Club, we're talking about the new book Enough: Finding More By Living With Less by Will Davis Jr. Davis is the founding and senior pastor of Austin Christian Fellowship, a nondenominational church in Austin, TX, and the author of Pray Big, Pray Big for Your Marriage, Pray Big for Your Child, Why Faith Makes Sense, and 10 Things Jesus Never Said. In his new book, Davis tackles the concept of wealth, and specifically, what is enough, and challenges us to look at how much we have – and how much we really need – through a biblical lens.
We had a chance to ask Davis about his book – what enough really means to him, how we can begin practicing living with less, and his hopes for an "enough revolution."
Your book includes chapters titled How Much is Enough? and Finding Your Enough. What does "enough" mean to you?
My definition of enough has changed radically over the past few years. In fact, I'm not sure I'd really even thought about it until recently. I'd never been without enough, so I wasn't forced to think about what enough was. But as I was blessed to start working with the poor, I began to see what enough really was and what it looked like to not have it. Biblically, enough was most clearly defined by Jesus when he taught us to pray for daily bread. Enough is having what I need today–physically and materially, but also spiritually and emotionally. If you add in Paul's definition of enough as having food and covering, then you begin to see that the Bible's view of enough is very different from most of ours.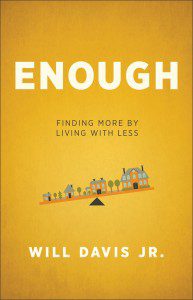 This book feels like a direct response to the prosperity gospel preachers and churches. Did the popularity of that movement affect your decision to write this book? Do you think God prefers for us to be poor?
The prosperity gospel had no influence on me writing the book at all. The book resulted from the collision of the world I live and serve in and what I saw in local and foreign missions. I couldn't get past the disparity between the two. I was confronted by the truth that enough isn't a relative thing to God. My enough isn't more than the enough of a Haitian living in a tent city. Enough, as defined in the bible is the same for both of us. And if I go to sleep at night with air conditioning, a full stomach and two extra/empty bedrooms around me, while people just a few hours away are going to bed on the ground, hungry and very unsafe, I can no longer believe that God has different definitions of enough for us.
Does God want us to be poor? No. He hates poverty. He wants us–every man, woman and child–to have daily bread. He wants us to have enough. The problem is that if most of us lived with what the Bible calls enough we'd think we were poor. We wouldn't be poor; we'd have enough. But compared to how were used to living, we'd feel poor.
One of the sentences that struck me most, surprisingly, was in the chapter "Rich Man/Poor Man, where you say simply: "Jesus was poor." Why did you think it was important to make this point?
It's important to remember that Jesus was poor because so many of us live with the relative riches that we think it's normal. It's not. Those of us who have more than enough can't just take that for granted and somehow assume that our extra is for our benefit. If the Son of God didn't have a place to lay his head at night, then we can't assume that luxury or even comfort can be very high on God's list of priorities. The fact that Jesus was poor means that if we're going to have any chance at all of seeing the world as he did then were going to have to start jettisoning some of our cargo.
Your book is full of real stories of people from your church who have begun to practice living with less. Tell me a bit about your church, and how your community decided to begin practicing an "enough revolution."
I lead a church that is located in a very affluent area. While not every one in the church is wealthy, our overall demographic is represented by well-educated, well-off people. Two events in 2005–Hurricane Katrina and a mission trip I took to Mexico–helped lead us to restructure our organization and budget so we could give more money away and begin trying to send more teams to serve the impoverished. And if you do enough of that, if you spend enough time with the poor, it won't be too long before you'll begin to see the disparity between how you live and what you have and how those you a serving live. And when that happens, you're not far from an enough revolution. I wouldn't say that the "revolution" is community-wide, but it is spreading. More and more families and singles a choosing to reduce their overhead and find more by living with less.
You make a point of saying that you didn't write this book to make people feel guilty about what they have, but rather to get us to start thinking about why we have more than we need. What conversations are you hoping to inspire with that question?
I want them to think about why they have more than they need. God isn't unjust. He doesn't just spread blessing around haphazardly so some have more than enough and others have less than enough. My prayer is that readers will wrestle with WHY they're on the more than enough side of the equation and to seek God on what he wants them to do with their surplus.
What are some of tour other favorite books or authors on Christian living? Who is inspiring you in your own faith walk currently?
I enjoy reading older works by such authors as E.M. Bounds, George Mueller, Halford Luccock, Oswald Chambers and Oswald Sanders.
Some of the people that inspire my faith are one or two of missionaries that I've been privileged to meet over the years. Their faith, humility and perseverance challenges and makes me want to be a better Christian.
Your book includes a number of very practical and excellent practices to help people begin to live with less. Can you suggest one practice that all of us can do to begin our own to journeys towards "enough?"
Here's one I'm working on personally right now. Create your own necessary /unnecessary list. I did this after a recent trip to Haiti when I was once again confronted with how much more I have than I need. I listed what I think my needs or necessities are and then I tried to see how many I could actually move to my unnecessary list.
For instance, living in Texas, I might list air conditioning on my list of necessities. But after my week in Haiti I know that I don't need it; it's a luxury. I don't have to have it to survive. Or my car–it's easy to think that it's something I have to have. But I don't. I can live without a car. I can walk or ride the bus or ride my bike. But having a car isn't a need. I really can live without it.
Once I have my necessary/unnecessary lists, I try to see how much stuff I can move off of my necessary list to my unnecessary list. The point is to have as few items as possible on the necessary side and even fewer on unnecessary side.  In other words, if I don't really need it, I try to get rid of it. It's a simple exercise to help me practice simple, clutter-free living.
Visit the Patheos Book Club on Enough and join the conversation about finding more by living with less.