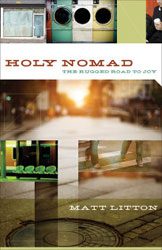 I was in conversation with a young man recently who had encountered and was drawn to what he called "the Jesus Story," after searching through other traditions, but became frightened and repelled when he met what he experienced as all the rules that communities have about following the Jesus Way. How I wish I could have had Matt Litton's book, Holy Nomad, to give him! In this imaginative and joyous paraphrase of the gospel of God in Christ, Litton gives fresh air and ample room for exploration to someone seeking to be a Christian or someone who is searching to find the points of connection between one's real life — warts and all — and faith.
The tenor of Litton's book is carried on the dominant metaphors that he uses to tell the story: God in Christ is the Holy Nomad; the Journey is the way, as it has been for pilgrims in other eras; and the purpose of the Journey is Joy. He is able to do this with very little religious language; no insider lingo here. He takes the reader on parts of his own faith struggle, but only as an illustrative way, not holding himself up as an ideal. He introduces readers to the gospel, stories about Jesus in paraphrase, as they meet a person in crisis, in resistance, with inertia, and in the mundane. He does not flinch from acknowledging that following the Holy Nomad is challenging, at times costly, but asserts clearly that there is Joy in all of the parts of the journey in which one is accompanied by Jesus and the Tribe, his metaphor for the community of Faith.
The greatest gift of the book is the sense, more than theological pronouncements, of the Holy One's great Grace that allows for the wanderer to return again and again to the journey, and then frees and energizes the Christian follower to care deeply about the world God loves—its created order, its global variety and the things that make for peace.  For the writer following the Nomad is worth all costs because it leads ultimately to Joy! Litton makes his case, supported with wide-ranging references to popular culture, further underscoring the here-and- now nature of God's continuing presence with us and for us.
If one is looking for a book that presents an outline of systematic theological proofs for the Gospel supported with Scripture references, this book is not it. It is a book for those who long to integrate intelligence and imagination in their search for faith or to be faithful. My one regret is that even in its casting of a wide vision of the inclusive nature of the body of Christ, there are few illustrations of and for women in the book.
I recommend this book highly for those who seek to know what the Jesus story is all about and for those whose vision and journey have become jaded and dim in the process of trying to do the right thing. This book is a gift.
Visit the Patheos Book Club for more conversation on Holy Nomad: The Rugged Road to Joy, by Matt Litton.
Elizabeth Nordquist is a pastor, a teacher, a spiritual director, a family lover and a friend. She has written articles for the Presbyterian Church (USA), and preaches and teaches in a variety of places where she is called. Visit her Patheos blog A Musing Amma here.