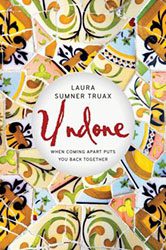 I've been there. Laura Sumner Truax has been there. And I imagine you've been there too. That moment where everything you knew to be true about yourself and your life comes crashing down, and the world turns upside down, and you come face to face with the reality that there is no hiding from this moment, this moment so full of failure and grief. Whether it be in my — and Sumner Truax's — case, a divorce … or perhaps for you, losing a job, losing a home, making an irreparable mistake … whatever it is, your well-crafted facade of having it all together falls completely apart, leaving you entirely undone.
But what happens after that – and what the Rev. Sumner Truax wants you to believe with all of your heart – is the subject of her new book, Undone: When Coming Apart Puts You Back Together. Using her own painful divorce as a starting point, Sumner Truax invites us to embrace our failures and our fears, take off our masks, and see ourselves for who we really are – and more importantly, as God really sees us and yet loves us – epic failures and all. So that the moment which is often perceived as an ending becomes rather a beginning to living a more honest, free and generous life.
I had the great pleasure of speaking to Sumner Truax – whom Brian McLaren has called "America's Pastor" – about her new book, and how we take those critical next steps after coming "undone."
To read an excerpt from Undone, and for more conversation on the book, visit the Patheos Book Club here.