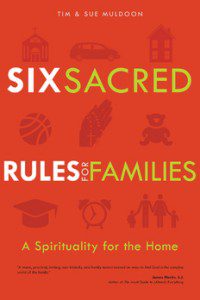 When it comes to raising our children in the faith, many of us tend to "out-source" our children's spirituality to the Church. Those religious educators know better than us anyway, and really, there's just not enough hours in the day to take on one more program. Plus, faith education belongs "over there," in the religious ed classrooms on Sunday mornings, right?
Tim and Sue Muldoon would have us think again. In their new book, Six Sacred Rules for Families: A Spirituality for the Home, the Muldoons invite us to see our homes and our everyday lives as "shot through with grace" and full of meaning-making for children and adults alike. The book seeks to answer the question: Is there a way to talk about the spiritual life in a way that makes sense in the everyday life of the family?
Demonstrating a resounding "yes" to that question, Six Sacred Rules for Familes offers a wise and accessible guidebook for cultivating faith in the lives of our families. The book shares six rules — or "truths" as Tim calls them — gleaned from Ignatian spirituality, and adapted for use with children. These practices, such as learning to pray, deepening love, widening faith, and cultivating a spiritual vision of life, can ground a family in God's presence and desire for each individual and the family as a whole. And perhaps most importantly, these practices are not "add-ons" to an already full schedule of family activity; but rather ways of looking at our days with new glasses.
As the authors say in the first chapter,
"What we are proposing is really very simple: a change in perspective. That change is about using Kingdom eyes in a very specific way: to see that everything we do in the course of every day is in cooperation with a God who loves us and and who is constantly inviting us to be love in the world, first toward our families and then toward everyone else."
We visited with the Muldoons via Skype recently about their lovely new book, why Ignatian spirituality is especially well-suited to children, and the larger question of how to create meaning-making with your children, everyday. To read an excerpt from their book, visit the Patheos Book Club here.