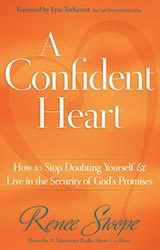 The worlds of Church and women I inhabit are quite different than the worlds of author Renee Swope. Yet I always want to celebrate the path that is opened for women to understand their value in the family of God-in-Christ. In her new book, A Confident Heart: How to Stop Doubting Yourself and Live in the Security of God's Promises, Renee Swope has opened that path to women who struggle as she has with a lack of confidence, a lack of self-worth, shame and loneliness. She lights the way through sharing her own story and on-going struggle, and she uses the stories and verses of Scripture as lamp-posts by which to navigate the journey.
Swope lays out clearly the vision of God that brings healing and hope to the woman who is trying to faithful to her commitment to Christ, yet finds herself sabotaged by her own voices of insecurity and woundedness. The sacred affirmations that she makes about who God is are trustworthy and inspiring. She uses anecdotes to demonstrate how the deepening knowledge of this God can be transformational and sustaining.
I wish that she had been more trusting of all the agencies of God's healing — doctors, therapists, spiritual directors — as assets in the long slow process of living into the confidence that God can provide. Transformation of a life takes a long time, and in some of the anecdotes in the book, one can get the impression that healing is instantaneous, and if it is not, something is wrong with the wounded one.
Renee Swope is courageous is speaking out loud the needs and realities of the lives of many women in North American culture. Her book will be very helpful to traditional women in a traditional culture with an evangelical understanding of Scripture and the Church.
To read an excerpt from A Confident Heart, visit the Patheos Book Club here.