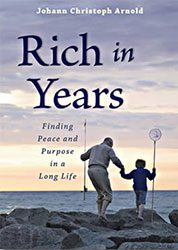 Book Review:
Rich in Years: Finding Peace and Purpose in a Long Life
By Johann Christoph Arnold
Edith Imhoff passed through life known by almost no one. I was one of the fortunate exceptions. During the Jesus Movement of the late sixties, she lived in the county seat town where I went to college. Before moving there, she's spent thirty years or so in India as a Christian missionary. With that behind her, she started a bookstore on her sun porch which put her in the crosshairs of bunches of goofy, yet sincere, new Christians coming to faith out of sixties counter culture and war protests. We all fell in love with her. It's hard to believe she made a dime from her bookstore because she gave the books away. (And if she made a dime, I'm sure she gave it away.)
We'd walk in and she would ask where we were struggling or hurting. Then she's snatch up one book or another saying, "Here. You need this." When we protested that we couldn't pay, she would say, "God will repay." We never left the shop without having her pray for us. She was pushing seventy, but the Pentecostal in her could still jitterbug. Having her take you by the hands was something like laying a wrench across the terminals of a car battery (I've done that so it's a fair comparison). Maybe the sanest things I did during college came at the end of the spring term when I would go to the bookstore taking her one long stem red rose. Years later, thirty or so, I opened my alumni magazine where I saw a shot of some sorority girls visiting a local nursing home. In the caption under the snapshot, a name caught my eye. Edith Imhoff. She was over a hundred and they surrounded her smiling at the nice thing they were doing for her. My mind raced. Do you have any idea who this is? No, of course not. If Helen of Troy was the "face that launched a thousand ships," then Edith Imhoff launched a few hundred people into the world for Jesus Christ. I'm sixty-two and I want to be her when I grow up (read old).
Johann Christoph Arnold is pulling for me and for anyone else moving into senior years. Arnold currently lives among a Christian community dedicated to peace, the poor and simplicity issues. He's written broadly and is a contributor to "Watch for the Light," an advent devotional quite a cut above many others. Here he writes as one feeling the assault of aging with one thought in mind; that is, that these should be years of our maximum spiritual contribution and deepest joy. This can be a hard sell as illness and infirmity sap strength, the mind wanders away and can't find its way home and financial concerns keep anxieties stirred. But he pulls it off with mustard (a good thing).
Some of the best writing comes when Arnold discusses mourning. He lays out two types of mourning. One mourns things like the decline of health and loss of friends in ways that lock us up in our past, what we used to be, in ways that paralyze us toward the future. This mourning assumes that there is nothing in front of us but dying and so we begin to die. A second mourning legitimately grieves loss but does so in a way that clears the deck for another chapter and arms us for it. Paul says, in II Corinthians 12:9, "…my grace is sufficient for you, for my power is perfected in weakness…" While the strength to do may fade with age, the strength to be increases with it because the sharpness to be depends on God's grace through us. This is true throughout all the stages of a Christian's life but we feel it the keenest in later years as all the dimensions of strength that got us this far begin to fade and continue, often rapidly, and always without our consent. These strengths run alone three broad lines.
Those who age value relationships. They have time for conversation; they will talk to anyone. In a digital age where texting, Twitter and Facebook reduce us to being social media drones who can't carry on real conversations face-to-face, this is important. It's what grandchildren have known forever; the aging have time to talk and, more important, to listen. People who have lost friends (many feel this is the worst part of getting old) know their value and often have strong ability to make new ones.
Older adults have wisdom that lies untapped because so many churches have generational barriers. When the Bible talks about letting the older women teach the younger, that gets problematic when the older ones are thirty-five and the younger ones are thirty. Experiences of things encountered, endured and survived ripen into wisdom much of which never sees a harvest to the loss of those around.
We've lost what it means to be a "prayer warrior." Part of the reason lies in the fact that we never really seen one under the age of forty. If weakness releases the power of God, then older years can potentially be the deepest and strongest of our spiritual lives. One of those people at our church asked about a young man who asked for prayer. She asked how he was doing and said to let him know she was still praying for him. That was fifteen years ago. They're spiritual pit bulls; once they bite down they never let go.
Some of the most poignant writing Arnold does involves end of life/quality of life decisions. How much medical prolonging of life through surgeries and medications is really necessary or even desirable? The stories that pepper the book give a lot of food for thought here. While none of the things in Rich In Years are a given or automatic, Arnold takes a hard, honest and encouraging look at a life worth living and stretching for and a Christian faith that can take us there.
For more on Rich in Years, visit www.richinyears.com.