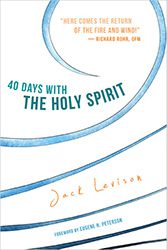 We seem to know much about God, the Father of the Trinity. We know even more about Jesus, the Son of the Trinity.
But that about the third aspect? We often believe the Holy Spirit is a mystery, a vague being about which we don't know much about. Frequently, we don't care to learn more about this part of God, because it either seems scary or can come across as bordering on crazy.
This, of course, is a bit disconcerting, since God left this generation with the Holy Spirit to accomplish his work on earth. The Holy Spirit should be the part of God with whom we are most in tune.
Why aren't we? And – even more challenging – how can we fix this?
40 Days with the Holy Spirit by Jack Levison is a good introduction for anyone starting their journey exploring the Holy Spirit. It's a good guide to how the Holy Spirit can help direct us to a closer relationship to all three parts of the Trinity.
This is not your typical daily devotional book. It's not filled with flowery phrases about gratitude and having a good day and making the best of your life. It's about really drawing in deeper. Each day's lesson is only 2-5 pages long, so it is easily digested in the morning before the day's work really starts… even for those of us who never have the time (or tell ourselves we don't have the time).
But don't let the lessons' brevity fool you. Levison does a really good job of getting to the heart of each day's lesson without too much fluff. There is a lot of meat here, including history and background that you don't usually learn in your typical Sunday school lesson. And yet, it isn't so detailed that he loses beginners searching for answers.
Levison doesn't presume to push the reader in one direction, but lets everyone make up their own minds about how the content relates to their stories.
Oddly enough, each day's lesson related to my own story in more ways than one, and I found myself looking forward to seeing what the lesson for each day would be. I got so much more out of this book than I was expecting, and it was a refreshing change from the normal devotional that feels good at the moment but leaves me empty. I am looking forward to reading this again later on in the year when the information has settled, and I've had time to digest it. I look forward to seeing if it still fits into my story and what new things I will take away then.
You can find more information about this book at the Patheos Book Club.
I'd love to hear your thoughts about the Holy Spirit. Why don't we pursue that journey more intensely? Or, if you have already pursued the Holy Spirit, how has it affected your life?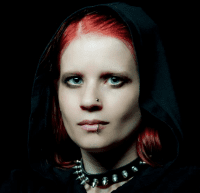 Addie Talley is your typical suburban goth girl.  She is 36 years old, a wife (of almost 13 years!) and a mother of 4 (two bio, two adopted).  She works 2 jobs – one she loves and another that pays the bills.  She's a Christian but also unchurched.  She's trying to find the courage to forgive and ease back into it, but admittedly falls short a lot of times.  She loves family and sweet tea, but otherwise is not a stereotypical Southerner. Follow her on Facebook and check out her photos here.