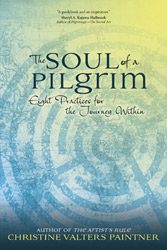 Book Review of The Soul of a Pilgrim
Now Featured at the Patheos Book Club
by Lisa Burgess
Because I read a lot of books, I'm picky. My favorite kind? Books that inspire me to go and live, not just sit and read.
The Soul of a Pilgrim is such a book. This latest by Christine Valters Paintner (an online abbess and pilgrim residing in Ireland) encourages us to each explore our own path with God.
Paintner lays out the tools to do it through eight practices, methodically walking us through creative exercises for each step. She begins by inviting us to hear and respond to the call, then pack lightly, cross the threshold, walk it out, be uncomfortable, begin again, embrace the unknown, until finally we reach the practice of coming home.
Within each of the eight chapters, we are introduced to the theme, read reflections on a related biblical story (contributed by Paintner's husband John), practice lectio divina, write Midrash (an ancient Jewish tradition of reading between the lines), take photographs (or an alternate expression of art), and receive a blessing.
Quotes and stories from fellow pilgrims inspire us throughout the book. Paintner also keeps us close to God stories:
". . . embrace the profound significance biblical stories can have for us personally when we allow ourselves to not just read at a distance. They call us to enter the texts in their own realities. Scripture was never meant to be heard just from a lectern in church. The biblical stories call us to dive in and see what we discover."
The pilgrimages we undertake may be prompted by an exterior life change (illness, new job, travel) or by interior promptings. But regardless of the source, each adventure is worth inspecting closer.
My journey through this book corresponds with my daughter Jenna's physical journey to Guatemala this summer. For each week she spends there, I'm investing a week here on my spiritual pilgrimage. Just as Jenna journals and takes pictures of her adventures, I also am creating a guidebook, or vade mecum, about my journey. Per Paintner's suggestions, it includes my seven-word prayer, writings, photographs, blessings, and other souvenirs I am collecting along the way for "soul encouragement."
Where will it lead? I don't know. The beauty of a pilgrimage is not just reaching a destination, but growing along the way.
"The call, I am certain, is to stop reaching, forcing, and trying to make the experience into something. I need to recognize that it already issomething. My willingness to be here and follow the quiet voice is enough. The angels of grace know my intention is true."
We can't predict what we will uncover on the inner "wild edges."  Paintner reminds us that as Adam and Eve, the first pilgrims, did not know what to expect on their trip through life, neither do we. One step at a time still works.
"When we begin to cross the threshold, we are confronted with the greatness of our unknowing. We are called to recognize that we do not know what the future brings. This allows us to rest in humility rather than theological platitudes."
Paintner calls us to "wander for the love of God." In that wandering, we discover the difference between being a tourist and being a pilgrim. "A tourist has new experiences, but remains the same person. A pilgrim experiences new places and is transformed by them."
Each encounter, each turn of the road, each new morning, is another opportunity to enhance our relationship with God on this journey. ThroughThe Soul of a Pilgrim, we become more aware that our pilgrimage with God isn't to "arrive at the summit and proclaim ourselves" but to discover that "life is fuller than we had ever noticed before."
Paintner closes the book with this blessing for the readers:
"I wish for you, my beloved pilgrim readers: to be ever so gentle with yourself, knowing that life calls us to the twin path of jumping whole-heartedly and surrendering ourselves into an ocean of care. When we do, we are guaranteed support so that we move through the world well-nourished."
May we each receive this blessing as we undertake our individual pilgrimages to the heart of God.
Read an excerpt from The Soul of a Pilgrim here.
Lisa Burgess writes about how she sees God in everyday moments and ordinary lives. An avid reader, she also reviews books and tells stories of grace at her blog Lisa notes. Follow Lisa on Twitter and Facebook.