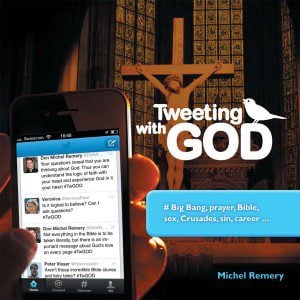 by Kamilla Ludwig
Tweeting with God was an unexpected pleasure. What started out as a young adult discussion group at a church in the Netherlands has become a book, app (#TwGOD) and associated Twitter account that serves, not only as a sort of catechism, but an evangelism tool as well. Although the author, Fr. Michel Remery is from Leiden, near Amsterdam, the book seems geared towards an American audience with its conversational tone, and each of the four sections being introduced by American churchmen: Timothy Cardinal Dolan, Archbishop José Gomez, Bishop James Conley, and Archbishop Salvatore Cordileone in turn. It also carries the Imprimatur of J. van den Hende, Bishop of Rotterdam.
Each 2-page question and answer includes a title illustration that can be scanned via the app, a side bar, a tweetable summary and suggestions for further reading. There are four short appendices at the back covering books of the Bible, Ecclesiastical titles (something that I, as a newish concert, am still not comfortably familiar with), a listing of the popes for the first 900 years of the Church (a further listing of the most recent popes is included in the body of the book, but about 900 years of popes are not listed), and a guide to the Ignatian method of praying with a biblical text.

Part 1 covers Tweets about God: the Beginning and the End, from the Big Bang to the Resurrection. My only disappointment with this section was learning that I won't again see the two best cats in the history of the world when I make it to heaven. Part 2 was particularly good in covering the Church: Origin & Future. The question on feminism was weak, falling into the "equal but complementary" explanation so common in evangelical Protestantism. A greater focus on Mary's role, purpose and mission would have made for a more satisfying answer. Part 3 covers questions about prayer and the sacraments. The initial section is on prayer itself and gives encouraging, helpful answers to those who struggle with prayer. The last section is about the Christian life, faith & ethics. Question 4.2 What should I do with my life? Has a disappointingly breezy answer reminiscent of the evangelical mantra, "God loves you and has a wonderful plan for your life" which brings to mind the meme popular on Facebook right now which superimposes that slogan over a picture of Roman martyrs coming face to face with some hungry lions. True happiness in the face of social decay cannot be adequately explained in a short answer format.

Overall, it's a very welcome tool covering topics of concern to young adults today, including reproductive technology, genetically modified crops, and how to use social media in the right way. I hope Tweeting with God will be put to good use in youth groups and young adult classes as a supplement to catechism and an aid to the new evangelization.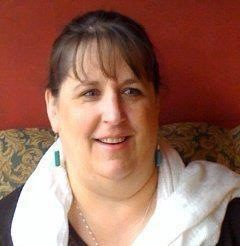 Kamilla Ludwig is a happy mantilla-wearing Catholic who writes about feminism, faith, culture, and women's health issues and ethics (especially questions about reproductive technology and surrogacy). Find her on Twitter as @TheBraveLass and on her blog www.kamillaludwig.com.
Read excerpts from Tweeting with God – and more conversation – at the Patheos Book Club!