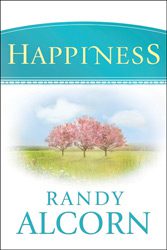 [Editor's Note: This post is part of a conversation at the Patheos Book Club on the new book Happiness, by Randy Alcorn.]
I have a confession. I really didn't like two songs that everybody else pretty much loved: Bobby McFerrin's "Don't Worry. Be Happy" and Pharrell Williams' "Happy". The secret of the last tune lies in the groove of the music. We could change the lyrics to sing about ketchup and the groove of the music still makes you want to dance your brains out. My gripe is this. My life experience (and that of many others) tends to say that happiness seems more elusive than the quick shot of three minutes of music (even good music). As pop culture continues to morph the lives of many to its shape, a lot of us are finding out the same thing. We find that pursuing happiness seems like knitting with steam. The harder we work at it, the more quickly it evaporates right through our fingers.
While we've never met, Randy Alcorn might agree. He's a well-published (both in quantity and quality) author. He's done some serious thinking in print recently about something we Christians don't always think seriously about – heaven. And now he swivels his serious literary chops to bear on something we're all interested in – being happy. And while Randy believes in happiness in many forms, this isn't a short punchy shortcut to feeling good. Alcorn not only believes that happiness takes some effort; he believes that the  effort is worthwhile. And that is why he wrote 423 page about it (small print, no pictures). Those spending the time and effort won't be disappointed.
Always read a book's introduction. The author tips his or her hand as to what the book's about and what they thought it so important they had to write about it. One of my favorite quotes from one of my favorite movies goes like this. "You keep using that word…I do not think it means what you think it means." We all think we know what certain words mean and would be offended if someone suggested we didn't. Like "love." If we all know what love is, why does the relational/marital/family landscape look like ground zero at a nuclear bomb test site? If we know what happiness is, why does something we want so badly elude our grasp? Right off the bat, Randy says, "Everyone has a theology of happiness – but is yours any good?"
The book divides into four main sections. Part 1 examines our longing and search for happiness. Our individual and cultural yearnings for this run stronger than we imagine and Randy probes below the surface more deeply than most of us have. Part 2 takes a look at something that almost nobody has thought about – the happiness of God. This describes the capacity for happiness that the expressions of the Trinity both experience between themselves and have blended into the image of God of every human being. Deep and very heady stuff but Randy makes it very accessible to the reader (which is good because I'm not sure this last sentence means what I thought it meant). Chapters like "Is God Happy With Himself (And Should He Be?)" and "Did Jesus Laugh, Play, and Have a Sense of Humor?" Part 3 takes stock of all the biblical passages that speak of happiness, joy and gladness. And there are a lot more than we thought. Part 4 discusses ways to live a Christ centered life. In American life, we reduce everything to putting our hands on things and making it happen; we reduce everything to action and technique. The reader will be tempted to leapfrog to Part 4 to get to the "good stuff" since many Christian books reduce complex things to four easy steps. But Part 4 breathes in harmony with the rest of the book. Much of it will be incomprehensible if we have skipped to it. And we will cheat ourselves.
Randy works hard to tell this story well (as he does in all his writing). One of the unwritten laws of good writing states that if someone else has already said something and have said it better than we would, then let them say it and give good footnotes. The reader will immediately notice that there will be more Scripture references than in many Christian books but not enough to become overwhelming. The reader will repeatedly find themselves saying, "I never saw this before" or "I thought I knew this but here is something new." He has a nice touch of leaving the reader feeling smarter, and not just impressed at how much the author knew. Randy also brings in a lot of other voices including some who have gotten bad press. The reader will encounter many quotes from the Puritans, a group popularly pictured as a dour bunch of deadbeats. Just as it's bad form to hang someone without a trial, it's bad form to trash writers without reading what they wrote. This gang will surprise you. Randy also quotes (so to speak) Dean Koontz's dog. Dean Koontz writes like Stephen King on a really dark day. I leave the dog to speak for himself (so to speak).
Some books we pick up and lay down, some very quickly. Some books we read and then move on to the next one. Happiness, I'm happy to say, is a book that, many times "reads us" … and that makes it uniquely valuable as a reading experience. It's a book that both provokes the desire to change and makes us hunger for God Who shows us His face through Jesus Christ as only He can change us. The best usual compliment we give a book is "I enjoyed it". Randy Alcorn's writing targets and desires for the reader the joy he writes about. Many who read Happiness may say, "I'm a different person from the one who opened the front cover of this book."
Read an excerpt from Happiness at the Patheos Book Club here!
David Swartz pastors Bethel Baptist Church in Roseville, Michigan. He thinks that jazz is sacred music, that books are better company than most people, and that university towns rock. He blogs at geezeronthequad.com.