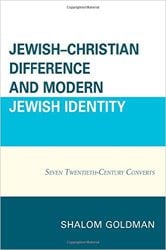 By Sarahbeth Caplin
It was with great personal interest that I read Jewish-Christian Difference and Modern Jewish Identity by Shalom Goldman: a collection of mini-biographies about seven 20th-century converts from Judaism to Christianity, and vice versa. Of the seven, only one name was familiar to me besides the biblical Ruth: Moishe Rosen, the controversial founder of "Jews for Jesus," the largest messianic Jewish organization in the world.
Rosen's story in particular implicitly asks the reader: what makes someone Jewish, or not Jewish? This question becomes more pertinent as an increasing number of American Jews embrace a secular brand of Judaism, allowing them to take part in a cultural narrative and embrace a lineage without partaking in religious tradition, while other Jews embrace Rosen's "Jew for Jesus" brand.
Reading this book, and the chapter on Rosen in particular, resulted in mixed emotional reactions. Because I was born to Jewish parents, even unobservant ones, that is enough to make me Jewish by most standards. While I never chose to practice the Jewish religion, Judaism nonetheless became the filter through which I saw the world, even as I began to realize that my understanding of God aligned more with Christian theology.
I was born into a tradition that encourages asking questions and welcomes theological debate. It is Judaism – or Jewish culture, perhaps – that I blame for my unrest when I heard in church that God provides for all our needs. My mind immediately shifted to the millions of Jews who perished in the Holocaust: what about their need to be rescued? And, furthermore, what about the needs of people in present day who need food, water and money with which to pay their bills? It is my Jewish background that is also the source of my discomfort when correct belief is emphasized over action; what Judaism calls tikkun olam, or "mending the world."
Not surprisingly, I repeatedly find myself at odds with many of my Christian acquaintances for raising questions and doubts that would never have surfaced if I hadn't said anything. It's in those moments of unintentionally making others uncomfortable that I almost resent my heritage. After all, I didn't ask to exist; I didn't get to choose my place and circumstances of birth. Throughout my young adulthood, I resented being Jewish because of how hard it was to fit in at any church I attended, even though I was just as enamored with the idea of a God Incarnate as everyone else.
It's taken a long time, but today I accept being Jewish as something about myself that just is. I accept it the same way I accept my curly hair, my right-handedness, my Polish and Russian ancestry. It's not all I am, but still integral to my identity. The older I get, the more it becomes clear that religion is as complex as humanity itself, and spiritual identities even more so. I have no issue with checking off the "Christian" box on a Pew Forum, but I have to mark "Ashkenazi Jewish" at the doctor's office for a complete assessment of my medical history; to be made aware of precautions I must take against certain cancers that people of this gene pool are vulnerable to. I breathed a sigh of relief when I married a gentile, realizing that this greatly decreases our chances of having a child with Tay Sachs, a fatal degenerative disorder that is almost uniquely found among the Ashkenazi faction.
I had hoped to see more of this internal-external dynamic explored in Goldman's book, which I feel is one of its weaknesses. Goldman's subjects wrestled with Jewish and Christian theological differences, which are certainly important, but do not show a complete picture. For many converts, conversion is not so much a one-time event, but a daily renewal. We don't necessarily choose our beliefs, but lineage chooses us, and I wish that Goldman had included chapters about individuals learning to thrive despite constant tension between the two.
Still, anyone interested in religious identity will find this book thought-provoking and worthy of discussion. Read other reviews from the Patheos Book Club here.
Sarahbeth Caplin has a bachelor's degree in English Literature from Kent State University, and is currently at work on a master's degree in creative nonfiction at Colorado State. Her memoir, Confessions of a Prodigal Daughter, ranked #1 in Amazon's top 100 personal growth books in 2015. Her work has appeared in xoJane, Feminine Collective, and Christians for Biblical Equality. Follow her blog at www.sbethcaplin.com or on Twitter @SbethCaplin.