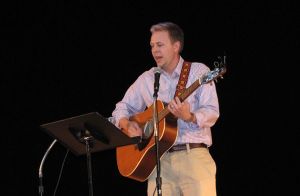 Recently Calvary staged a talent show, during which we learned (if we didn't know already) that we have quite a talented congregation.  One of the highlights of the day was a song, written and performed by Eric Bebber.  This musical masterpiece is a fitting tribute to this crazy, wonderful community of faith.  Enjoy.
A different kind of Baptist
Folks like me and you
Some people call us hippy church
But we call it the zoo!
You won't find any animals here
Only a diverse community
And from extremely odd situations
We have no immunity
(Chorus)
We've had…
Arrests in worship
Sirens in the sermon
Loud outbursts
And even a few hairy little vermin
We've got…
Republicans and Democrats
Superhero visitors
A man on a banjo
And three female ministers
You know, the staff at Calvary
Are a crazy bunch of folks
I've never laughed so hard in the workplace
As I have at Harold's jokes
(Chorus again)
We have so many ministries here
To care for our sisters and brothers
But the best part about Calvary
Is our love for God and each other
. . . It's why I love the zoooooo!