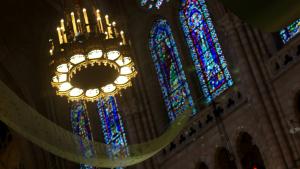 As I begin my fifth year as Senior Minister at The Riverside Church in the City of New York, I look back over these four years and feel the enormity of the distance we have come together.  This incredible institution with a history of world-changing witness is standing up a little taller, shining a bit brighter, coming into its current expression of call.  It has been a tremendous honor to have a front row seat and watch this beautiful beloved community rise up and live out its call in the world.
Over the course of these four years the world has broken open with pain both here in America and abroad.  We've organized to respond by shifting our staffing structure, engaging talented lay leaders, and undertaking innovative programs like Freedom School.  And last year we did a massive restructure of the entire staff system.  This was necessary and is already showing benefits, but it has not been easy.  As we were preparing for this shift last summer I had the thought: I wish I could spend some time in Hawaii with the new Executive Leadership Team.
While Hawaii is far away and one of the most beautiful places in the world, it is also my home.  My father is a native Hawaiian activist and community organizer, and I grew up steeped in my parents' and the community's shared values of justice and aloha.  The motto of the State of Hawaii is: Ua Mau ke Ea o ka ʻĀina i ka Pono, which roughly translates: The Life of the Land is Perpetuated in Righteousness (or Justice).
The life and land of Hawaii is a microcosm of the urgent injustice that defines our country—a situation in which we live and minister every single day.  Shaped by the pain and injustice of colonialism and the introduction of Christian faith (European culture) to the islands, this land of great beauty also struggles with an indigenous population working to reclaim identity, a huge homeless problem, immigration issues, drug addiction and incarceration of native peoples, and children lacking basic care and education.  To be sure, there are many other places in our country where this reality is true, but I, along with the principles and values that guide my leadership, am a product of my home. I kept thinking, what could our Riverside staff leaders learn about welcome, innovation, and justice by visiting the islands?
So I started thinking about this idea and eventually was able to secure funding from an organization outside the church that provided a grant to make the trip possible.  As the planning ramped up, these three themes of welcome, innovation, and justice came into clear focus.  The spirit of aloha, pervading the culture of the islands, teaches a kind of hospitality
that welcomes everyone with a seat at the table.  The population of Honolulu is one of the most ethnically diverse in the country, a place where people live and work and eat among different cultures every day.  What can experiencing this kind of immersion teach us about building diverse community in a mainland wracked by racism and discrimination?
Suffering the pain of colonialism, the native Hawaiian population has been forced to adapt and adjust, facing possible eradication more than once.  The last living Hawaiian monarch, Bernice Pauahi Bishop, left a large estate in trust for the care of Hawaii's children.  Leaders at the Bishop Estate now guide this 11.2 billion dollar trust, creating programs that educate and support Hawaiian children.  They have recently put a strategy and innovation team in place, professionals whose work is to think creatively about how to promote sustainability and flourishing in the work of caring for the future.  What can experiencing this kind of immersion teach us about innovating for the future, about taking the dream of institutional witness into full bloom in the present and future?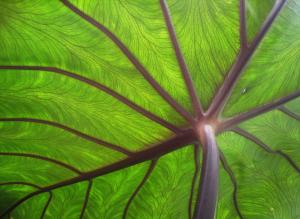 The many wounds of Hawaii's past have placed an urgent call for justice at the feet of Hawaiian leaders.  With native Hawaiians filling jail cells, addicted to meth, populating the foster care system, the work of justice now is the work of survival.  Through programs like sustainable organic farming; juvenile rehabilitation programs; a traveling preschool that engages children and grandparents of homeless populations on the beaches…there are so many people working to heal the pain of injustice in Hawaii.  What can experiencing this kind of immersion teach us about effective justice work in our own community, and especially at and with The Riverside Church in the City of New York?
Through time spent in cultural immersion and with interesting, powerful innovators and people who are changing the world, we will, I hope, begin to see our work at Riverside through the lens and spirit of Hawaiian culture—of aloha.  I expect we'll have conversations that illumine and invigorate, we'll share some wisdom of our own, and we may even come back with some unexpected partnership opportunities.
Over the course of six days, here are some of the people and places we will visit:
The work of leading the church into the future is taxing, and sometimes the challenges between us and ahead of us can seem insurmountable.  What a gift to think about these challenges with distance and new eyes, coming back to help our community do its own work of welcome, innovation and justice.