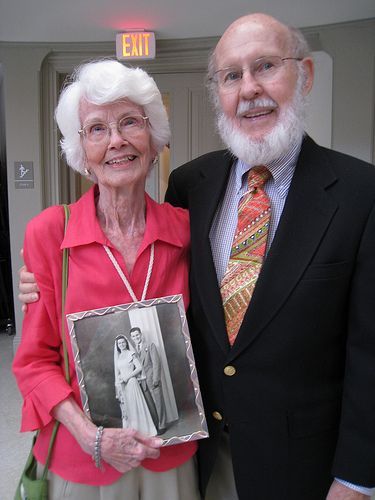 Beloved Calvary member, Sallie Tupitza, who died November 23, 2010, was remembered today in a private family service.  A service of thanksgiving and celebration for her life, which will include our whole community, will be held at a later date to be announced.  What follows is the short homily offered today.
When I was a child growing up in Hawaii my parents would send me every summer to stay with my grandparents in Chicago, to give me an experience of what it was like to live "on the mainland". My Grandmother took her responsibility as surrogate parent every summer quite seriously. Within the first week of our arrival, after the jetlag had eased, we would take a trek to the public library armed with her assigned historical time period or event and pick a whole armload of books to read during our weeks at their house.
One summer that stands out in my memory is the summer after my sixth grade year, when we arrived at Grandma's house and she informed us that the subject of the summer was The Underground Railroad. I left the library later that week with a pile of books like: The Road to Freedom, Conductor on the Underground Railroad, Escape North…and through those books I first met one of my heroes, Harriet Tubman.
Harriet Tubman was born a slave in Maryland in 1820. She decided to try to escape in 1844, and left the plantation where she had lived her whole life one night, to begin a long and treacherous trek that led her eventually to Philadelphia. The story of her escape is harrowing, and much of it is framed by her strategy of following the North Star. She would sleep during the daytime and at night, under the cover of darkness and guided by the light of that star, she would slowly make her way toward freedom.
She made it, and she made a life for herself as a free black woman. And then she returned to slave territory 17 more times, helping over 300 slaves escape to free lives in the northern United States and Canada. And every time she made a dangerous journey back into slave territory to rescue more, she would gauge their journey to freedom by the light of the North Star.
Like Harriet Tubman, Sallie Tupitza also ranks among my personal heroes. All of us love Sallie, and I say love in present tense because I believe her legacy is here, in this room, weaving its way through all of your lives and mine. She is a hero of mine and has been since I first met her. I know all of you feel the same.
But Sallie wouldn't want us to spend our time today reciting accolades about her or calling her a hero, would she? She was one who always looked ahead. So it's more the image of the North Star that resonates today when I think of Sallie. For all of those slaves, desperate for freedom and running for their lives, there it was: hanging in the ink black of the night sky, glowing just enough to light their next steps into the scary unknown ahead. When I think of Sallie, I think of the North Star, because hers was a life that glowed with throbbing light in the darkness of this world. The way she lived, her stubborn clinging to goodness and love…it is surely a light guiding the steps of those whose lives intersected hers.
Today we heard the words of Jesus in John chapter 14, where he reassures his disciples, trying to prepare them for the experiences facing them when he is arrested, crucified, and eventually killed. He reminds them in the verses we heard this morning that it's his life that stands as their guide, their touchstone, their point of reference in times of uncertainty…the focus that would lead them, eventually, home to God.
If the task of the Christian in this life is to become like Jesus, then these verses describing Jesus our guide and direction are just the right ones to read on this day as we celebrate Sallie's life. In so many ways she lived a life that emulated that of Jesus Christ. And certainly, she was like him in that the life she lived pointed the rest of us toward God. Those of us who follow along behind her have the brightest and best shining North Star in Sallie, a light that has led us and will continue to lead us, home to God.
We know, of course, as people of faith, that Sallie's life continues, that death is not the final word in her life or in ours, and that Sallie is now enfolded in the arms of God. But she also lives in here, in your life and mine, through the shining light she shown. In one of the last conversations I had with Sallie she was talking about the long and wonderful life she'd had the privilege to live. I think I said to her: "Sallie, look back at this life you've lived—you did it so well!" She smiled at me and said: "I did! I did, didn't I!" You did, Sallie. Oh, you did. And now your life hangs in the darkness of our own doubts and fears and human lives, and sheds a light that shows us just a little but more of the path ahead, the path that will lead us home, too.
Thank you Sallie for the life you lived. Thank you great God of the Universe, for the gift of Sallie Tupitza. May we each now take the next steps of our lives with courage and conviction, as she did, each of our paths illumined by the life of this beautiful woman, who showed us in her living the great love of Jesus Christ.
For that gift, for the light of her life beckoning each of us forward, today we say: thanks be to God, Amen.