Once upon a time, many years ago, a baby was born. 
And anytime a baby is born, from a little one come to the world in a dark, one room hut, his mother squatting on a dirt floor while she pushes . . .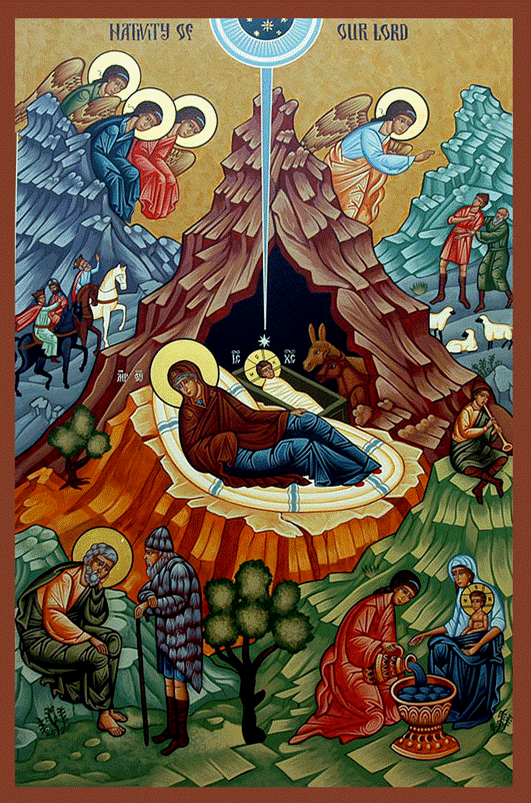 to the little one whose mother felt no pain as trained medical professionals closely supervised his birth, then whisked him into the warmth of a baby warmer . . . to a little one born to a frightened teenager in a stable two thousand years ago . . . anytime a baby is born, it's a miracle. 
We've had two little miracles in two weeks around here, definitely enough to remind us again that anytime a baby is born, it's a miracle.
The birth we marvel over tonight, however, is not a miraculous event just because a baby was born.  Oh no, the miracles just started with this one, born in the meanest circumstances into a family in crisis and a world in political upheaval.  But the birth of this baby signaled a far more vast miracle, a miracle that has continued to unfold all around us, God come to walk among us, to feel our pain, to live our human lives . . . and to teach us about God's audacious dreams for our broken world. 
This baby's birth was a miracle, because anytime a baby is born it's a miracle for sure.  But with the birth of Jesus Christ so many years ago, we welcomed God with us, an ideal whose time has finally, finally come.
God had hopes, great hopes, for his created world.  Hopes that we might live reflecting grace and hope, peace and justice, gratitude and salvation.  But the truth is that we don't do much of that—then or now.  Do we?  Created in the very image of God, we, in our human way, easily veer off track, good intentioned but lost, so very lost.  We were created to follow the light, but we forget the hope of God for this world . . . we forget the possibility of what we can become . . . and we get hopelessly mired in the deep darkness of sin and suffering.  Our world feels like this a lot, doesn't it: a place where we cannot achieve the highest hopes God has for us, and no matter how hard we try we get lost in the darkness all around us.
But today a baby is born.  And we know that anytime a baby is born, it's a miracle.  His very birth is a miracle, but even more miraculous is the light he has come to shine into our darkness.  He's here to show us the way out of the morass that entangles us and to lead us in the way of peace.  And with this light he shines, the most miraculous thing begins to happen: our lives, our human lives, reflect the ideal that God imagines for our world.  Hope and peace in the middle of despair and violence.
Recently I took a walk through an underground cave.  As our group wandered through the underground passageways, the guide with us stopped to point out interesting geological formations and mineral deposits.  Toward the end of the tour the guide asked us to stop for a moment.  Then she turned off all of the lights.  Utter darkness surrounded our group—not like the darkness you see when you look out the window at night—it was utter, pitch blackness, and it lay heavy all around us.  The guide told us to put our hands up right in front of our faces and try to see them.  No luck—it was that dark.
After the lights came back on, the guide told us that just one month underground in utter darkness like that—just one month, and we would go blind.  Why?  Our eyes are made to search for the light.  We search and search and search—we can't help it—looking for any hint of light to guide our way.  We are not people created to live in darkness . . . we are people who live to look for the light.  We need it; our hearts long for it.
Tonight a baby is born.  He is the light of the world.  Our hearts seek continuously for him; our lives yearn for his illumination.  His birth is a sign that God's ideal for us is not a lost cause, that we can be people who reflect God's highest hopes for this broken and suffering world.  Into the darkness of our lives, a light has come.  Tonight a baby is born.  And we know, of course, that anytime a baby is born it's a miracle.  Yes, a baby is born. 
And, even more miraculous than that: salvation has come. 
Thanks be to God!  Amen.