I just finished reading Bossypants—Tina Fey's thoughts about life and a lot of other things.  I started out reading the book for sermon research—no, really—because we're doing a series this coming Epiphany that involves improv comedy.  And I won't ruin the excitement by telling you any more, so I guess you'll have to come to church every week starting January 1….
Tina Fey, as you know, is extremely funny in a sharp-witted kind of way.  This quality makes her book very funny as well but also a little bit strenuous to read.  In other words, you have to think while you're reading.  Nevertheless, it was worth the mental energy for the sermon research…and also for Tina Fey's perspective on most anything else.
One theme that runs through the book, understandably, is the challenge of being a woman who has a career in a male-dominated field.  Fey talks openly about the pressures and difficulties of a young, female comedienne in a professional world where men have ruled since the job was invented.  In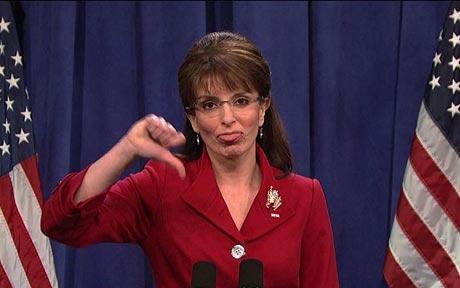 Bossypants, Fey offers some advice for women struggling with similar issues:
So my unsolicited advice to women in the workplace is this.  When faced with sexism or ageism or lookism or even really aggressive Buddhism, ask yourself the following question: "Is this person in between me and what I want to do?"  If the answer is no, ignore it and move on.  Your energy is better used doing your work and outpacing people that way.  Then, when you're in charge, don't hire the people who were jerky to you.   If the answer is yes, you have a more difficult road ahead of you.  I suggest you model your strategy after an old Sesame Street film piece "Over! Under!  Through!"  (If you're under forty you might not remember this film.  It taught the concepts of "over," "under," and "through" by filming toddlers crawling around an abandoned construction site.  They don't show it anymore because someone has since realized that's nuts.)   If your boss is a jerk, try to find someone above or around your boss who is not a jerk.  If you're lucky, your workplace will have a neutral proving ground—like the rifle range or the car sales total board or the SNL read-through.  If so, focus on that.   Again, don't waste your energy trying to educate or change opinions.  Go "Over!  Under! Through!"  and opinions will change organically when you're the boss.    Or they won't.  Who cares?   Do your thing and don't care if they like it.
Tina Fey's thoughts on this are very similar to what I told a group of young female seminary students who asked me recently for my advice on being a woman in ministry.  I mean, my advice was not nearly as funny in its presentation, I do admit, but the content was the same.  Do your work and do it in such a way that your efforts stand out as stellar.  Trust God's call on your life and don't take no for an answer.
And since everyone can always, always learn something new, Tina Fey's advice did reinforce my resolve that, should the opportunity ever present itself, I will NOT hire Al Mohler.
I am here resolved: I just won't do it.