So…the Pope is now tweeting in seven different languages.  Two friends sent me a link to this news and asked for my opinions on the matter.  There are several parts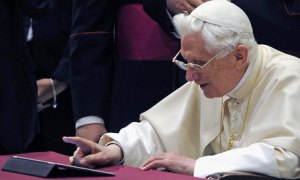 of this little piece of news, of course, so I wasn't quite sure which part they wanted my opinion on.  I am, however, happy to provide diverse opinions on most anything, plus some commentary of how the Pope learning to tweet relates to our Advent worship theme, Advent Conspiracy.
Here are some thoughts:
First, the Pope.  Yay, Pope, for getting all modern.  I am sure that there are tons of Catholics out there who will quickly become @pontifex followers to get blessed as they did with your first tweet, or to find out what they need to believe about women being priests and other stuff like that.  Even I, who am not Catholic (though I was baptized Catholic…does that make me Catholic?), tend to think you might be a little closer to heaven than the rest of us, so if you hear anything important could you please be sure to tweet it asap?  At least until @jesuschrist starts tweeting?  Thx.
Second, Seven Different Languages.  I attribute the tweeting in seven different languages phenomenon to what I hope is a large and linguistically talented Vatican staff.  If the pope knows seven languages well enough to tweet messages in those languages, then as a fellow member of the clergy, I feel even worse than usual about my qualifications for ministry.  I do think the need to get the word out in so many languages goes to show what a large and diverse "congregation" Pope Benedict has, the management of which must be super challenging…much harder than learning to use Twitter.  So, I guess what this makes me wonder is: if the Pope can speak all those different languages, why is he only now learning how to use Twitter?
Third, Twitter.  You know that Twitter only sent a special employee, the "Pontiff Recruitment Chief," to the Vatican to get publicity for the company, right?  It wasn't like the staff at Twitter was dying to get a holy word out to the world.  (BTW, what qualifications do you have to have to get a job like "Pontiff Recruitment Chief"…and what happens to you after you've recruited the Pontiff?)  Anyway, since tons of people around the world use Twitter, it's great that the head of the Catholic Church is now tweeting.  I have a Twitter account (beat the Pope, yessssssssssss!), @pastoramydc, but I don't use it as often as I should, and I can't recall ever using it to bless people.  Part of the reason is that I don't have too many tweetable thoughts, and when I do I often don't tweet them because, really, why would anyone care?  I do, however, link my blog to my Twitter account, so if you follow @pastoramydc, you should have gotten a link to this profound post…on Twitter.  Wait.  How did this paragraph go from the Pope tweeting to me tweeting?  Perhaps it's just natural, since he and I have so much in common.  So I will join him now and offer a Twitterblessing for you: @pastoramydc may the Lord bless you and keep you.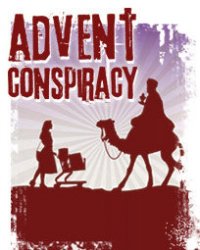 Advent Conspiracy.  Frankly, I don't know that the earth-shaking news of the Pope tweeting for the first time really has anything at all to do with Advent Conspiracy.  But because I am a preacher I'm fairly skilled at drawing connections between things that nobody in their right mind would ever see.  So, here we go.  Since Advent Conspiracy is a revolutionary attempt to scale back and live Advent intentionally in the middle of mass consumerism, I guess tweeting might be something like Advent Conspiracy.  That is, you say things more succinctly and you have to (in theory) think more about what you want to say.  And saying things more succinctly and intentionally in a world that won't stop writing long, rambling, barely coherent blog posts can only be a good thing, right?  Living Advent more succinctly and intentionally in a world gone wild with commercialism can only be a good thing, too.  See?  Connections.
So, in closing, I'd like to thank Jessica and Sarah for sending me links to this news about the Pope, along with the challenge of providing my insightful and thought-provoking analysis, which you have just had the pleasure of reading. 
And, perhaps this right here is why I don't tweet so much.  With the limitation of 140 characters, how on earth could I ever use Twitter to mine the corners of my brain to bring you such profundity as this?
I mean, it's not like I'm the Pope or something.