Today a bunch of folks from Calvary met at church to learn some more about the work of one of our partners, the Downtown Cluster of Congregations.  We're in a group of downtown congregations that helps employ a social worker doing outreach in our neighborhood, helping homeless folk get the services they need.  To raise money for this effort we all participated in a scavenger hunt organized by our super awesome mission board.  Here's some visual evidence of my team's adventures!
1.  Take a photo of the portrait of Calvary's most famous alum, Warren G. Harding, at the National Portrait Gallery. (1 point; +1 point if you can make it look like he is eating a waffle)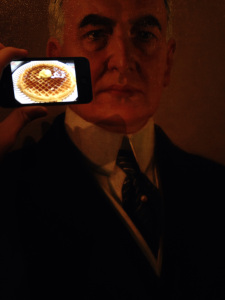 2.  Video record two or more team members acting out a short scene (at least 15 seconds) from one of Shakespeare's plays in front of the Shakespeare Theatre Company.  (2 points)
Watch the crazy here.
3.  A plot to assassinate President Lincoln allegedly hatched at this boarding house, though it probably wasn't over a bowl of wonton soup… Photograph the plaque marking this historical landmark. (1 point)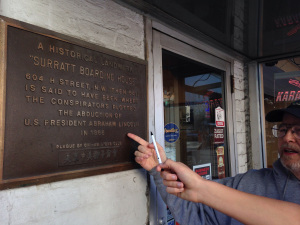 4.  Speaking of President Lincoln, snap a photo of the building where he died. (2 points)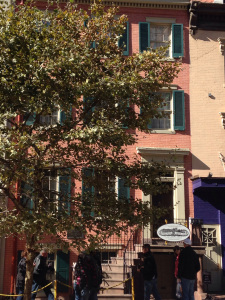 5.  It's always good to know your neighbors.  Get one point for each unique place of worship you photograph (Calvary excluded), up to 5 points total.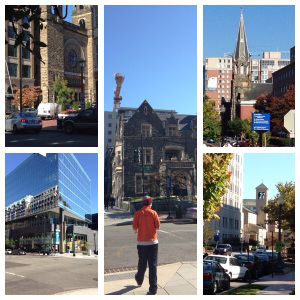 6.  Locate and photograph the following organizations that provide support to the homeless community in the Penn Quarter neighborhood: Center for Creative Non-Violence; Gospel Rescue Mission; Mount Carmel House. (1 point each)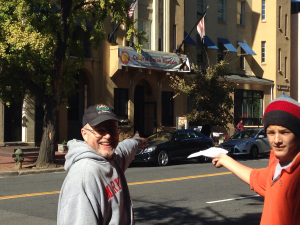 7.  Video record your team singing the Canadian national anthem outside of the Canadian Embassy. (4 points)
We're definitely not Canadian.  Evidence here.
8.  Take a group picture wearing FBI hats and making your best secret agent poses at the Crime Museum gift store. (2 points)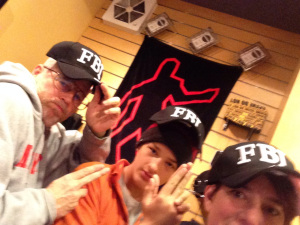 9.  Take a group picture sitting under a live tree INDOORS. Anything Jason may have freecycled off Craigslist does not count – it must be a public space. (2 points)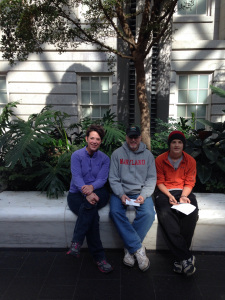 10.  Get a picture of your group reading the front page of the Houston Chronicle.  No, techies – reading a digital version doesn't count. (3 points)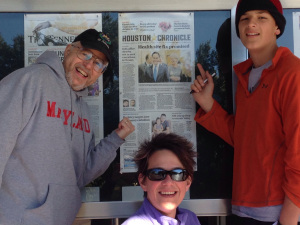 11. It was only in 1997 that this former home of Clara Barton, which she used during the Civil War as a base for her work, was accidentally discovered.  Find it and take a picture of the Missing Soldiers Office sign. (3 points)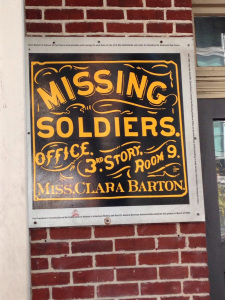 12.  Take a group picture in front of an INDOOR fountain that shoots water at least six feet into the air.  (2 points)
FAIL.
13. Temperance is a traditional Baptist value, though you may find its nearby representation a little fishy.  (Hint: look in Indiana) (4 points)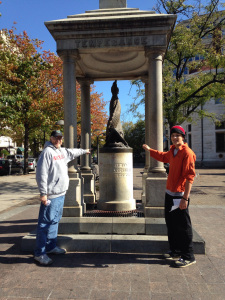 14. Take a group picture standing entirely within the continent of your choice at the U.S. Navy Memorial. (3 points)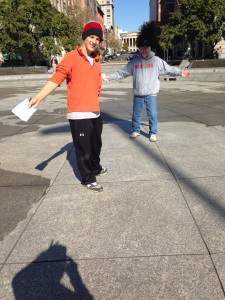 15.  Find and photograph the Bible verse quoted at the National Law Enforcement Officers Memorial. (3 points)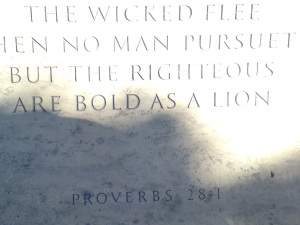 16. Take a photo of your group posing like the mannequins in front of the H&M window. (2 points)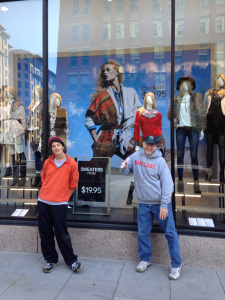 17. Obtain a piece of swag (free giveaway item) from one of today's events at the Washington Convention Center. (5 points – must bring item back with you to Calvary)
FAIL.
18. Ask the front desk administrator at the Goethe-Institut to teach your group how to say "Help the Homeless" in German, and video record the lesson.  (3 points)
FAIL.
POINTS FROM SCAVENGER HUNT: 39
TIME BONUS/PENALTY: +3
BONUS ROUND POINTS: +4
TOTAL POINTS: 46
WE WIN!