This is part 4 of a 4 part series on Baptists, recorded by video for an instructional curriculum on mainstream Protestants over at this cool new online learning site for churches, ChurchNext (I know, I'm as surprised as you are that we made the mainstream list).
I want to talk for just a few minutes now about why I'm a Baptist.
A few years ago an informal Twitter survey about words that come to mind when you hear the name "Baptist" resulted in responses like: legalism, controlling fights, fried chicken, women who can't wear pants, Disney boycott, fundamentalism, conservative, bickering, narrow-minded, crazy people, complete irrelevancy, uptight, stuffy holy rollers, lost the next generation, too limited, closed minded, self-righteous, antiquated, my grandmother, men in suspenders.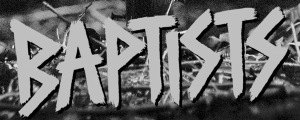 Given that list of perceptions, and given that I happen to be a female pastor in a tradition perceived to exclude women from pastoral leadership, this is truly a legitimate question. Many of my contemporaries, including many, many gifted and talented leaders, have given up on being Baptist because of these perceptions that are, in many cases, realities. So this is a good question for me, and I'm going to try to answer it from my personal perspective—a testimony, you could say. Which, as you know, is a really Baptist form of expression!
I did not grow up a Baptist; I grew up in a pretty conservative, evangelical, nondenominational setting. The first time I heard about what it meant to be a Baptist I was sitting in a religion course my freshman year of college at a Baptist university. And, I was smitten. What intrigued me initially was this Baptist tendency to organize because of conscience—around issues and ideas borne of conviction. What kept me coming and keeps me Baptist still is this stubborn insistence on an openness to the work of God's Spirit, in and through whomever and whatever God chooses.
In the middle of these two perspectives there's the messiness of claiming what you believe in a tradition that's noncreedal—nobody is going to hand it to you, you have to know it for yourself. So in that space, here are some Baptist distinctives that frame my personal faith and ministry.
The importance of the Bible. The tradition in which I grew up valued biblical literacy. From a young age I was doing sword drills—that's a game in which you compete to locate Bible verses as fast as possible. I knew my way all around my Bible by the time I became a Baptist, and I appreciate the traditional Baptist value of scripture. Not only should we know our Bibles well, we have a responsibility to know and read the Bible because that's one of the ways God speaks to us.
Jesus. Baptists are the original WWJD folks—while we don't have creeds and there are very few absolutes in our patterns of belief, at our best we measure everything against the life and message of Jesus Christ. That doesn't mean we all agree, but it does mean, for me, that at the core of this faith I practice—however you want to denominationally label it—I am a disciple of Jesus Christ. Being a Baptist gives me the freedom to interpret and claim this identity as a Jesus follower in ways that I find most authentic and genuine, fueled by my own conviction and (I hope) the Spirit of God.
Responsibility of the Individual. In a society where religion is increasingly becoming inconsequential, faith practice has to be fueled by more than obligation. I like being a Baptist because I know I am responsible for the practice of my faith, for claiming what I say I believe, and for intentionally living it out. We're quickly leaving a time in American culture when faith is easily accessed and religious frameworks assumed. To live authentically in an increasingly secular culture I need to know what I believe and why, and this quality of personal faith practice is inherent in the Baptist identity.
Autonomy. I love the fact that I can walk down the street from my church, drop in to visit the pastor of Greater New Hope Full Gospel Baptist Church, and have an experience wholly unlike his when he drops in to see me. Bishop Brown wears fancy vestments and a big, gold cross all the time. The focus of his ministry is the traditional expression of the African American church in America: advocacy and political action on behalf of the African American community. On Sundays the worship services at Greater New Hope sometimes last three hours, and they're filled with amazing gospel music so unlike our staid organ preludes and postludes. I love that all of these things are different about us and our churches. And I love that we're both Baptists. Because of the autonomy of the local church, the church where I serve could call me, a woman, to be their pastor. They could also hold canteens for soldiers during World War II while at the same time a committee to support conscientious objectors met upstairs in the church library. And they could take a vote to be the first white church in Washington, DC to admit an African American member in 1954. That's the beauty of local church autonomy and noncoercion of belief, and it's one of the reasons I'm a Baptist.
Community. Many Baptist churches have slogans in their staff listings that read: "Every member a minister." And that's true in the Baptist tradition. The responsibility for the leadership, vision, and direction of our church does not fall solely on my shoulders as the pastor. One of the critical parts of participating in a Baptist community of faith is contributing: leadership, conviction, time, prayer, money, intention…because we're all in this together.
Missions. Baptists have a rich history of collaboration for missions. Because of that tradition, being Baptist helps me support my conviction that following Jesus means putting my hands to work alongside others to heal the world. The assumption that our faith compels us to act is one way being Baptist helps me genuinely live my faith.
I guess ultimately for me, being Baptist has been an experience not unlike that of Elias Keach. Elias Keach was the delinquent son of a well-known Baptist preacher in England, Benjamin Keach. Elias was such trouble that, at the end of his rope, Benjamin Keach decided to send his son to America so he could get his life together. So Benjamin sent him along with a letter of introduction to the Baptist community in Philadelphia. I suppose the letter wasn't that specific, because Elias thought it would be fun to play a joke when he arrived in Philadelphia and pretend that he himself was a minister. (Having been a preacher's kid, he could pull that off with his eyes closed.) So he was invited to preach, which he did. The thing is, he preached so well and so convincingly, that in the process of delivering his sermon…he got converted. He was so moved by the experience that he confessed his deception to the congregation. And then he went on to become a highly respected Baptist pastor in early America.
That's what I love about being a Baptist most of all: that the unpredictable movement of God's Spirit is welcomed, and that in its working even somebody like me can find a place at the table.