The Hardest Question
Anybody who has spent any amount of time around an inquisitive five year old will know that kids ask the funniest questions to try to figure out the world.  Some great ones that I remember from life with my own five year olds are questions like: Why am I right handed? How many stars are in the sky? Why do lions roar? Where does outer space begin? How do birds fly? Who invented the alphabet? Why do you cry when you cut an onion?
Questions punctuate our lives; they're how we work to make sense of the world around us.  I smile when I remember some of the questions my kids asked but, especially in a week like this one, the memory of their innocent voices wondering out loud about the world makes me tear up.
How we'd wish for all of our children lives full of asking questions like, "Where does the light go when you turn it off?" instead of the questions we're asking—again—this week: How have we allowed white supremacy and a shameful legacy of racism in this country to root itself into the psyche of our nation and continue to thrive?  Why are Christians, people of faith, complicit in the ongoing destruction of our planet? Will yet another act of terrorism give us, finally, the impetus to stand up and demand we limit availability to deadly weapons in our country?  Will love really win in the end? Really?
This week our questions become so much less theoretical as we added nine precious lives to the list of martyrs.  I think it's important to say their names: Cynthia Hurd, Susie Jackson, Ethel Lance, DePayne Middleton-Doctor, Clementa Pinckney, Tywanza Sanders, Daniel Simmons Sr., Sharonda Singleton, Myra Thompson.
I, for one, am furious that my own precious children, and yours, are inheriting a world where their innocent curiosity has necessarily become coopted by questions like: Why is the confederate flag still flying over the capitol of South Carolina?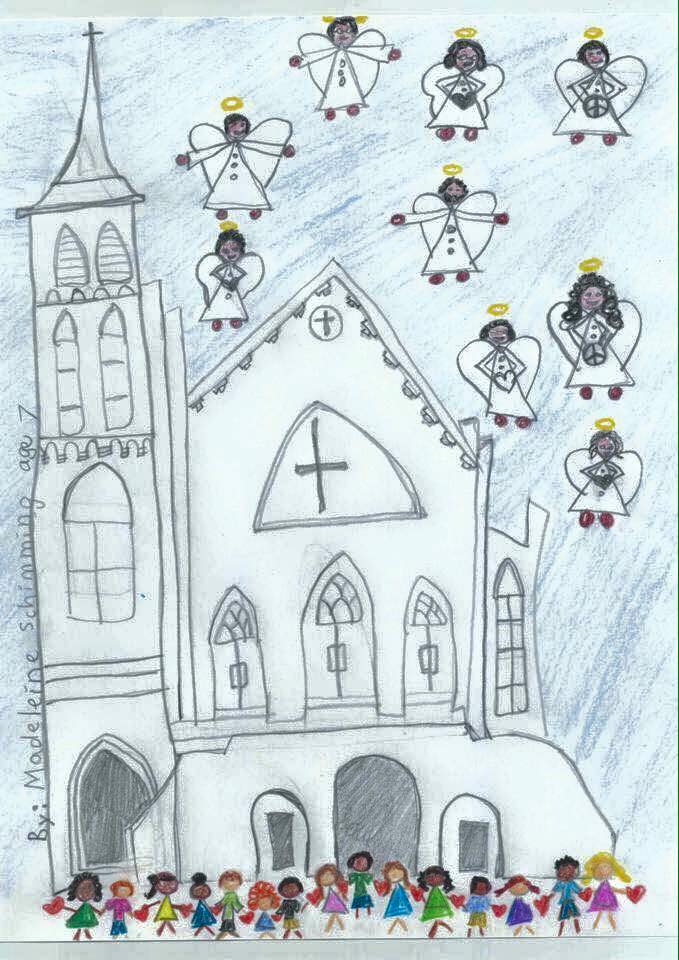 So it's in the shadow of such heaviness, a storm, really, carrying the weight of our own heartbreaking questions, that we're given a story from Mark's gospel, chapter four.  It's a familiar narrative to many of us, Jesus stilling a storm on the Sea of Galilee.  And it's quite a dramatic story, a great one for felt board Sunday School lessons.  But as I was rereading this week, I noticed the questions—the questions that punctuate this passage.
In Mark's account of events, this nautical adventure occurs pretty early on in Jesus' ministry.  He's called his disciples, former fishermen, to come and follow, and they've been busy traipsing around the countryside, watching and listening as Jesus teaches and heals people.  Jesus had begun to be very popular, in fact, and immediately preceding the story we heard today, Jesus was teaching a large crowd on the seashore.  The crowd was so large that it was pressing in on him, so Jesus got into a boat on the water to teach from there.
It must have been an exhausting day, and at the end of it Jesus said to the disciples, "Let's get away from the crowd for a bit—we'll take the boat to the other side of the lake and get a little bit of peace!"
So they all climbed into the boat and set out to the other side of the lake.
The text says that a great storm arose suddenly; the wind was whipping, the waves were beating the boat, the water was pouring onto the deck.  The disciples were terrified.  But Jesus, exhausted as he was, had fallen asleep on a cushion, the text says, in the very back of the boat.
And that's when the questions started.
Question number one was this: shaking Jesus awake the disciples asked him: "Don't you care that we're about to sink here?"
I myself have always found this first question a bit puzzling.  The disciples, who were fishermen, are so panicked by a storm on the sea, that they wake up Jesus—the carpenter?  They must have had their suspicions by then that there was something special about this man, that he represented hope and help, on the waves of a churning sea and for their adrift lives, too.  So they wanted to know: why are you sleeping?  Don't you care that we're in crisis here?
I have to say that this has been one of those weeks when I have felt a bit like one of those the disciples, hanging onto the railing of the boat for dear life and wondering if God is asleep.  We sophisticated humans, Americans, no less, have been confronted again with our own failure to build a society of justice, peace, equality.  We've failed, and our boat is sinking—fast.  Where are you, God, when innocent people are murdered at Bible Study?  Where are you when the shameful reality of the destruction of our planet hits us right between the eyes?  Don't you care that we're in crisis here?  Why are you sleeping? 
So many hard, hard questions.
And you know what happens next.  Jesus wakes up, walks to the side of the boat, and tells the wind to be still.
And it was.
You'd think he'd get back to napping, tell the disciples to leave him alone, but he didn't go back to sleep.  Instead, Jesus asks them a question.  He asks them: why are you afraid? Where is your faith??
These are sharp, very direct words from Jesus.  One commentator says you could translate Jesus' question to read, "Why are you so chicken hearted?"  Jesus is impatient with the disciples here.  He'd demonstrated for them repeatedly that the power of God is real and working in their lives, but confronted with crisis they revert to what they know from painful experience—their own inability to rescue themselves.  They panic; they allow fear and hopelessness and despair to overwhelm them.  They forget, just like that, the power of God that drew them into the adventure of discipleship, that gave them a whole new framework for seeing the world.
Where is your faith? Also a very hard question.
Do you think this week that maybe we're being asked this hard question, just like the disciples? When you took on the task of discipleship, of living your life and building this community in the way of God's revolutionary message of love for the whole world, you knew it wasn't going to be popular—right?  You knew it didn't make sense to a world motivated by greed and violence, oppression and injustice, hatred and fear.  We knew that! So why am I panicked when the worst happens?  Why am I so chicken hearted? Where is my faith?
They saw the storm stilled.  And they heard Jesus' rebuke.  And that's when the third question gets asked—the hardest question of all.  They asked it to each other: "Who is this, that even the wind and the sea obey him?"
There it is.  And it's the hardest question, one with which we are going to have to grapple and grapple hard if we want to live as people of courage and conviction in a world filled with so many things that make us so very afraid.  Who is this Jesus and what does his message of love for God and love for neighbor mean for me, for you, for us?  We must know who he is and what he came to teach us if we're ever going to live boldly into the audacious claim that love can heal us and heal our world.
It's a matter of life and death, in fact, to know who Jesus is and how he calls us to be in this world.  Indeed Pope Francis spoke to the very heart of Jesus' message directly this week in his papal encyclical addressing the care of our planet.  He wrote, "Disregard for the duty to cultivate and maintain a proper relationship with my neighbor, for whose care and custody I am responsible, ruins my relationship with my own self, with others, with God and with the earth.  When all these relationships are neglected, when justice no longer dwells in the land, … life itself is endangered."
We have to know who Jesus is and what he came to teach us if we're going to survive this storm, because these are scary times.  We are tempted to raise our fists in grief and despair and fear, to yell toward the sky, "Where are you, God?  We're dying down here!"  But God will challenge us, we who call ourselves disciples of Jesus Christ: why are you afraid?  Don't you know who I am?
We have to answer the question, for ourselves, for our community, for our world.  Because when we know the answer—when we know who he is and whose we are—we will not be afraid.
When we know that God created all of us in God's image, each of us a person of worth—precious and worthy of protection and justice, we will not be afraid.
When the care of our planet becomes a non-negotiable matter of faith and conscience, we will not be afraid.
When we adopt as a matter of urgency our work, with the grace of God's Spirit, to fix broken systems and heal broken hearts, we will not be afraid.
When we confront evil with love, we will not be afraid.
When we act as Jesus would, to speak life into a culture of death, to call strenuously and continuously for a peace and justice-filled city, nation, we will not be afraid.
When we be the church in its best expression, modeling to the world that nothing will keep us from preaching and living a radical gospel of love—nothing—we will not be afraid.
When we know that God's love is stronger than death, we will not be afraid.
We have so many questions as we make our way through this broken, broken world.  So many questions.
I wonder if we can summon the courage to look up from the terror surrounding us, from the storm of death and destruction and desolation ever in our sights, to ask the hardest question: who is this, that even the wind and the sea obey him?
When we do, when we ask the hardest question, we will find the ancient answer, the one that will sustain us in our conviction that love will have the final word:
I lift up my eyes to the hills: where does my help come from?
My help comes from the Lord,
    the Maker of heaven and earth.
He will not let your foot slip—
    he who watches over you will not slumber;
indeed, he who watches over Israel
    will neither slumber nor sleep.
The Lord watches over you—
    the Lord is your shade at your right hand;
the sun will not harm you by day,
    nor the moon by night.
The Lord will keep you from all harm—
    he will watch over your life;
the Lord will watch over your coming and going
    both now and forevermore.
Amen.