Home Another Way
American Baptist Churches Mission Summit 2015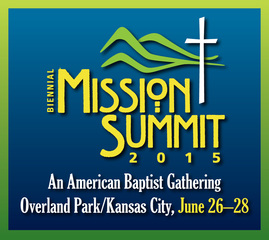 Good evening, American Baptists! It's wonderful to be with you tonight as we gather for worship together.
I'm especially grateful to join you this week in celebrating the ministries of my friends Rev. Dr. Roy Medley and Rev. Dr. Aidsand Wright-Riggins. Roy, Aidsand, your leadership as General Secretary and Executive Director of American Baptist Home Mission Societies has helped us to live into our shared call as American Baptists and, indeed, as followers of Jesus Christ. Because of your capable and prophetic leadership, our denomination is poised to move in to the future with courage and vision.
I myself am proud to be an American Baptist, inspired tonight to live boldly into the adventure of discipleship by the leadership of these friends and so many of you. But unlike some of you "lifers," I myself come a little late to the Baptist party. Raised in a nondenominational evangelical context, my freshman year of college I innocently wandered into an 8am History of Baptists class and was taken, transformed by what I learned about the priesthood of all believers and the separation of church and state and the courage of our forebears to buck systems of oppression and insist that God's Spirit is ever about the work of transformation in the radical way of Jesus the Christ.
I thought to my young self then and I still think to my not-so-young self now: who WOULDN'T want to be a Baptist??!?
Indeed, what a journey we've been on, what a story we share. This week I had an opportunity to revisit dog-eared copies of our story, recorded for us all by wise teachers like Leon McBeth and Bill Leonard, to look again at the journey that has led us to this place. It was a bit of a sobering exercise, to be perfectly frank, because in the context of this year and these past weeks in particular, and today…today, as I watched coverage of the funerals in Charleston, it's impossible to think about the story of our shared life and not recall that our own denominational beginnings are inextricably tied to racism and white supremacy, the original sins of our country and even our church.
You know the story. As with most mainline denominations in America, in the years leading up to the Civil War, Baptists in America were deeply divided over the issue of slavery. In order to preserve the denomination, abolitionists and defenders of slavery maintained tenuous ties by adamantly refusing to address at the denominational level the most urgent moral crisis of the day.
At a local level, however, churches were taking firm positions on the issue. In a letter to the Governor of South Carolina in 1822, Richard Furman, pastor of the First Baptist Church of Charleston and President of the State Baptist Convention, composed a lengthy defense of slavery. After exegeting several biblical passages he believed supported his position, Furman concluded, "the holding of slaves is justifiable by the doctrine and example contained in Holy writ; and is, therefore, consistent with Christian uprightness, both in sentiment and conduct … A master has a scriptural right to govern his slaves so as to keep it in subjection; to demand and receive from them a reasonable service; and to correct them for the neglect of duty."
A Baptist wrote those words.
The context in which they were written was this: the city of Charleston, and by extension the state of South Carolina, had been shaken to its core when it was discovered that slaves, led by their pastor Denmark Vesey, were organizing a rebellion to gain their freedom. The governor of South Carolina reached out to Rev. Furman for help, asking him to write a "moral and religious" defense of slavery that could be used and circulated in the wake of that attempted slave revolt. And so, with the full support of the state of South Carolina and the words of a Baptist minister, the leaders of that rebellion, including Denmark Vesey, were executed and all black churches were outlawed.
The church where that rebellion was planned and whose founder was Denmark Vesey, of course, was Emanuel AME Church in Charleston, South Carolina.
This was the terrible path our denomination was on, creating space for, even justifying, the continuation of slavery and the perpetuation of the insidious lie that white lives are inherently of greater value than black and brown lives. We were complicit with the evil around us until a group of Baptists of goodwill decided they would not be silent anymore, and in 1845, when James Reeve, a known slaveholder, was nominated for missionary service, the Home Mission Society refused to appoint him.
In proud Baptist tradition, naturally, the result was schism. And the group that would come to be known as American Baptist Churches, USA, all of us gathered here tonight and so many more, first came into being. On their journey together, they were convicted: they would not be voices sanctioning the evil of slavery. They would instead live into that radical transformation and head toward home another way.
And they did.
Guiding our consideration of the work of discipleship tonight is one of the most dramatic stories of transformation in scripture, the story of the Apostle Paul's fateful road trip from the book of Acts. As you know, Saul—as he was called then—was a prominent Jewish leader and respected religious figure. The religious and political authorities of the day counted him among their most promising rising stars, and they turned to him for help to articulate a moral and religious justification for the containment and even eradication of a small band of rabble-rousers who called themselves disciples of Jesus Christ.
That small group's persistence at keeping alive the words and witness of one who was such a threat to the established order that he had been executed by the state, had begun to rock the easy social order and threaten the institutions built to maintain the status quo. The group was doing things like: forming communities based on principles of radical welcome and love; holding their possessions in common so that all would have enough; and breaking down the dividing lines that had traditionally been used to segregate people into distinct social categories based on gender, race, and social status. These communities – these early churches – were birthing grounds for beliefs that threatened the whole social order, and their very existence made the folks in power nervous.
Sanctioned by those very powers in Jerusalem, Saul—who most certainly was a master of proof texting and creative exegesis, too—set out on a mission to root out Christians and bring them bound to Jerusalem for trial. And so, fired up with self-righteous indignation, Saul packed his bags, hopped onhis donkey, and set off toward Damascus.
Something happened on the journey, though.
In a moment of disturbance, of transformation you could say, Saul would never be the same again. Hurrying along the road, a bright and blinding light out of nowhere hit him hard. Off his donkey and into the dusty roadside he fell, where he heard the voice that would change his life asking: "Why do you persecute me?" And as he got up to continue his journey, Saul made his way with a physical blindness surely symbolizing the blindness of heart that had allowed him to persecute so many for so long.
But confronted by the living Christ, Saul was transformed, fundamentally unable to continue his mission of hatred and persecution in the name of religion. And arriving in Damascus, suddenly he himself at the mercy of those he'd come to persecute, God spoke again, reminding those first Christians of the power and possibility of transformation.
It was an astounding moment of grace and a reminder that even those with a legacy of persecution and hatred can head home another way, can, in fact, find themselves transformed by the journey to become the most unlikely agents of God's healing and hope in the world.
And what about us? What about our modern journey, American Baptists?
What happened to Paul has happened to us: we have encountered the living Christ and been invited into the possibility of transformation. Brave and prophetic voices have gone before us, but now you and I are now holding the mantle of American Baptists. What form will conversion, transformation take on this leg of the journey?
You and I know that we cannot profess to be disciples of Jesus Christ and not be compelled by that gospel to be agents of radical love in the world. And I want to say that at this moment along our journey, friends, we cannot be agents of that radical love without working to dismantle racism and white supremacy in our country.
Nurtured and formed in faith by principles of gospel community that leave us poised for prophetic action, tonight we must pause and remember a bit of the journey we've been on in this country during our lifetimes:
• Christmas Day, 1956 – Bethel Baptist Church in Birmingham, Alabama and the home of its pastor Rev. Fred Shuttlesworth damaged by an exploding bomb
• September 15, 1963 – Four black school girls, Addie Mae Collins, Cynthia Wesley, Carole Robertson and Carol Denise McNair, killed and 20 injured by the detonation of a bomb at the 16th Street Baptist Church in Birmingham, Alabama
• June 16, 1964 – Mount Zion AME in Longdale, Mississippi burned to the ground and five days later, three civil rights activists kidnapped and murdered by the Ku Klux Klan
• In the span of just over a week in 1980, 3 black churches in my own city of New York, set ablaze
• From 1990-1997, 70 black churches burned by arsonists, 30 of those fires happening between 1995-1996 alone
• And, on June 17, 2015, in a tragedy that touched members of my own community and I know many of yours so very personally – a gunman walked into Bible Study—Bible Study!—at Mother Emanuel and shot and killed
Clementa Pinckney
Depayne Middleton Doctor
Ethel Lance
Susie Jackson
Cynthia Hurd
Tywanza Sanders
Sharonda Coleman-Singleton
Myra Thompson
Daniel Simmons Sr.
All of these and so many, many more precious lives lost because as people of faith and as a nation, we have failed to address and eradicate the original sins of our country: racism and white supremacy. This is the path on which we find ourselves in America, a path that views black and brown bodies of lesser value than white bodies, a path that belies our claim to be a nation of equality and freedom for all.
Living lives of radical love in such a world – living lives transformed by the journey of life with Christ—this is the very mandate of our faith. So how shall we proceed? We can start by taking down some flags—and we must—but that is not enough:
We must repent.
At long last we must come together to end access to deadly weapons and a culture in which their possession and use is tolerated and even celebrated.
We must address systems of oppression that incarcerate African Americans at nearly six times the rate of whites, that create massive racial inequity in income, housing, and education.
We must speak truth to power.
And we, the CHURCH OF JESUS CHRIST, must build the counter cultural and subversive, the beloved community that Jesus came to show us, here on earth.
"The arc of the moral universe is long but it bends toward justice," Dr. King said. And, it will. We saw it even today with the just and right Supreme Court ruling legalizing marriage for all Americans. But there's so much further to go. We are on a journey during which we must be transformed so we may build the beloved community together, and the good news tonight, American Baptists, is that we know how to do this.
This is who we are.
It's in our DNA.
It's at the core of what it means to be part of this beloved community, American Baptist Churches USA.
In the wake of the murders in Charleston, many people are again claiming that even in the twenty first century our churches remain the most segregated communities in society. That may still, sadly, be true. But that's not our legacy and it is not our witness. Our denomination is the most diverse Protestant denomination in America. We have been modeling this kind of messy, beautiful, beloved gospel community for decades.
As we confront our own sin and the sin of our nation, we must remember who we are and we must step forward to lead the church in repentance, in bridge building, in making beloved community a reality.
As you've heard, I've recently had a small job change. As part of my work as pastor at The Riverside Church, just this week I attended the funeral of a lifelong Riverside member, a gifted musician and proud American Baptist, Rosemarie Wildman. In her 89 years, Rosemarie met all seven senior ministers of The Riverside Church, starting with Harry Emerson Fosdick! As part of the litany of so many stories of grace and love and service in her life, Rosemarie's son David got up and told a story about growing up at The Riverside Church and playing bells in the youth bell choir his mother directed.
It was the 1960s, he said. Playing alongside him in the youth bell choir were some white kids like him. And there were also his friends: Latinos, African Americans, Asians, so many different kinds of kids gathered at choir practice, horsing around and being told to get in line, traveling on choir trips all over the world, using their gifts together to create beautiful music. David recalled conversations within the group, the first time they heard these words of Dr. Martin Luther King, Jr.: "It is appalling that the most segregated hour of Christian America is eleven o'clock on Sunday morning."
David said, "We looked around at each other in confusion. We didn't know what he meant!"
That.
That kind of beloved community, in which we do the hard, messy work of loving each other in the way of Jesus, is what we American Baptists can bring—what we must bring—to bear on the broken, wounded society in which we now live.
If we don't answer our call now, with bold and prophetic witness, we are walking away from the possibility of transformation.
If we don't insist that the racism and violence in our country must end, we forfeit the legacy handed down to us.
If we don't live out that change by building and nurturing communities of radical gospel, beloved communities in which the world can see this transformation lived out, we continue walking with scales fixed firmly to our eyes, blind. Blind.
Last Sunday at The Riverside Church we ended worship with an urgent call, issued not by me, but by the recorded voice of Rev. Clem Pinckney, pastor of Emanuel AME Church in Charleston, South Carolina. Today, today especially, on the day of his funeral, I thought we should hear it, too: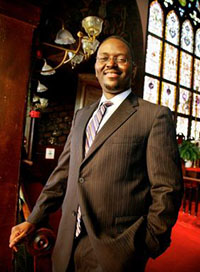 Could we not argue that America is about freedom – whether we live it out or not – but it really is about freedom, equality, and the pursuit of happiness. And that's what church is all about – freedom to worship and freedom from sin, and freedom to be full what God intends us to be and have equality in the sight of God. And sometimes you got to make noise to do that. Sometimes you may even have to die like Denmark Vesey to do that. Sometimes you have to march and struggle and be unpopular to do that. There are many people who would say why would you as a preacher, why would you as a pastor be involved in public life? And I've already said it, but I'll say it again. Our calling is not just within the walls of the congregation, but we are part of the life and community in which our congregation resides. So many have made great strides and we have encouraged others to do so. And even now, even though you are here, we don't like to see our church as a museum, but as still a place of change and still a place where we can hopefully change and work on the hearts and minds and spirits of all people. And we hope that you will find a kindred spirit here at Mother Emanuel.
American Baptists: we have been transformed by this journey. God is asking us to step up, to speak out, to call for and to live out radical love.
And we CAN NOT wait; the moment is now.
So let's pick ourselves up off the side of the road, brush the dust off our resolve, and head home another way, transformed.
AMEN.