Every year on Good Friday I repost this memory, originally published almost ten years ago.  The child referenced is about to graduate from high school, and life has changed just a little.  But this remains one of my favorite memories of mothering and pastoring and Holy Week.  Blessed Pretty Good Friday.
Holy Week is rather intense around our house, primarily because Mom is working a lot and we all spend quite a bit of time at church. Since this also happens to be Spring Break (no school) well, you might imagine the juggling going on.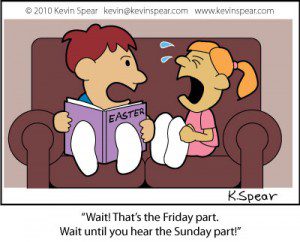 To try to keep things straight I've lately found myself reviewing the plans of each day over and over with anyone who will listen (I've found the most dedicated listener, truthfully, in the dog.) Nevertheless, the other day I was talking with Sammy (human child, age 8) about our plans for the week and reviewing in detail what we'd be doing all week.
I was pretty well into the weekend, I think, when he interrupted me. "Hey Mom! Isn't Friday the day we think about Jesus dying on the cross?"
(Smart pastor's kid!)

"Yes," I responded happily and continued rambling.
"Wait, Mom!" Sam interrupted again. "Isn't that day called Good Friday?"
(Smart pastor's kid!)
"Yes," again, enthusiastically launching into the topic of what children might be expected to wear to church on Easter Sunday.
Sam spoke up one more time: "Well, what I don't understand is why they call it GOOD Friday if that's the day Jesus died. I think they should call it BAD Friday!"
Uhhhhh. Well.
I stopped my recitation and began racking my brain for any recollection of why we call it Good Friday, recognizing that Sam seemed to have a pretty valid point.
Later I did some research and found that we call it Good Friday probably because of the development of the English language over time. In Germany they call it Karfreitag, Mourning Friday, which seems to make more sense. But some are of the opinion that there was a time in the history of the English language that "good" meant "holy", which would, in effect, make today "Holy Friday". Still others think it was originally referred to as "God's Friday" and, over time someone added another "o". And then there are those who believe it's not an etymological issue at all but more likely a theological statement: that great good came to be from the tragedy of that Friday.
I didn't know all of this when Sam and I were talking, but that's in essence what I told Sam. I said that as Christians we believe Jesus came to show us radical love—the best good there could ever be—until people got so angry that they killed him.  We call him our Savior, because he gave up everything to show us how to do that, and today we remember Jesus' invitation to love each other just like he loved us.  To recognize that gift we call the day Good Friday.
(At least I recall it was something profound like that.)
Sam, with the deep conviction of the world-saavy 8 year old responded: "Well I guess I can see why they might call it Good Friday. But I still think it's sad. Do you think it would be okay if I called it Pretty Good Friday?"
With the most serious face I could muster I responded that I thought that would be fine.
Hope you find some moments of forgiveness, grace and hope on this . . . Pretty Good Friday.