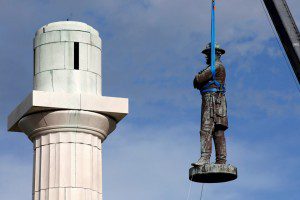 Our news feeds have been filled with depressing stories lately of leaders who demonstrate marked lack of principle in their quest to keep or regain power or popularity or position. I suppose that's why I was so shocked to read about a tremendous act of leadership last week by New Orleans Mayor Mitch Landrieu.
Facing considerable controversy over the decision to remove four Confederate statues in the city, he said this: "And I knew that taking down the monuments was going to be tough, but you elected me to do the right thing, not the easy thing and this is what that looks like. So relocating these Confederate monuments is not about taking something away from someone else. This is not about politics, this is not about blame or retaliation. This is not a naïve quest to solve all our problems at once. This is, however, about showing the whole world that we as a city and as a people are able to acknowledge, understand, reconcile and, most importantly, choose a better future for ourselves, making straight what has been crooked and making right what was wrong."
While it's unfortunate that reading this fine example of good leadership was so shocking to me, it reminded me that more than any leadership strategy, book, resource or plan I have ever encountered, the most important thing a leader needs to be successful in her work is character. The best leaders know who they are, what they believe at the very core of who they are, and why they do the difficult work of leadership. And, as Mitch Landrieu so aptly points out, good leadership is punishing work, good leaders are hard to come by. That's because good leadership all comes down to character.
Anyone who embarks on the adventure of any kind of leadership will soon learn that it is completely impossible to please everyone, ever. There's always someone quick with a criticism and willing to offer an opinion or critique, warranted or not. So when complaints start and opposition rises and tempers flare, if the leader does not know what he believes or why, he will not be able to survive the pressure. A leader's principles have to be stronger and more deeply rooted than his need to be liked or reelected or even employed.
In a political climate where so many public leaders, most notably the president, demonstrate an obvious lack of character, it's even more important for all of us to remember that essential and critical quality of a good leader, to develop character in our own lives, and to seek out leaders who show this kind of depth, commitment and principle. When we staff our churches we should look for leaders who will tell us the truth and who will do the right thing, even if it hurts. And we who lead churches need, now more than ever, to follow examples like Mitch Landrieu's last week.
There is important truth that needs to be told, there's a lot of "making straight what was crooked" that needs to be done. Leaders who boldly embrace this work are sure to be taken to task by those who don't want to hear the truth, but those with character will make the change that needs to happen. A t-shirt I've seen a lot lately reads: "Strong women: know them, be them, raise them." The same is true for strong leaders, because our country is lacking in leaders with character and we need them more than ever before.