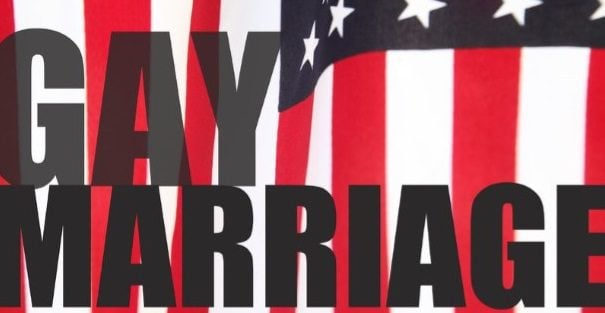 Today's Supreme Court decision that ruled same sex-couples have the right to marry nationwide has many Christians asking a question, "Can faithful Christians support same-sex marriage?"
I believe that not only can faithful Christians support same-sex marriage, faithful Christians should support same sex marriage.
First, the can. Many people think the Bible is a stumbling block when it comes to this issue. They feel that they can't support same sex marriage because the Bible is against homosexuality. But what if we've misunderstood the Bible? That's the case that James Alison makes in his lectures The Shape of God's Affection. Alison points out that heterosexuality and homosexuality are modern concepts. The terms were coined around the 1860s and it's only been during the last 60 years that we've come to a scientific understanding of sexual orientation in general, and homosexual orientation in particular. Pre-modern people generally assumed all people were naturally attracted to members of the opposite gender. Although the percentage is often debated, we know now that roughly 4% of human beings are naturally attracted to members of the same gender.
Why does that matter? There are 7 passages in the Bible that we moderns use to discuss homosexuality. The problem is that the people who wrote the Bible weren't talking about our modern concept of homosexual orientation. To impose our modern concept of sexuality on the Bible is to misunderstand the very important critique the Bible makes in those 7 passages. Indeed, those passages denounce sexual sins, but they are the sins of gang rape and cultic prostitution. The ancient Hebrews and the authors of the New Testament were concerned about sexual abuse and believed the sexual humiliation of another was a very bad thing, but they were not commenting on homosexuality as we understand it today.
Let's take the verse most often referred to in the New Testament: Romans 1:26. Previously, Paul stated that many have "exchanged the truth about God for a lie." It is "For this reason," Paul continues, that
God gave them up to degrading passions. Their women exchanged natural intercourse for unnatural, and in the same way also the men, giving up natural intercourse with women, were consumed with passion for one another. Men committed shameless acts with men and received in their own persons the due penalty for their error.
The New Testament scholar Neil Elliot wrote an essay called The Apostle Paul on Sexuality. The essay supports Alison's argument that the biblical authors weren't talking about homosexuality, but about sexual abuse. Elliot claims that Romans 1 was principally about the Roman Emperor Nero, who led a very infamous and active sex life. Elliot quotes ancient historians and claims:
Nero's sexual passion for his own mother was "notorious," … but then Nero "practiced every kind of obscenity," defiling "almost every part of his body with men and women, usually under threat of force" … His cruelty and sexual predations paled, in the eyes of the Roman aristocracy, next to his profligacy with money: when he had devoured his personal fortune he turned to "robbing temples."
In the Romans 1 passage, then, Paul is not against our modern understanding of homosexuality, but rather against sexual abuse and excessive sexual indulgence.
Now for why Christians should support same sex marriage. The speech made by Washington State Representative Drew Hansen provides an important theological account of what God is doing on this issue. Representative Hansen is a Christian committed to the way of Christ who voted for Washington State's same sex marriage bill when it came up a few years ago. Hansen said, "What if God is doing a new thing in the church right now on this question? I mean, remember, as Christians we believe that it is the stone the builder rejects that becomes the capstone."
This is a crucial point for Christians. Hansen illuminates the "truth about God" that Paul referred to in Romans. Jesus, the Son of God and the Son of Man, the One who reveals who God truly is and what it means to by truly Human, is the cornerstone that the builders rejected. As the Son of God and the Son of Man, he has become the capstone to our theology and to our anthropology. By being rejected, Jesus radically identifies with those who are rejected by other human beings. Theologian Walter Wink reflects on this principle in his essay Homosexuality and the Bible:
God sides with the powerless. God liberates the oppressed. God suffers with the suffering … In light of that supernal compassion, whatever our position on gays, the gospels imperative to love, care for, and be identified with their sufferings is unmistakably clear.
It is unmistakably clear because the particularly Jewish Jesus suffered in order to show us that God in Christ identifies with all who are rejected and excluded. In this way, African American theologians can say Jesus is Black. In this way, GLBT theologians can say Jesus is Gay. But here's the next important point: Jesus freely allowed himself to suffer and be rejected by his fellow human beings so that our pattern of rejecting others would be transformed into a pattern that loves and embraces others. Refusing to allow GLBT people to participate in the joys and challenges of marriage is a way of rejecting them. The Holy Spirit guides us to include people into relationships of love and compassion, whether we are straight or LGBTQ.
When it comes to same sex marriage, the authentic Christian response is not one of exclusion and rejection, but one of love and affirmation.
And that's why faithful Christians can and should support same-sex marriage.
Stay in the loop! Like Teaching Nonviolent Atonement on Facebook.