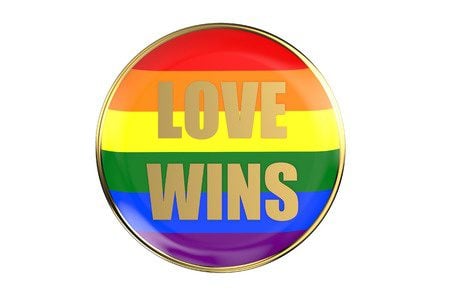 At last the LGBTQ rainbow is having its day in the sun. The storm has passed and it's safe now, or so we all hope, for LGBTQ couples to come out into the light of day. The Supreme Court decision guaranteeing marriage rights to same sex couples is like a dream come true and the celebrations have been understandably joyful and exuberant. I was reminded of the Rainbow Connection, a mournful song sung by Kermit the Frog about the unfulfilled desires of lovers and dreamers. The song ends before dreams come true and the rejoicing begins. But we are living a different ending! Since the decision it feels as if we are singing and dancing in a joyful Muppet movie finale, our sad song forgotten as love and friendship and goodwill win in true Muppet fashion.
But if love did indeed win, what can we say to the people who feel as if they are living a nightmare? How does love respond when others cannot or will not celebrate with us? Of course, their refusal to join in must not dampen our joy, but love and joy are not exclusive things, are they? When Muppet movies end villains are defeated or defanged or rendered ridiculous and we happily do not have to think about them anymore. But I don't think we have that luxury outside the movie theater.
But we do have time. We have time to relax, to celebrate, to breathe deeply and savor the sea change in public opinion that not too long ago seemed impossible. Those of us who supported our LGBTQ friends and family members should now turn our attention to protecting this time of celebration for them. It is not up to them to be conscious of how their opponents are reacting. It's certainly not up to the persecuted to protect their persecutors from having their feelings hurts! But during this interregnum LGBTQ supporters might want to be conscious of how it feels to be in the loser's locker room. Because my gut feeling is that the passing of time will do wonders for those living the nightmare, if we can temper our celebrations with graciousness.
I have nothing more than an intuition about this, but I do think that love did indeed win and that when love wins no one loses. When love wins the final victory, the rainbow connection will be for everyone. But hey, we're not there yet. When we manage to pull people out of stormy waters into one side of our lifeboat, others jump overboard. Maybe all we can do is throw them a lifeline and hope they decide to pull themselves back in. In Rainbow Connection, Kermit sings about a voice he's heard calling his name "too many times to ignore. It's something that I'm supposed to be." Today I believe it is love that is calling our name and summoning us into a new way of living and loving together. To my LGBTQ family and friends, I want you to be able to enjoy your time in the sun without having to worry about a thing. Dance, celebrate, be giddy with joy! We, your supporters, will keep one hand on the lifeline for the sake of love.
Image Credit: Olekcii Mach, 123RF Stock Photo