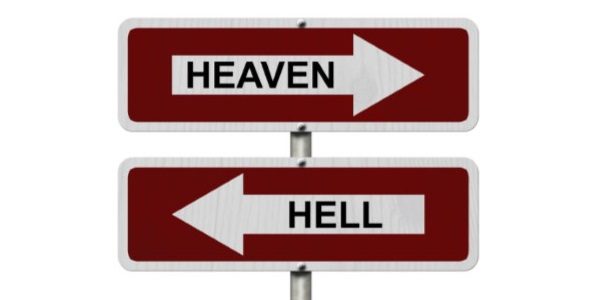 You have lived a long and faithful life. You have done your best to follow Jesus in working for justice. Most importantly, you have just learned that faith isn't so much something you try really hard to have, but is something you relax into. Faith, you have discovered, is relaxing into the love that God has for you, and sharing that love with those you meet.
Now you find yourself here, on the other side. You walk on clouds, which are softer than any pillows you ever felt on earth. You walk toward the Pearly Gates and you see St. Peter. He looks at you and then down at the "Book of Life." Peter nods his head and with a warm, gentle smile, he calls you by name. "Welcome to Heaven," he says. "You are a Good One. We've been waiting for you."
"Thank you, Peter," you reply as you gaze through the gates. You've never thought of yourself as particularly good, but you are flattered by the complement. You see streets of gold, large buildings, and a beautiful garden in the middle of the city. People smile and laugh. This is Heaven. It's the happiest place you've ever seen.
Another man approaches. He has a long white beard and walks with a staff. "This is Moses," Peter says. "He will take you where you need to go."
With Moses as your guide, you walk through the city to its center. Moses is friendly and enjoys hearing about your life. You take a minute to close your eyes and breathe deeply. You let the wonders of Heaven enter your body. As you open your eyes, you notice that everyone is strikingly beautiful. The streets, paved in gold, are surrounded by the finest restaurants you've ever seen. People are eating rich, succulent food, smiling and laughing as they enjoy their dinner. And then you start to notice something strange that makes you feel a bit uneasy.
When the customers at the restaurant are done eating, they give credit cards to the wait staff in exchange for their services. You think it's odd that people have to pay for food in Heaven. But you feel even more troubled as you notice that the wait staff has a darker skin complexion than the customers. And as you continue to walk with Moses, you notice, off in the distance, beyond the city gates, a group of the same darker skinned people making bricks and carrying them to the entrance of the city gate. It is clearly hard and backbreaking work. Moses tells you that the Holy One wants a new and bigger temple.
As you try to make sense of this experience, Moses suddenly stops in front of the temple. He interrupts your thoughts and says, "We're here. You will meet the Holy One inside. He's been expecting you. Enter through this door and follow the river. You will find the Throne Room. There will be Saints singing. Boldly walk through the Throne Room. He wants to see you."
A sense of fear comes over you. Moses intuits your trepidation and says, "Remember what our friend John said in one of his letters, perfect love casts out fear. The Holy One is for you. You are one of the Good Ones. You belong here and you have nothing to fear. Now go!"
You follow the river, just as Moses instructed. You hear the Saints singing. It's faint at first, but as you continue following the river their voices become louder. It's the most beautiful sound you've ever heard. You come to the door of the Throne Room. As you put your hand on the doorknob, you remind yourself that "Perfect love casts out fear." You boldly walk through the doorway.
The singing stops and the Saints look directly at you as you walk toward the Throne. The Holy One calls you by name. Love bubbles up inside of you. He sits on the Throne, looking like a Lion. "Come forward, Good One." His deep voice reverberates across the Throne Room.
"Welcome to Heaven, my good and faithful servant. You have shown yourself to be one of the Good People of the Earth. You fought for justice. You deserve to be here. Unlike them!"
The Holy One points to His left. Suddenly a portal that leads to Hell emerges. You look through it and see what appears to be people suffering eternal conscious torment.
"They are the Evil People of Earth," the Holy One continues. "They get all the punishment that they deserve! And you should know this: The fuel of Heaven comes from the fires of Hell. And what fuels the fires of Hell? Those Evil People! We need them to suffer so that we may live in the joyful magnificence that we call Heaven!"
You take a step back. "Wait a minute," you think to yourself. "This isn't right. This isn't just. This isn't how Heaven is supposed to be."
The Holy One scowls at you. "Your thoughts betray you," He bellows. "Maybe you would like to join them," He says with a sinister smile. "The choice is yours. You can stay here for eternity and enjoy the richness Heaven offers, or you can throw Heaven away and join them in suffering eternal conscious torment in Hell! Choose wisely. Your eternal soul hangs in the balance!"
You stand there, sensing the thousands of eyes from the Saints that are piercing through you. The pressure is almost too much for you to stand, but then you remember to relax – that whoever God is, God loves you and all people. You know, deep down in your bones, that you can't stay here. If Heaven is like this, then you don't want any part of it. You've made your choice. You will join the Evil Ones in Hell.
"You fool! Go then!" bellows the Holy One as He points to portal for Hell. "You don't deserve to be here! Join the Evil Ones suffering eternal conscious torment!"
The Saints who were singing now taunt you as you walk toward the portal. Before stepping through, you take a deep breath. "Perfect love casts out fear," you say to yourself as you put one foot through and then the next.
It is dark on the other side, but in the distance you see something that looks like a Lamb walking towards you, along with a man with wounds on his feet, hands, and side. "Welcome to Heaven," the man says. "My name is Jesus. This is my Father," he says as he points to the Lamb. A woman suddenly emerges beside them. But you notice that she's more than just beside them. She's around them and through them. It's as if she's connecting the three of them together. "And this is Sophia, the Holy Spirit. We are happy to see you."
"The Trinity?" you think to yourself. "How could this be?" But at the moment you feel a bit silly asking theological questions. Besides, you always thought the doctrine of the Trinity was a bit irrelevant. So, you point to the portal and blurt out, "But I thought Heaven was back there."
"Oh. That wasn't Heaven," the Lamb replies. "This is Heaven."
"But what about the people suffering here, in eternal conscious torment?" you ask.
"Ahh, eternal conscious torment," Sophia sighs, shaking her head. "It's one of Satan's tricks. It doesn't exist. It's a myth meant to make us look like we are involved in scapegoating. That myth justifies human scapegoating and blames us for it. We have nothing to do with it. We desire merciful love, not sacrificial scapegoating. Nobody here is suffering, but everyone here does care for each other. We do love one another."
You look around and see people with different skin complexions walking together and laughing. There is no exchange for food and no one is making bricks to make bigger buildings. Everyone here has enough.
"Wait a minute. I'm confused," you say. "What about Peter and Moses?"
"They were imposters, imitators of the true Peter and Moses meant to trick you," answers the Lamb. "The false Peter decides who is included and who is excluded in the false version of Heaven. That Book of Life he carries around is really a book of death because it's based on exclusion. Jesus holds the key to the true Book of Life. And get this! Everyone's name is written in it! Everyone, from the beginning of human history, is invited to join us. The true Peter is over there, making sure everyone here has enough to eat and drink. It's all free here. And the real Moses is over there, taking our newest group on a tour."
"When Moses takes you on the tour, be sure he parts the river that runs through the middle of the city," Jesus says with a twinkle in his eye. "It's one of the most amazing things I've ever seen!"
"Sounds great!" you reply. "But what about the Lion sitting on the Throne of Heaven?"
"That was Satan," the Lamb replied. "I love him so much. He wanted to sit on the Throne and he threatened a rebellion if I didn't give it to him. He wanted everything that I had. But as long as I'm with Jesus, Sophia, and those who choose to be down here, I have everything that I want. Besides," he says motioning toward the portal, "the people over there are happy enough. And if they become unhappy, they are free to come here whenever they want. They know this intuitively. But most of them are blind to Satan's evil ways of creating order, so they maintain the status quo."
"But there is hope," Jesus continues. "After all, Satan's kingdom is founded on the principle of accusation, exchange, rivalry, and oppression. It can't last forever. His kingdom is inherently divisive. And a kingdom divided against itself will soon fall. When it does, we will be there to pick him up. It may take a while longer, but even Satan will find redemption. There is still goodness in him. Our love will win him over."
"But until then, we have some work to do down here," Sophia says. "There's a garden that needs some watering and bushes that need pruning. And then we need to serve dinner at the shelter. Would you like to join us?"
"Sure!" you say with excitement as a sudden sense of warmth fills your soul. "I'm so glad I came here."
"So are we," Jesus responds, as he puts his arm across your shoulders. "You know, the gate is narrow and the road is hard that leads to eternal life, and there are few who find it. But you found it. Well done, my faithful servant."
Stay in the loop! Like Teaching Nonviolent Atonement on Facebook!