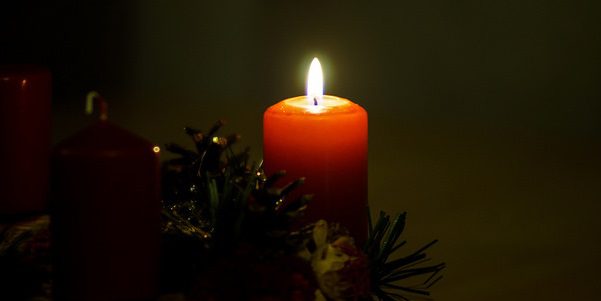 I meant last week to start a series of Advent meditations, but found myself swamped with all kinds of holiday-related commitments. I know, I know… there is a lesson to be found in this… to take the time to slow down and meditate and reflect in the midst of the frenzy of the season. Well, I'm doing it now… catching up first on the Gospel from last week, Luke 21: 25-36. My meditations may take the form of poetry or essays, as the Spirit moves me.
 25 "There will be signs in the sun, the moon, and the stars, and on the earth distress among nations confused by the roaring of the sea and the waves. 26 People will faint from fear and foreboding of what is coming upon the world, for the powers of the heavens will be shaken. 27 Then they will see 'the Son of Man coming in a cloud' with power and great glory. 28 Now when these things begin to take place, stand up and raise your heads, because your redemption is drawing near." 29 Then he told them a parable: "Look at the fig tree and all the trees; 30 as soon as they sprout leaves you can see for yourselves and know that summer is already near. 31 So also, when you see these things taking place, you know that the kingdom of God is near.32 Truly I tell you, this generation will not pass away until all things have taken place.33 Heaven and earth will pass away, but my words will not pass away. 34 "Be on guard so that your hearts are not weighed down with dissipation and drunkenness and the worries of this life, and that day does not catch you unexpectedly,35 like a trap. For it will come upon all who live on the face of the whole earth. 36 Be alert at all times, praying that you may have the strength to escape all these things that will take place, and to stand before the Son of Man."
We begin in darkness.
The world trembles and moans.
Birth pangs are upon her.
How can any good come of this?
The dust of war has darkened the atmosphere,
Death rains down from the sky…
In legislative halls and executive offices
Voices of politicians
Clash and crash against one another,
Drowning compassion like waves of the sea
Media echo the thunderous roars
Full of sound and fury…
Signs in the sun, the moon, the stars…
Distress among nations…
A pandemic of fear is spreading
A contagion infecting so many hearts
Locking out neighbors fleeing in distress,
Clinging for life to instruments of death…
Into this chaos
Love became flesh
From this chaos
Love will triumph.
But it's so hard to see in the dark.
Who could recognize Love
When it came wailing and helpless
Into a world of muck and manure
A world of rage and ruin?
Who could be ready
To be disarmed by Love
When the spirit of the age
Whispered, shouted, reverberated
Cries for revolution with a sword?
Who could prepare for Love
When waiting on a warrior?
Love came crying and dependent
To teach us dependency,
Defenseless
To break down our defenses,
Vulnerable
To break us open,
Tear down the walls around our broken hearts
Heal us and make us whole.
But 2000 years after Love was vindicated
The world still cries in anguish.
2000 years of slaughter and starvation
Lashings and lynchings
Whips and chains crushing spirits to submission and bodies to dust
Gas choking oxygen out of lungs
2000 years of greed and guns
Persecution and pain
Destruction and death…
2000 years.
You said this generation would not pass away till we see you in your glory,
But massacres, Shoahs, genocides,
And too many who suffer and die alone
Make me wonder.
But in all this time, we are one generation
Generated from death and deceit
Murder and myth…
We are children wandering lost and restless
Trying to carve out identities in this world that expels some
And will eventually expel us all…
This deadly dying world of death.
You have promised to regenerate us
And give our wandering restless hearts
Rest in you.
The birthpangs of the new world are the death throes of the old.
With the foundation of victims uprooted
When Christ rose from the dead
We stand on shaky ground
Where seeds of compassion taking root
Too often seem choked by thorns of violence.
Lord, I believe,
But help my unbelief…
I try to have hope, but I fear…
I see others swallowed by terror and hate
And with each death I see this fragile planet
Inflicted with one more scar
Like the lash of the whip that pierced your skin
With each missile strike and nuclear test
I hear it gasping for air
As you did before your life expired.
I fear
Even as I await the resurrection
Of this doomed world…
You say "Pray," and so I do…
Not to escape the world
But to escape the temptation
To join in its destruction,
The temptation to turn from your peace
To the false security of weapons
And for the courage to trust in Love
As my only shield and instrument of change…
I pray for the strength to pray without distraction,
To let your grace penetrate my anxiety,
To hear your voice in the chaotic roars and wails.
I pray for the strength to follow you,
To let your light shine in my darkness
So I can generate that light in others
And recognize it reflected in my sisters and brothers.
Help me to hope in the Light
That darkness can never overcome
Until the day we open our eyes
And we blink in the light
Of a world renewed by your love.