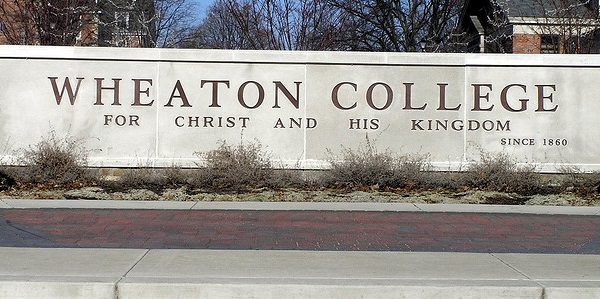 The Advent season calls us to "prepare the way of the Lord" by "bearing fruit worthy of repentance."
I've been pondering the meaning of these words since the season began, but they have taken on a further dimension for me within the last week as the news surrounding Wheaton College has turned national attention to a recurring question that is at the heart of my vocational journey: "Do Christians and Muslims worship the same God?"
A brief recap: Dr. Larycia Hawkins, a tenured professor of political science at historically evangelical Wheaton College, donned hijab – the headscarf worn by many Muslim women – as an Advent discipline to show solidarity with Muslims at a time of unprecedented violence and persecution of the Muslim community. In explanation of her gesture of solidarity, Dr. Hawkins said, "I stand in religious solidarity with Muslims because they, like me, a Christian, are people of the book. And as Pope Francis stated last week, we worship the same God."
It was her explanation, not her action itself, which led to Dr. Hawkins' suspension from Wheaton College pending a review to determine if her words are compatible with the college's evangelical Statement of Faith. Right now, the college administration believes that they are not. In their statement on the matter, Wheaton administrators insist:
The freedom to wear a head scarf as a gesture of care and compassion for individuals in Muslim or other religious communities that may face discrimination or persecution is afforded to Dr. Hawkins as a faculty member of Wheaton College. Yet her recently expressed views, including that Muslims and Christians worship the same God, appear to be in conflict with the College's Statement of Faith.
There is so much to say that I don't know where to begin. My proximity to Wheaton and my life in the community, my history with Islam and my love for Muslims, and my understanding of Christianity informed by mimetic theory, are all intertwined within my heart and mind in a network that is impossible to unravel.
I live down the street from Wheaton College. I love to hear the chapel bells ring from inside my house. I feel a great affinity for this community of Christians who are intentional about living their faith.
And living out the Christian faith is exactly what Dr. Hawkins is doing. I know the administration suspended her for her comments, not for wearing hijab, but suspending someone who embodies Christ — at Advent (a time when we are called to prepare for Christ) — speaks to a lack of a deep understanding of how Jesus interacted with those rejected by his religious community. Jesus, of course, was himself rejected by the religious community. At a time when the United States is waging war in 7 predominantly Muslim countries, when politicians and religious leaders are not only stirring up anti-Muslim rhetoric, but proposing oppressive anti-Muslim legislation, when religious leaders are calling people to arms to "end Muslims" (an injunction which Wheaton students courageously denounced), when presidential candidates tout their leadership by noting their ability to kill Muslim children by the thousands abroad (to protect our nation, of course!), Muslims here are experiencing real violence: threats, harassment, abuse and attacks. Standing with them by wearing hijab is a risk that puts one in the position of Christ, who was himself an outsider and who was himself cast out. Putting one's own self at risk to stand with those who are persecuted is what embodying Christ means. It is much more than a "gesture of care and compassion." This is the context that must be understood in regard to Dr. Hawkins' actions.
In light of the profound depths of that truth — that Dr. Hawkins was living out her Christian vocation to embody Christ – her suspension takes on a dimension of adherence to "the letter that kills" rather than the Spirit that gives life.
Nevertheless, I understand, intimately, Wheaton College's reluctance to concede that Christians and Muslims worship the same God. I have wrestled with this question from multiple angles. My history with Islam has been made public here. And I must admit that both when I converted to Islam and when I reaffirmed Christianity, I was chiefly concerned with getting God "right." Even as both of these faiths have been simultaneously dear to my heart, I have struggled with deep questions and wondered how to be true to the revelation of God's fullness in Jesus Christ while also affirming that Muslims, who deny the Incarnation, worship the same God. It is not an easy matter. While I believe whole-heartedly that the One God loves, guides, and hears the prayers of all worshippers, I understand the desire to affirm the uniqueness of Jesus as more than a prophet – as the full embodiment of God, the "structuring principle of reality" (as Michael Hardin so aptly defines the "Word" of God).
But as I continue to undergo repentance, to open my heart and mind to the love of God that is rebuilding humanity on a new foundation, a paradox I struggle to articulate becomes ever more clear to me. It is because, not in spite, of the Incarnation that I can know that Muslims and Christians worship the same true God when we affirm and embrace each other, and the same false god when we exclude and hate one another.
This is the truth that the Incarnation reveals: God is Love and Love itself is the language, the medium, the essence and content of worship. Muslims, Christians, Jews, atheists, agnostics, Hindus, Buddhists, people of all faiths and no faith at all, worship when they live in love that transcends boundaries, love that does not confine itself to family or faith or community but reaches out to embrace all. If worship can be defined as being in communion with God, and God is Love, then being "in love," living into one's place within Love in harmony with all of creation, is living in worship. One day worship and understanding will meet in full, when God's kingdom is realized on earth as in heaven. Until then, all religions reveal in part what we will one day know fully, but also obscure the truth with false human understanding. Repentance, turning from the false human understanding of God – with all the violence, exclusion and victimization that comes with it – to the truth of God's love and letting that truth restructure ourselves and our world, is our mission until we all embody our destiny as image-bearers of God.
Repentance means we will constantly have to re-evaluate our core beliefs in light of the continuing revelation of God's love as it works on our hearts and minds. God's love is revealed not only through scriptures, but through our relationships with people of all faiths who reveal mercy, generosity, compassion, and even – less comfortably – our own prejudices, blind spots, and mistakes.
Imagine being called to repentance at the time of Jesus. A marginal Jew – born poor in an unclean stable, taken to a foreign land (Egypt, to which the scriptures continually forbid the return), of questionable paternity, who eats with sinners, violates the Sabbath, embraces lepers, and rebukes the religious establishment – could this be the long-awaited Messiah from God? So many expectations are subverted and thwarted in Jesus, even as he fulfills the tradition of the prophets calling for compassion for the poor, the widow, the orphan, the stranger. Jesus cuts through the tangled web of human prejudice and false understanding of God (which leads to exclusion) on the one hand and divine revelation from God (which leads to embrace for all, including those marginalized or deemed enemies) on the other that is intertwined in his own Jewish tradition, and challenges the religious leaders of his time to do the same when he says "Go and learn what this means: I desire mercy, not sacrifice." Ultimately his life and teachings – his wholesale rejection of the violence on which the world has turned – culminate in so deeply offending not only the religious establishment, but the world order, that he becomes the victim of the Romans and the Jews – rejected, in other words, by the whole world. Human violence killed Jesus; divine Love vindicated and raised him from the dead. Imagine the re-orientation, the re-evaluation it would take to acknowledge the crucified one as the Living God?
Jesus is not where most people would look for God. But if we believe that God is fully revealed in the person of Jesus, and that people are made in God's image, then we have to open ourselves to seeing God in all people. And we must acknowledge that the chief revelation of Jesus concerns not just God's metaphysical nature (the Trinity did not become doctrine until centuries later) but God's character. The wonder and mystery of Jesus is that a small community saw — in this poor, marginalized, crucified criminal – the truth of God. God was revealed not as the author of violence or violent order, but as its victim.
The truth that Jesus reveals about God, that God stands with the poor and marginalized, is the same truth that was revealed to Muhammad. Muhammad lived in a time of great wealth disparity and tribal warfare. He was distressed by the corruption, greed, and violence he saw, and the oppression of the weakest members of his society. He would go off alone to meditate, intuitively sensing a higher power than the warring gods. The compassion within him drove his heart to seek the God who is Most Compassionate, Most Merciful before he could articulate it. It was in tuning his heart to the needs of the vulnerable that Muhammad was able to discern a message from the true God.
There are differences between Christianity and Islam, but the message of God's love for the weak and vulnerable, those once thought forsaken, is the same. The faith of both Jesus and Muhammad is in the God who loves those deemed unloveable. Their chief messages concerning care for "the least" come from the same Source of Love. Furthermore, all who love across human divisions are guided by God, whether they understand themselves to be or not, for God is Love. Both Jesus and Muhammad had an intuitive knowledge of God that transcended (in some ways encompassed, but in other ways defied, and in any case went beyond) the understandings of their societies because they dared to love outside the box.
And to undergo repentance, we too must dare to think and love outside of our own theological boxes. So, while I agree with Dr. Larycia Hawkins that Christians and Muslims worship the same God, I also agree with Wheaton College that her statement is in contradiction to the Wheaton College Statement of Faith. I respect the right of Dr. Hawkins and members of the Wheaton community to interpret that statement differently, but as I understand it, the Wheaton Statement of Faith displays a hermeneutic that interprets the life, work, and message of Jesus in a way that confines God's salvation to an elect rather than understands the Incarnation as God's revelation of unconditional Love to all. The Wheaton Statement of Faith can be supported by scripture, but it is not the only way to interpret scripture, and a hermeneutic that begins with Jesus's boundary-breaking love renders a different perspective. The process of repentance will keep us open – heart, mind, and spirit – to God's incomparable love, which will mean continually re-evaluating our statements of faith and theological understandings. Statements of faith are wonderful maps, helping us articulate where we are on a path, but they should never be confused with the destination, which is Love. I believe Wheaton College should reinstate Dr. Hawkins not because they should agree that her statements are in accord with theirs, but because we are all called to repent, to let our hearts, minds, and understandings evolve, to open them continually to God, who we will find revealed in wondrous ways in all people.
And when we do repent, we will bear fruit worthy of repentance. Standing in visible solidarity with Muslims, recognizing their dignity in the midst of a culture of disrespect and violence directed toward them, and declaring that they worship, love, and are beloved of the same God whose love we are called magnify. Dr. Larycia Hawkins is bearing fruit worthy of repentance. May we all find the courage to do the same. Amen.