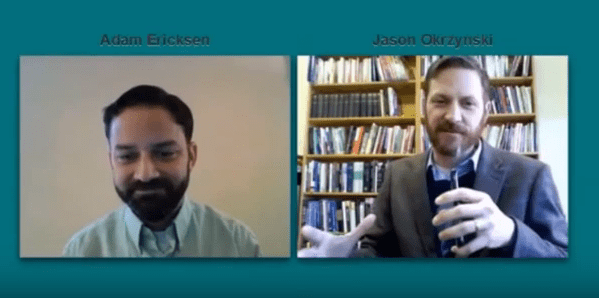 Dr. Jason Okrzynsi, M.Div., PhD, recently joined the RavenCast to discuss why Protestants should reclaim the saints as models of faith by helping us find friendship with God.
Jason is the Director of Christian Education for Children, Youth and Families at the First Congregational Church of Wilmette, in Wilmette, Illinois. Jason earned his Master of Divinity at Luther Theological Seminary in St. Paul, Minnesota and his PhD in Christian Education and Congregational Studies at Garrett Evangelical Theological Seminary. He recently delivered a paper titled, "For All the Saints: The Cult of Saints and Theological Imagination in the Art of Liberal Protestant Youth Ministry."
MP3
Video
Show Notes
God is Gift Giver.
Our response to God's gift is our vocation, which is to be Christ in the world. The two primary places we do that is in our family and in our work.
The saints stir imagination that invite us to live out radical lives of love and service. The saints present a different picture than the consumer identity of the modern world.

Francis rejects the materialism and privilege of his youth and find joy in serving others.
Children and youth yearn for transcendence and the saints offer a witness to what that looks like.
For Martin Luther, our jobs are not about personal fulfillment, but is about offering ourselves to care for earthly needs.
The saints are called "friends of God." They find friendship with God by intentionally detaching from certain material goods and gaining social status so that they can intentionally attach themselves to God.
Most of the saints carried great pain and sadness and struggled through incredible temptation. Most of them have skeletons in their closet. They are models because they are real people who had real struggles.
The Christian faith isn't about making us try harder to be good or worthy. It's about God giving God's self. You can reject the gift, you can receive it poorly, but God gives the gift.
Liberal modernity tells us that we need to produce enough and be good enough. But the saints claim that we just need to receive the gifts that God offers to us.
We often want to know what we can do to produce holiness, righteousness and justice. But the saints ask what do we have to do to receive holiness, righteousness and justice.
Paul says "Imitate me as I imitate Christ." This is the perfect theology of the saints. It's not that we need to be more religious. The point of claiming the saints is not to be them or compare our lives to theirs. It's that here is one example of what it means to be a friend of God.