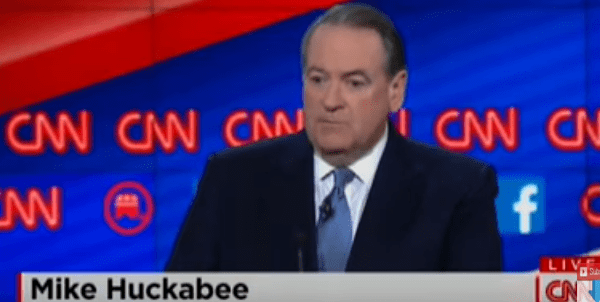 At Tuesday's Presidential Debate, candidate Mike Huckabee had this to say about the Syrian refugee crisis:
If it's such a doggone good idea to bring people here that we really don't know who they are, and Obama thinks that we are being unchristian to not do it, I've got a suggestion – let's send the first wave of them to Chappaqua, Martha's Vineyard, and the upper eastside of Manhattan, and to the south lawn of the White House where we'll set up a camp. Let's see how that works out. And if they behave wonderfully, that's fine. I want to say, I don't want someone lecturing me about what it means to be a Christian that I should invite a potential terrorist into my backyard.
Huckabee is repeating a popular myth about refugees that only stokes the flames of fear that is spreading throughout the country.
René Girard taught us that myths are stories that we tell about our scapegoats. Those stories are based on demonizing them so that we can expel, lynch, and murder our scapegoats with impunity. That myth silences the voice of our scapegoats and covers over our own acts of violence and terror. The narrative that Syrian refugees are potential terrorists is a mythical story that needs to be challenged with the truth. We discover the truth by listening to their own stories. We will also discover the truth when we have the courage to take responsibility for America's own violence. Our drone attacks and careless murder of civilians are examples of how we are aiding and abetting ISIS's recruitment of terrorists. Violence breeds more violence. If we really want peace, we need to stop scapegoating Syrian refugees and take responsibility for our own acts of terror in the Middle East.