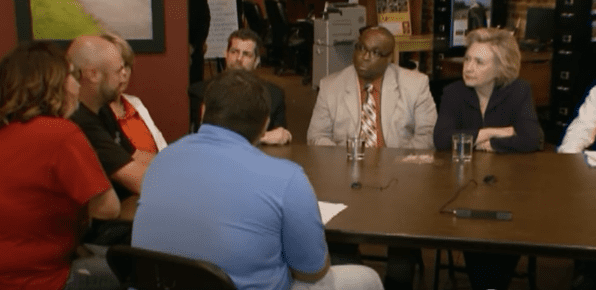 Hillary Clinton has been harshly criticized for this statement she made during a CNN Town Hall discussion, "We're going to put a lot of coal miners and coal companies out of business."
The comment has been used against Clinton in an attempt to show that she doesn't care about coal miners. It has plagued her candidacy, especially in West Virginia where the economy is largely dependent upon coal.
Politifact rightly asserts that the statement has been taken out of context. Clinton actually claimed,
I'm the only candidate which has a policy about how to bring economic opportunity using clean renewable energy as the key into coal country. Because we're going to put a lot of coal miners and coal companies out of business, right? And were' going to make it clear that we don't want to forget those people … We've got to move away from coal and all other fossil fuels, but I don't want to move away from the people who did the best they could to produce the energy that we relied on.
It should come as no surprise that Clinton was taken out of context. Unfortunately, that happens to politicians on a routine basis in our hyper partisan soundbite culture.
But the sound bite came to a head last week when registered Republican Bo Copely, a West Virginian miner who recently lost his job, confronted Clinton during a round table discussion. Looking Clinton in the eyes, Copely handed her pictures of his family as he tearfully expressed his grief about losing his job –
When you make comments like, 'We're gonna put a lot of coal miners out of jobs,' these are the kinds of people you are affecting … This is my family, and now my hope is in God. That's my future.
It would be easy to accuse Copely of taking Clinton's words out of context, but something else important happened during this confrontation.
Many of us on the left and the right have been struggling with how to be a prophetic voice during this heated political season. It's a misunderstanding of the prophet to think they are primarily interested in seeing into the future. Rather, the primary role of the prophet is to speak truth to power. And the truth that the prophets speak is the truth of the victim.
But it's also a misunderstanding to think that prophets are full of divine rage. Many modern-day-wanna-be-prophets simply channel their anger against their political opponents. But rarely does that rage ever bring someone to repentance.
Bo Copely is the kind of prophet that we need. He didn't attack Clinton with divine wrath; rather, he came to her with tearful vulnerability.
And to her credit, Copely's vulnerability broke Clinton's heart. She listened attentively to Copely. She did defend her statement as being taken out of context, but she didn't get defensive. Instead, she empathized with him.
I think Clinton's reaction had a lot to do with the way Copely confronted her. It's precisely because he didn't attack Clinton that she was able to listen to him, and even apologize for her remark.
We need more prophets like Bo Copely. We need people to transform our anger into a vulnerability. Because it's that vulnerability that speaks truth to power in a way that those in power will be able to listen.
Image: Bo Copely talking with Hillary Clinton. Screenshot from YouTube.
Stay in the loop! Like Teaching Nonviolent Atonement on Facebook!