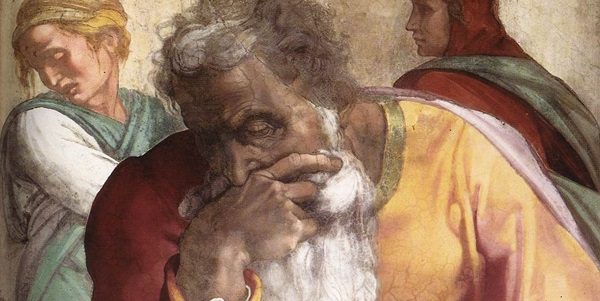 I recently became the Minister of Faith Development at Lake Oswego United Church of Christ. One of my duties is to make material about lectionary passages available for parents and their children. I'll be sharing my weekly videos on upcoming lectionary passages in this Faith and Families series. Here's the video for this Sunday and the text below!
Jeremiah was a prophet who lived during one of the most difficult times in the Bible. Jerusalem was attacked and conquered by the Babylonian Empire over a 15-year period. They destroyed the city and the Temple. They also sent many of the people into exile through the empire.
Jeremiah comes into this situation with a word of hope.
Jeremiah wrote a letter to those in exile, "Build houses and live in them. Plant gardens and eat what they produce. Take wives and have sons and daughters. Take wives for your sons and give your daughters in marriage that they may bear sons and daughters. Multiply there and do not decrease. But seek the welfare of the city where I have sent you into exile. And pray to the lord on its behalf. For in its welfare you will find your welfare."
In Its Welfare You Will Find Your Welfare
This passage is telling us how interconnected we are as human beings. We are fundamentally relational creatures. When we see someone else suffering, something within us suffers too. And according to Jeremiah, the proper response to that suffering is to try to do something to alleviate it.
Probably the best example of this that I've seen recently is a video about a letter from a 6 year old boy named Alex wrote to President Obama. Alex saw a picture of another boy from Syria, where there's been a horrible civil war. The Syrian boy's house was bombed. The picture shows him bandaged up in an ambulance, with blood on his body.
Alex wrote to President Obama and says, will you please go pick up the boy and bring him to my house? "We will give him a family and he will be our brother." Alex says they will play together, go to school together, and he will introduce the boy to his Syrian friend named Omar."
Something deep down in Alex knows implicitly the truth of Jeremiah – that his welfare is connected to the welfare of this boy who lives half way across the world.
Here's a link to the video of Alex. You may want to show it to your family. Discuss it and then talk about the fact that you don't have to go to Syria, or 6th century BC Babylonian Empire, to find people suffering. How can we give words of encouragement to our classmates, neighbors, even ourselves, when we see suffering in the world?
Plant Gardens
Which brings me to the second point. Jeremiah encourages people in exile to do practical things in order to foster hope in their lives. He tells them to build houses and plant gardens. During dark, difficult times is often when we can actrively do things to grow spiritually.
To symbolize this in your family, take a clear cup. Go to your backyard and fill it with dirt. Plant a seed and put it on your windowsill. As you look at the dark soil and the plant that emerges, it will remind you that life can grow, even in the darkness.
Dance Parties
Because the world needs more dance parties. But you'll have to watch the video for that…
---
Image: Wikimedia Commons, Michelangelo's Jeremiah. Public Domain. United States Public Domain tag. 
Stay in the loop! Like Teaching Nonviolent Atonement on Facebook!