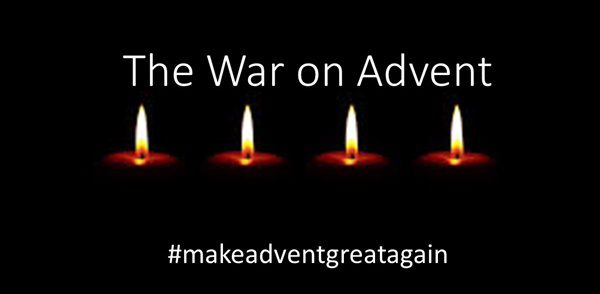 The following is based on a sermon I preached at Clackamas United Church of Christ, in Milwaukie, Oregon. May you have a blessed Advent season. You can read the sermon or watch the recording below.
Every year around the end of November, some of our Christian siblings claim that there is a war on Christmas. Our president even campaigned on a promise to end the War on Christmas. Candidate Trump said, "If I become president, we're all going to be saying 'Merry Christmas' again."
Well, thanks to President Trump, we can all say Merry Christmas again. We can wish people a Merry Christmas from Black Friday all the way through Christmas Day. But there's a problem. It's not Christmas. It's Advent.
The progressive theologian Diana Butler Bass put it perfectly when she wrote that the "war on Christmas" is really a "war on Advent." When we celebrate Christmas from Black Friday to Christmas Day we completely miss the season of Advent. And Advent matters.
The word Advent comes from the Latin word Adventus, which means arrival. During advent, which this year is December 3 through December 24, we don't yet celebrate that Jesus has been born. We await the arrival of Jesus. And our capitalist culture isn't very good at waiting. It wants us to buy stuff now and feel a hit of excitement when we make a purchase. So our culture of consumerism wants to extend Christmas for as long as possible. Buy more stuff and feel good about it so that you will buy even more stuff!
That's what the secular Christmas of consumerism is all about. It doesn't have much of anything to do with Jesus. And I'm afraid some of our more conservative Christian siblings have been seduced by our secular culture of consumerism to push the season of Christmas back to late November.
But let us not be seduced by consumerism. Rather, let's pay attention to Advent. There's a progressive Christian movement to make advent great again. I think we should join that movement. Advent is a time of waiting, but it isn't just passive waiting. It's a time of preparing our hearts and souls and minds for Christmas, for the birth of the baby Jesus to enter the world, so that Jesus can be born in our hearts everyday of our lives.
Part of Advent preparation is to understand why Jesus needed to be born at all. Jesus, the Prince of Peace, was born because something was wrong with the world. Sometimes the world feels so dark and sometimes God just seems absent.
The prophet Isaiah and his people suffered from systemic political oppression and violence. Empire after empire conquered Israel. In our passage this morning, Isaiah waited for the day that God "would tear open the heavens and come down" to set things right. And sometimes we feel like Isaiah, that God is somewhere out there, up in the heavens, and so absent from here. Sometimes it feels like Jesus hasn't been born yet. Sometimes we wonder if God even cares.
This is the first Sunday of Advent and it's the Sunday that we light the Advent candle of Hope. Isaiah's passage and our Gospel passage don't seem very hopeful. In our
Gospel passage
, Jesus talks with apocalyptic language. He provides a warning about a day when the sun will be darkened and the stars fall from heaven and there will be suffering. It's not a text that's full of Christmas joy or Christmas hope, is it?
But here's where you find Advent hope. Advent is a season of holy protest. It looks at the world and names what isn't right. It's often the case that the first step towards hope is in naming the things that aren't right.
In the last few weeks we've talked a bit about politics and the powers and principalities of injustice. And there are certainly more things that could be said about the powers and principalities. But today I want to tell you a more personal story about the holy protest of Advent and the hope it provides.
Four years ago I was a chaplain intern at a hospital in Eugene, Oregon. I was called into the Emergency Department in early December, right at the beginning of Advent. A speeding car ran a red light and hit a man walking across the street. The 70 year old man flipped over the top of the car and was caught on the roof rack. The driver and the passenger drove for 5 blocks with the man on their roof. Then they drove to a side alley, dragged the man off the roof, and left him in the street to die.
Fortunately, a neighbor saw the man and called 911. An ambulance took him to the hospital. My job was to call the family. After many phone calls, we discovered the man was from Guatemala and he was visiting his son and his three granddaughters.
I met the family and did my best to console them. I talked with the son and his wife, then hugged his three daughters. One of the daughters was uncontrollable. She felt the pain in a way no one else did. The dad told me that she and her grandpa were especially close. In fact, this daughter's birthday was on December 17. She told her grandpa that the only thing she wanted was to spend her birthday and Christmas with him. So he took the flight from Guatemala to Portland to be with his family, but especially to be with her during December.
And I remember this girl, maybe 16 years old, sobbing in her hands. Feelings of guilt and anger and despair flowed through her tears. At one point, her sister came over to comfort her. She put her arm around her and said, "It's okay. It's okay. It's going to be okay."
And this girl, sobbing in her hands, yelled out, "No! It's not okay!"
It's in those moments of darkness where God seems so absent in the world. Like Isaiah, part of me wished God would tear open the heavens and come down to set things right! And yet, I couldn't help but feel that God was already radically present in that room. God was there, present with that girl, screaming out that this is not okay.
That girl taught me what Advent hope is all about. She was like a prophet, like Isaiah and like Jesus, who protested against the darkness. She refused to accept that it was okay.
And this is why it's so important for us to not celebrate Christmas too quickly. Because we already know that God is present in the light of Christmas. But it's only when we patiently go through the season of Advent that we discover that God is also with us in the darkness. As the Gospel of John says, "The light shines in the darkness, and the darkness did not overcome it."
So as we prepare for the arrival of Christmas, as we decorate here at church and at our homes, let us celebrate Advent as a reminder that God is with us in our darkness and in our pain and in our suffering. May we be with one another, too. Amen
---
Image: Max Pixels, CCO public domain.
Stay in the loop! Like Teaching Nonviolent Atonement on Facebook!