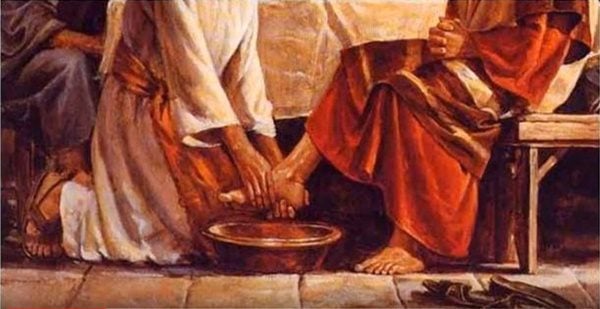 Welcome to the Girardian Virtual Bible Study! Each week we explore the lectionary passage with the help of René Girard's insights into human relationships. You can continue to join the GVBS at 10:30 am Central on the Raven Foundation Facebook page during the month of May. This episode explores Acts 11: 1-18 and John 13: 31-35.
Revisiting The New Commandment
"I give you a new commandment, that you love one another. Just as I have loved you, you also should love one another. By this everyone will know that you are my disciples, if you have love for one another."
This week we revisit these words of Jesus, spoken at the Last Supper. The new commandment, the mandate from whence the name "Maundy Thursday" derives, is that we love one another not only as we love ourselves, but as Love's own Self loves us. Love Embodied, Jesus, perfects our love and bids and empowers us to follow through in loving one-another.
What is perfect love? It is love that sees through all the violence and brokenness and separation of humanity from God and from one another. It is love that endures all of this and forgives, heals, renews. It is love that finds us through fear and hatred and burns through the cruelty, bitterness and brutality and melts away anxiety and shame, restoring us to our true nature as children of Love. This is a love that Jesus embodies in concrete acts of embracing the outcasts, healing the suffering, and breaking bread with the broken. It is fully revealed on the cross and vindicated and magnified and dispersed throughout the universe in the resurrection.
Thus, though the lectionary has recently explored this text during Holy Week, it is fitting to revisit the new commandment to love one another on this side of the resurrection, when we can see more clearly its breadth and its depth. The breadth of this commandment is explored in Acts 11, to which we now turn before returning to the Gospel.
Acts 11: 1-18: The Breadth of God's Love
Whom are we to love?
"Why do you go to uncircumcised men and eat with them?"
Peter patiently explains to these followers at Judea why he keeps company with the uncircumcised. He has patience because it wasn't so long ago that he would have balked at the thought of eating with such "unclean" people himself. He is in the process of overcoming his own prejudices and biases, which do not just vanish once exposed but take time to be thoroughly extricated from the human heart.  So he recalls a vision that helped him see everything in a new light:
"There was something like a large sheet coming down from heaven, being lowered by its four corners; and it came close to me. As I looked at it closely I saw four-footed animals, beasts of prey, reptiles, and birds of the air. I also heard a voice saying to me, 'Get up, Peter; kill and eat.' But I replied, 'By no means, Lord; for nothing profane or unclean has ever entered my mouth.' But a second time the voice answered from heaven, 'What God has made clean, you must not call profane.'"
Peter goes on to make the obvious connection of this metaphor to people. "What God has made clean, you must not call profane." Peter had looked upon the animals that violated his dietary restrictions with disgust, until God tells him not to. God has made all things, and God makes all things clean. God made the whole world and declared it good. The uncircumcised, those raised with different customs and traditions… they were people Peter, too, once considered unclean. But God tells him to "make no distinction" between them and himself. God has made these people. God loves these people. Who is Peter not to love them too?
There is a common anti-Semitic reading of this passage that entirely misses the point. Some have used this text to mock or feel superior to Jewish people who keep dietary laws. To use this passage over and against anyone is to miss the point completely. This is about God's universal love and blessing on all of humanity. It is, quite simply, not about expanding our diets but our hearts.
Rituals and traditions by which people may know one-another are not necessarily bad. But the mark of who we are should be how we include others, not how or who we exclude. We should seek to be known as followers of Love by our love.
Peter is following Jesus and learning what it means to love. He knows his own weaknesses and knows he has a long way to go. He speaks to those who have chastised him, not with anger or condescension or arrogance, but with humility. And his critics are moved, I think as much by his attitude as his words. They praise God, saying, "Then God has given even to the Gentiles the repentance that leads to life."
So whom are we to love? God has blessed even them. Is there anyone against whom we have set ourselves? Are we prepared now to not merely accept but rejoice in God's love for them? Are we prepared to recognize that God calls us not to make distinctions between them and us?
John 13: 31-35: The Depth of God's Love
So whom are we to love? Everyone. Without exception. And how are we to love?
As Jesus has loved us.
This is the new commandment given to the disciples after Jesus has washed their feet.
This is our new commandment.
We are to love with a love that makes us vulnerable. As Fr. James Alison explains, you cannot wash someone's feet without putting yourself physically beneath them in a position in which you can be kicked down.  So this is a love that trusts, a love that takes risks. It is a love that can open others to love, a love that can bring out the best in others and ourselves, but also a love that is scary. It is a love that looks to the needs of others despite the cost. It is a love we can give because it is a love we are given.
We are to love with a love that is messy and bold. We are to love with a love that draws us to the people and places and situations we may have wanted to avoid.
Jesus washes the dirty, smelly, desert-trodden feet of his disciples. He tends to the places we try to hide, sees the sides of us we try to cover. We are called to attend to the mess, the brokenness, the unlovely. What may have triggered us to recoil or back away, we are called to approach and see that God is there. We are called to tend to the anxieties and shames of others with gentleness and care.
And moreover, we are called to open ourselves to the love that exposes us, that lays bare all of our own anxieties and shames. Our call to be Christ to each other is also a call to allow others to be Christ to us, to be Love to us. It's a love that calls us to let our guards down enough to be loved.
What wondrous love is this?!
This is the love that is fully displayed in the cross and resurrection. The love that absorbs, exposes, forgives and heals our violence. The love that reveals God in those we have victimized, so that we may change the harmful ways we relate to others. This is the love that shines through us that may reach the eyes of those who cause us harm. This is the love that glorifies God, the love in which God's glory is magnified to the world.
Jesus gives the new commandment to his disciples after Judas has left. Frederick Niedner, of the Institute for Liturgical Studies at Valparaiso University, asks if any of the disciples took this commandment to heart and went to look for Judas, to gently listen to him, to help him in his brokenness, to extend this love to him. Maybe not. Maybe they didn't because they did not realize that Judas was included in this love. Maybe because they did not yet realize the extent of this love to which they were called. Maybe they didn't reach out to Judas because they didn't realize how much they themselves needed this boundless, merciful love. At the last supper, Jesus tells them to love as he loved, but the fullness of his love wouldn't appear until he comes to them after his crucifixion and forgives them for their own abandonment and even denial of him.
Peter denied Jesus. Peter saw how Jesus forgave even him. And that helped him understand that God's mercy reaches to all, even those he would have excluded.
That's why it's so important to revisit this Gospel this side of the resurrection. That's why it's important to keep revisiting this Gospel over and over, to keep ourselves ever amazed with the breadth and depth of God's love, to remember that this love is our calling. Because we never know how much we ourselves will need it in this lifetime of mistakes that lies ahead of us. So whenever we find ourselves claiming our identity by drawing distinctions against those we are not, we can remember that God calls us to love even them, with a love that calls us to see the vulnerability of others with a vulnerability of our own. We must revisit these passages so we can look to our own dirty feet, our own brokenness, and recognize that God loves even us.
As we are loved, so we are called to love. May we listen and follow. Amen.
Image: Screenshot from Youtube: "Washing Feet Explained (Bible)" by Preparing the Bride.